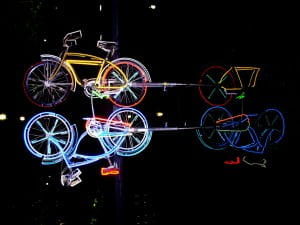 Ready, set, glow! Friday night marks the return of our ever-popular Bright Light Biker ride, and you're invited.
Illuminate your bike and ride with Asheville on Bikes to celebrate Strive Not to Drive following Downtown After 5 presented by Harmony Motors.
Google LED lights, phosphorescent paint, glow sticks, glow rings, strobes – show us where your bike love takes you, Asheville. Our ride begins at 9:15 on Lexington Avenue. Here's the map.
Be sure to post your event photos on our FB page. See who's excited about it here.
See you Friday.