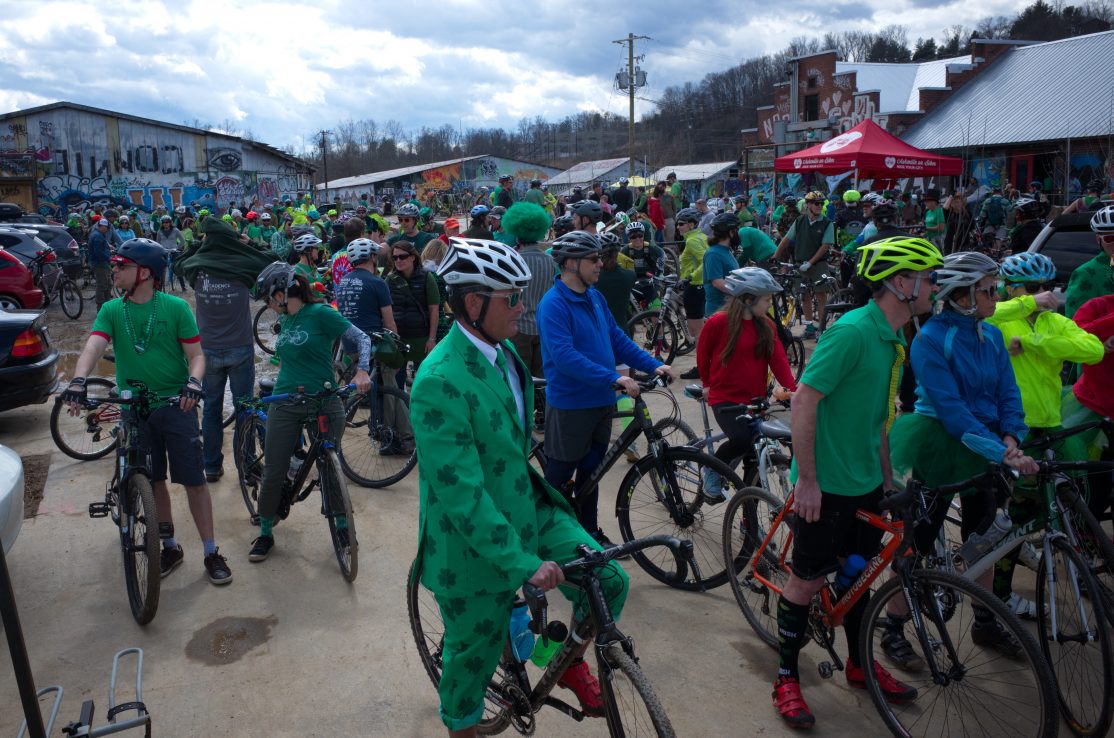 Time to get your green clothes washed!
What: Fun ride and hangout after
When: March 17th, 2018  1:30 – 5:30 PM
Where: Wedge Foundation
1:30pm – Gather at Wedge and ready yourself for ride
2:00pm – Ride leaves Wedge
5:00pm – Ride concludes.
Wedge hosts and all day St. Patrick's Day celebration on 3/17. Besides, great beer, music, and food, Asheville Screen Printing will live screen print AoB Bike of Irish of Irish t-shirts.
Follow our up to the minute details on Facebook.
Bike of the Irish is AoB's annual spring ride, featuring hundreds of green-bedecked riders and routes that showcase the best of Asheville's bike infrastructure and greenways. All of AoB's community rides are family friendly and free (although donations are appreciated).

Bike of the Irish 2017
The 11th annual Bike of the Irish rolled on Saturday, March 18, 2017th. More than 500 riders gathered at the Wedge at Foundation. The route rolled through the River Arts District, into downtown, and explored the Beaucatcher greenway before returning to the Wedge for an after ride celebration. Thank you to all the riders, volunteers, and AoB's donors and sponsors for another successful ride!