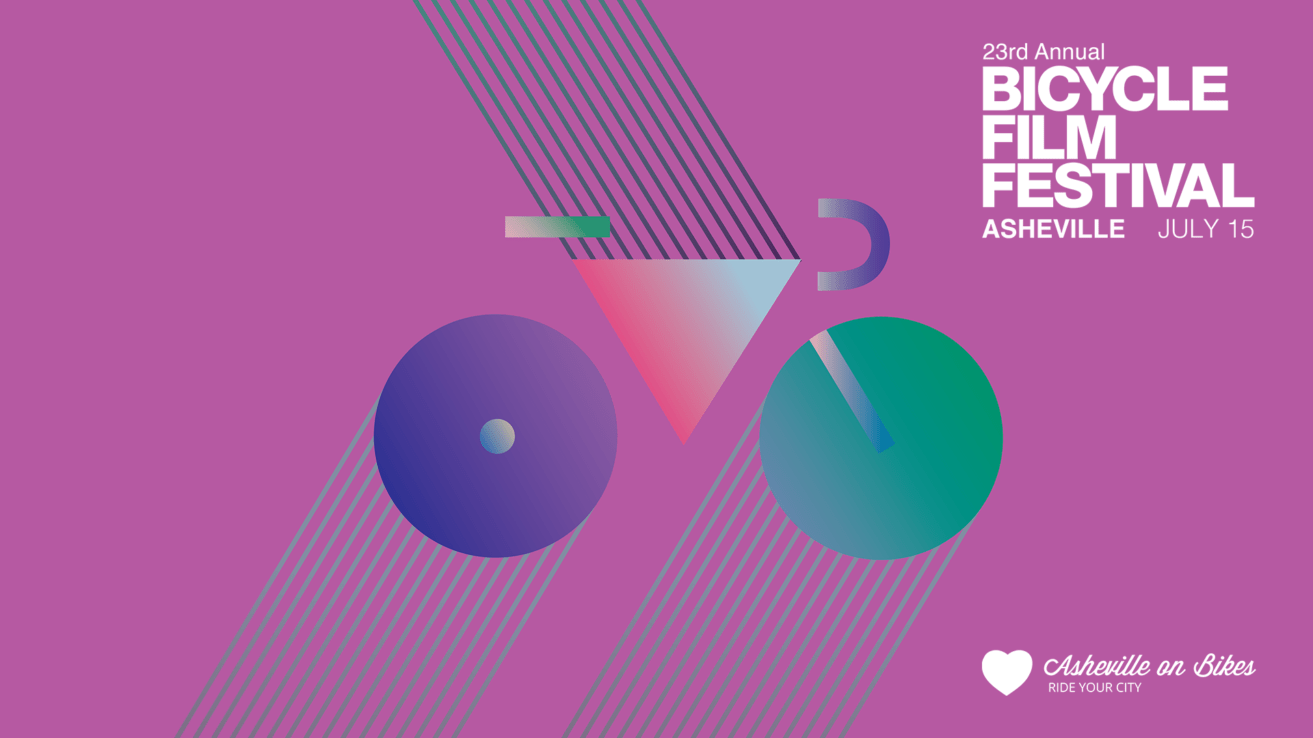 Saturday, July 15, 2023 at 8:30 PM
Join us Saturday, July 15 at 8:30 PM for a celebration of cycling culture as Cane Creek Cycling Components hosts Asheville's first in person Bicycle Film Festival at Rabbit Rabbit (75 Coxe Ave, 28801) during Asheville Bike Fest!
$12.00 advance tickets are now on sale and support Asheville on Bikes. 
About Bicycle Film Festival
BFF Asheville presents a short film program for lovers of mountain biking, bike packing, road cycling curated with a diverse array of films that capture the spirit of youth cultures from passionate cyclists around the world. Featuring stories about:
How the first American to win a gold medal in road cycling at the 1984 Olympics changed spandex forever.
Paralympic gold medalist, Meg Fisher and young para athlete, Jack Berry navigate life's obstacles with grace, integrity, and each other.
The 1900 mile bicycle journey by Erick Cedeno (Bicycle Nomad) retracing the original route of the Buffalo Soldiers.
A bicycle takeover and one of the United State's largest, most anticipated street riding events on the bikelife calendar attracting riders from the wheeling community worldwide.
Kailey Kornhauser and fellow "fat cyclist" Marley Blonsky are on a mission to change the idea that people with larger bodies can't ride bikes.
Plus more.
Bicycle Film Festival has been celebrating bicycles through art, film, and music the last 23 years. Founded in 2001, Brendt Barbur was compelled to start the BFF after being hit by a bus while riding his bike in New York. BFF has spanned the world in over 100 cities worldwide to an audience of over one million people. The festival has an incredible history of working with the most important artists, filmmakers, venues, and institutions around the world. The Subcultures of cycling have shared equal billing with the most exciting innovators in music, art, design, and film.
Participants have included Erykah Badu, Karl Lagerfeld, Francesco Clemente, Shepard Fairey, Albert Maysles, Michel Gondry, Spike Jonze, Alex Katz, Kaws, Mike Mills, Paul Smith, the Neistat Brothers, Tom Sachs, Ridley Scott, Kiki Smith, Swoon, and Ai Weiwei. This festival is a celebration of way a life––not just entertainment
Learn more about BFF:
How does the Bicycle Film Festival connect to the Asheville Bike Fest?
The Bicycle Film Festival (BFF) begins at 8:30 PM following the community ride portion of Asheville Bicycle Festival. BFF attendees are encouraged to bring their own folding / camping chair to the event. Those who plan to participate in the community rides before the films can check their chairs at AoB bike valet before the rides and claim their chairs for the films.