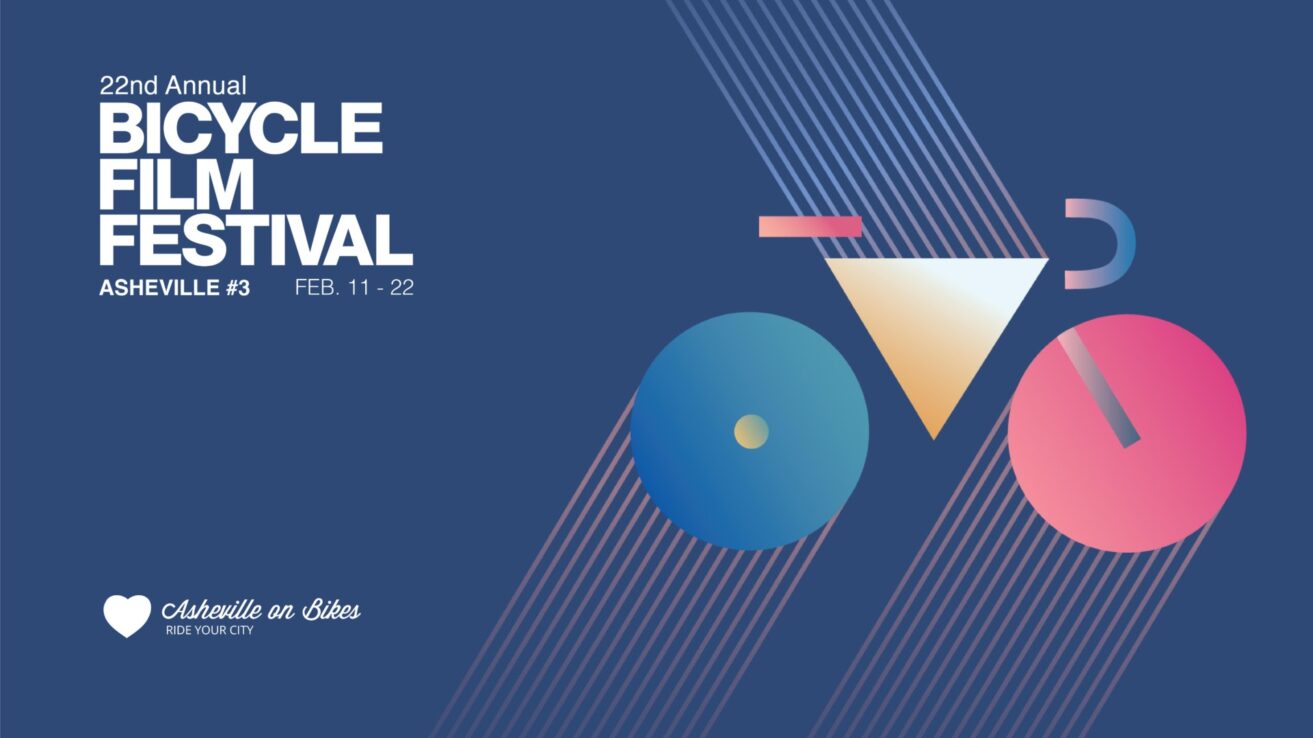 Get ready for the best virtual event on two wheels!
Bicycle Film Festival is arriving back in Asheville!
BFF Asheville #3 is happening virtually, February 11 – 22
Hosted by Asheville on bikes. A portion of all ticket sales will go to support Asheville on Bikes.
Bicycle Film Festival Asheville #2 from Bicycle Film Festival on Vimeo.
BFF Asheville #3 presents a short film adventure program:
A lone cyclist in Vancouver embarks on a 60 day tour at the height of the COVI-19 pandemic begins with empty streets and ends with a new reality
A dreamy glimpse into three professional female mountain bikers reflecting on their willingness to sustain broken bones, concussions, and organ damages
Former pro BMX rider Andrew Jackson rediscovers his love for cycling in Los Angeles
Women in rural Malawi use a bicycle to help them return to school and build a better future for themselves and their daughters
First-generation Mayan American, Mario Ordoñez-Calderón bikepacks through the Yucatan Peninsula to explore his cultural heritage
A grueling 240 mile gravel road bicycle race traverses Minnesota's roads less traveled— all within 24 hours
And many more….
Get Tickets: https://btt.boldtypetickets.com/events/118093700/bicycle-film-festival-asheville-3
How does the virtual Bicycle Film Festival Asheville #3 work?
A ticket allows you to view the 90 minute short film format from Feb. 11 at 6:00 PM ET, through Feb. 22, at 11:59 PM ET streamed to your computer, tablet, or smart TV by simply clicking on the link provided by email 15 minutes before opening date and time. Ticket prices are "sliding scale" $10, $15, $20 so all ticket prices entitle you to the same content. You may view BFF in one sitting, or as you will, from the comfort and safety of your home.
About Bicycle Film Festival
Bicycle Film Festival has been celebrating bicycles through art, film, and music the last 20 years. Founded in 2001, Brendt Barbur was compelled to start the BFF after being hit by a bus while riding his bike in New York. The physical BFF spanned the world in over 90 cities worldwide to an audience of over one million people. The festival has an incredible history of working with the most important artists, filmmakers, venues, and institutions around the world. The Subcultures of cycling have shared equal billing with the most exciting innovators in music, art, design, and film. Participants have included:
Erykah Badu, Karl Lagerfeld, Francesco Clemente, Shepard Fairey, Albert Maysles, Michel Gondry, Spike Jonze, Alex Katz, Kaws, Mike Mills, Paul Smith, the Neistat Brothers, Tom Sachs, Ridley Scott, Kiki Smith, Swoon, and Ai Weiwei. This festival is a celebration of way a life––not just entertainment
Learn more about BFF: