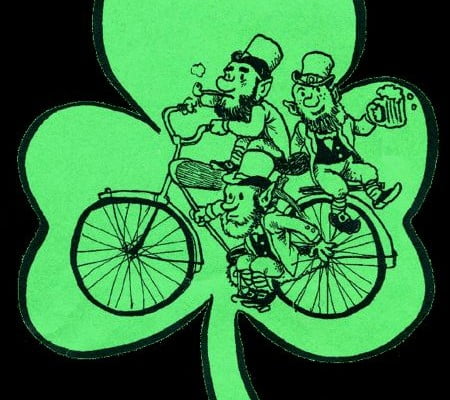 This year's Bike of the Irish will roll on Saturday, March 19th. Starting downtown, in front of City Hall, we'll head north and west, on bike lanes-galore, and visit the newly purchased land to extend the Hominy Creek Greenway. We'll end at the Wedge with peanuts and refreshments for all. As is customary, in celebration of St Patrick's Day, and Asheville's growing Greenway, GREEN attire is strongly encouraged!
This ride is open to anyone and everyone–we keep a leisurely pace as we simply enjoy what we expect will be a lovely spring day in Asheville.
EVENT DETAILS:
WHO: Asheville on Bikes
WHAT: Annual Bike of the Irish
WHEN: Saturday March 19th, 2011, 1:00PM
WHERE: Throughout Asheville, starting at City Hall, ending at The Wedge in the River Arts District.