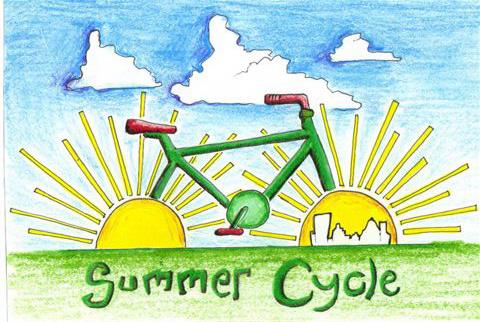 Summer Cycle, ya'll!

What you need to know:
June 22. Yep, that's this Saturday.
The weather's going to be great, or so they say. 82 and sunny? Yes, please!
We'll have brand new AoB t-shirts for sale, so bring your cash. Trust us–you will want one of these shirts. Remember this year's awesome Bike Love posters? Our new shirts are from the beautiful mind of the same designer, Aaron Bailey.
You may be asking yourself:
I have loved AoB rides so… What can I do to help? Volunteer for Pedal Patrol! It's simple–send an email to pedalpatrol@ashevilleonbikes.com to sign up. Also share the event with your facebook friends.
What can an esteemed member of the Pedal Patrol expect? You'll show up at 12:30pm on Saturday for the Pedal Patrol pre-ride meeting, where you'll get a snazzy yellow sash to wear before you head out to your assigned intersection along the route. At your post, you'll point riders in the right direction, encourage riders to follow the rules of the road, and keep an eye out for any problems (Have a tool kit with you? Know how to change a flat? So much the better!). When the sweepers arrive (look for the pink sashes), you'll turn in your official Pedal Patrol sash and get either a beer token (good for one free brew at the Wedge) or a Bicycle Benefits sticker. Then you'll finish up the ride with everyone else. It's a fun way to directly support AoB.
Can I bring my kids? Of course! Many families complete our rides, with kids in trailers, kids on tag alongs, and kids on their own bikes. We love seeing the next generation on two wheels!
I've been laid up / eating too many cheez doodles / off my bike for a while… Will I be able to keep up? There's only one way to find out! But seriously–we are dedicated to getting all people on bikes–not just the spandex-clad racer types. We keep an easy pace, the route is not too hilly, and no one is ever left behind. We hope you'll take this opportunity to Ride Your City!
What else should I bring? Cash, for AoB loot. Water for drinking. Sunscreen for, well, sun-screening. Smiles for sharing. A friend who's never been on one of our rides for converting. And it's Asheville, so festive attire never hurts.
I'm afraid that I will have so much bikey fun on Saturday that I'll need another event to keep me from shaking next week. Whaddya got? We're glad you asked….
Everything you need to know about bicycle accidents from police reports to hiring a lawyer
Collision checklist from a legal perspective
Examples from NC case law
A look to the future of bicycle rights
Q&A
Clingman Cafe
242 Clingman Avenue
Asheville, NC 28801
Located in the River Arts District
Beverages provided by The Van Winkle Law Firm
Thursday, June 27, 2013
7:00 p.m. – Gather at Clingman Cafe (confirmed location)
7:30 p.m. – Introduction by Mike Sule, AoB
7:35 p.m. – Briefing from the City of Asheville by Councilman Gordon Smith
7:45 p.m. – Presentation by Jones P. Byrd
8:30 p.m. – Q&A
8:45 p.m. – End
Jones is an attorney with The Van Winkle Law Firm (www.vwlawfirm.com) located in Asheville. Jones's broad trial practice focuses on civil litigation and dispute resolution. Most recently Jones secured several million dollars for the victim of a bicycle crash.