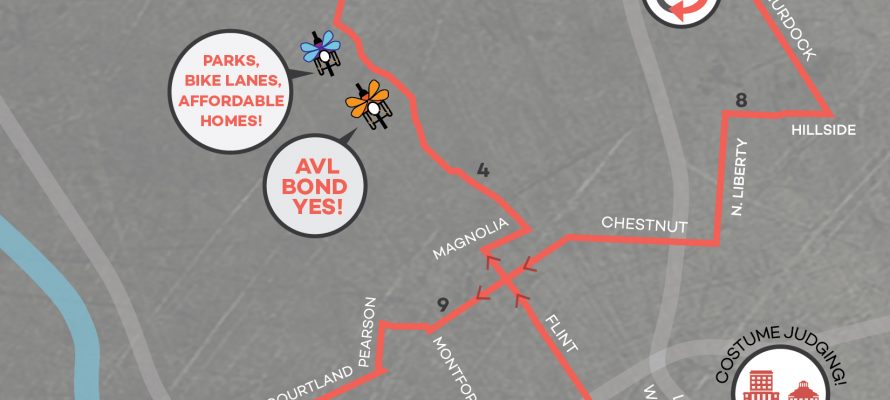 FOR IMMEDIATE RELEASE
October 12, 2016 – Asheville, NC — Asheville on Bikes (AoB) presents the Pumpkin Pedaller on Saturday, Oct. 29th. The annual costumed community ride gathers at New Belgium Brewing located a 21 Craven St. in West Asheville at 2:30 p.m., and rolls forward at 3:00 p.m. The nine mile social ride meanders upon greenways and bicycle lanes, twists and turns through downtown Asheville and neighborhoods before culminating back at New Belgium for a Halloween party. Festivities at the brewery begin at 5:00 p.m.and include music with DJ Mad-Sci, bicycle games, food trucks, and, of course, New Belgium beer. Tips for the day as well as $1 from each beer sold at the brewery on Oct. 29 will be donated to Asheville on Bikes.
"The Pumpkin Pedaller has many new additions this year. We've added a family section to the ride, bolstered our wayfinding, invited local personalities to judge the costume contest, and are thrilled to celebrate Halloween with New Belgium. The Halloween party is bound to be as much fun as the ride." says, AoB's director, Mike Sule. "Each year, the ride attracts more and more participants and we're responding to the increase in ridership. The Pumpkin Pedaller offers something for all – an urban ride, great music, bicycle festivities, and craft beer."
The Pumpkin Pedaller is free and open to the public. Participants are encouraged to RSVP at AoB's event page, ride in costume and review the route prior to the ride. Route maps can be found in area stores and on AoB's website and facebook page.
Details:
October 29, New Belgium Brewing, 21 Craven St.
Gather at New Belgium Brewing -2:30 p.m.
Ride the City – 3:00 p.m. (10 mile urban ride)
Halloween Party – 5:00 p.m. at New Belgium Brewing
Additional Sponsors:
JAG & Associates Construction, Myron Gottfried, DDS and Haley Mann DDS, Mosaic Realty, Sarver Realty Group
About Asheville on Bikes:
Asheville on Bikes cultivates the culture of urban and commuter riding through celebration and advocacy. AoB believes bicycling has a direct impact on the health of our community. Asheville on Bikes wants you to Ride Your City. For more information, visit ashevilleonbikes.com
Media Contact: Michael Sule, Asheville on Bikes, 828-582-4705, mike@ashevilleonbikes.com