Asheville on Bikes welcomes you to ride the city with New Belgium Brewing Co. on Saturday, Oct. 29th at the ninth annual Pumpkin Pedaller. The ride is free, open to the public, and costumes are customary.  This year, AoB introduces a few new features to the ride.
Pumpkin Pedaller Begins and Culminates at New Belgium Brewing Co. located at  21 Craven St. – The ride gathers at 2:30pm, rolls at 3pm, and returns at 5pm-ish for a Halloween party with music, food, and activities. 1$ from each beer sold and all tips will be donated to AoB.
Local Celebrity Costume Judges – Alli Marshal of Mountain Xpress, Brownie Newman of Buncombe County Commissioners, Jason Sandford of AshVegas,  Jim Lauzon of Lazoom Tours will serve as our costume judges. Judges will be stationed at Packs Park and riders hoping to win will roll up to meet and greet them.
Family Friendly Pedal Patrol – AoB will provide additional navigational support for families hauling and riding with children. Keep in mind the ride is 10 miles and includes a few climbs so please review the route and assess your family's riding ability before the Pumpkin Pedaller.
Dynamic Intersections – In order to keep the ride rolling together, AoB's pedal patrol has a few shortcuts embedded in the route as to keep the Pumpkin Pedaller rolling as one.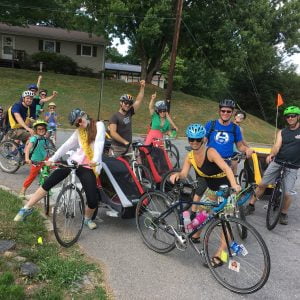 AoB seeks a variety of volunteers for Pumpkin Pedaller. If you'd like to support making the ride roll smoothly, please visit the volunteer page and select the volunteer spots that works best for you.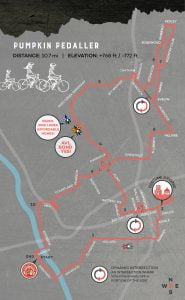 Keep an eye out for Pumpkin Pedaller maps at local bike shops and shops throughout Asheville. They're helpful and provide key information about the ride. Maps will also be available before the ride.
AoB thanks all of our sponsors who provide the resources to make this ride happen and keep AoB rolling forward. Thank you New Belgium Brewing Co, JAG & Associates Construction , Gottfried & Mann, Dr of Dentistry , Mosaic Lifestyle Realty, & Sarver Realty Group, LLC .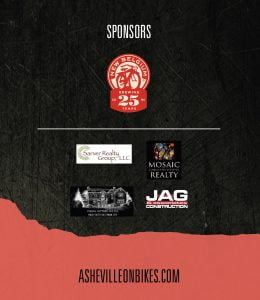 RSVP for the ride and follow updates via AoB's Pumpkin Pedaller Facebook Event Page.