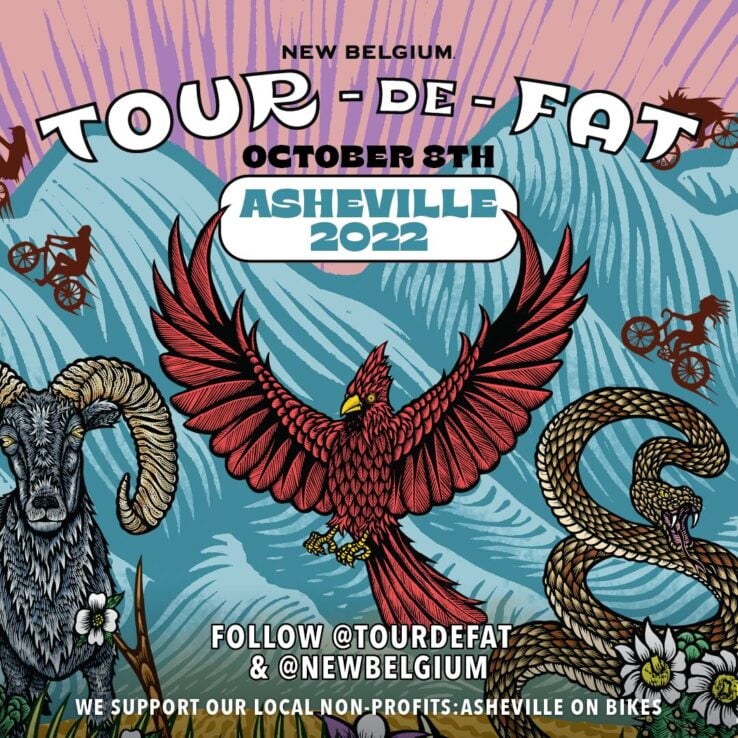 Tour de Fat 2022 is set for Saturday, October 8th!
Come shift gears and get weird with us! Tour de Fat is heading to Asheville on Saturday, October 8, 2022, at New Belgium Brewing. Join us for this celebration of great beer, even better people, and our very favorite vehicle, toy, and mechanical masterpiece—the bicycle!
JOIN US:
Tour de Fat Asheville
Saturday, Oct. 8th, 2022
11 AM to 8 PM
at New Belgium Brewing
21 Craven St. Asheville, NC
It's FREE!
Entering its 23rd season, the Tour de Fat has raised nearly millions of dollars for local bike non-profits, including Asheville on Bikes. This year's event is free to attend—but it's still a WIN for everyone. Proceeds from beer sales will go to Asheville on Bikes to help us keep up the momentum on our advocacy, education, and community work.
Volunteers are needed too! See below or sign up here for a 2-hour shift!
We're kicking off with our storied Bike Parade at 11am! The festivities at New Belgium start at 12 noon. This event is fun for all ages, and everyone 21 & up can enjoy a variety of New Belgium beers. Costumes strongly encouraged! For more info, see the event page on New Belgium Brewing.
Schedule & Music Lineup
Tour de Fat Bicycle Parade:
11:00 a.m. – Parade launch at New Belgium
12:00 p.m. – Parade ends at New Belgium Brewing
See details on the bike parade below the festival schedule
Festival Schedule:
12:00 p.m. – Liquid Center opens
12:30 p.m. – Variety Acts
1:00 p.m. – Fashion Show
2:20 p.m. – Slow Ride
4:15 p.m. – Dance Contest
5:00 p.m. – Rebirth Brass Band
8:00 p.m. – Last Call: Please get home safe!
Bike Parade at New Belgium Brewing at 11AM
We're starting Tour de Fat in style with a 4.6 mile community ride through the River Arts District featuring the Wilma Dykeman Greenway. Join us and ride your city with Asheville on Bikes!
The parade is free, family-friendly, and open to the public. Costumes encouraged!
Volunteers Needed!
We've got a few easy and very important 2-hour shift volunteer positions to fill at Tour de Fat. Volunteers get a free beer and a bike-load of great karma. Plus, it's fun! Sign up to volunteer here.
Sign up for AoB's newsletter or follow us on social media to stay up to date on details for Tour de Fat 2022!