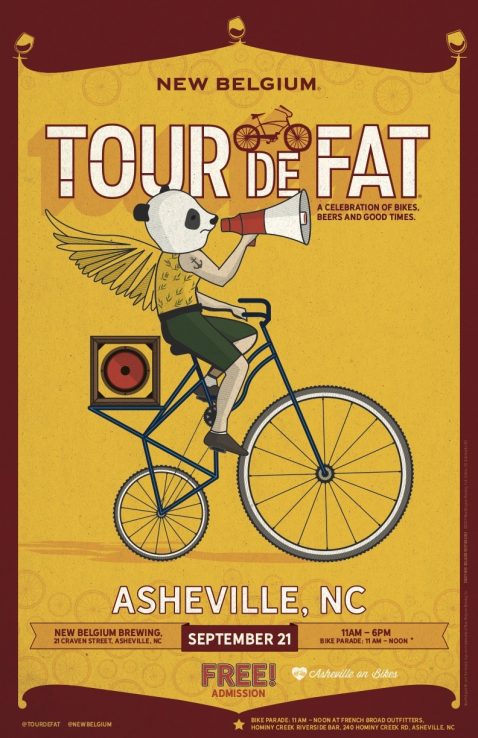 Tour de Fat 2019 is set for Saturday, September 21st!
Come shift gears and get weird with us! Tour de Fat is heading to Asheville on Saturday, September 21st, 2019, at New Belgium Brewing. Join us for this celebration of great beer, even better people, and our very favorite vehicle, toy, and mechanical masterpiece—the bicycle!
Join us:
Tour de Fat Asheville
Saturday, Sept. 21st, 2019
11 AM to 6 PM
at New Belgium Brewing
21 Craven St. Asheville, NC
It's FREE this year!
Entering its 20th season, the Tour de Fat has raised nearly $6 million for local bike non-profits, including Asheville on Bikes. This year's event is free to attend—but it's still a WIN for everyone. Proceeds from beer sales will go to Asheville on Bikes to help us keep up the momentum on our advocacy, education, and community work. Volunteers needed too; see below or sign up here!
We're kicking off with our storied Bike Parade at 11am, with the festivities at New Belgium starting at 12 noon. Expect the usual menagerie of A-list musicians, cirque performers, comedians, general mayhemists, and of course, delicious beer!
This event is fun for all ages, and everyone 21 & up can enjoy a variety of New Belgium beers. Costumes strongly encouraged! For more info, see the event page on New Belgium Brewing. Help us spread the word by RSVPing on Facebook.
Bike Parade at French Broad Outfitters at 11AM
We're starting Tour de Fat in style with a 5.8 mile Bike Parade from French Broad Outfitters at 230 Hominy Creek Rd. to New Belgium Brewing. It will be mostly paved greenway or bike lanes through Carrier Park and French Broad River Park with short sections on road. Join us and ride your city with Asheville on Bikes!
Meet starting at 10:00 AM for a little breakfast (and beer if you're so inclined)
At 11:00 AM we'll parade to New Belgium to revel in Tour de Fat
The parade is free, family-friendly, and open to the public. Costumes encouraged!
NEW for 2019: Tour de Fat Pedal-Powered Float Contest!
New Belgium is introducing a new twist on the already-legendary Tour de Fat Bike Parade: a Pedal-Powered Parade Float Contact. Contestants will be judged on creativity, flair, and uniqueness of their pedal-powered float. The winning float will receive a $500 credit toward beer & merch at New Belgium Brewing in Asheville. Here are the contest rules.
Volunteers Needed!
We've got a few easy and very important volunteer positions to fill at Tour de Fat. Volunteers get a free beer and a bike-load of great karma. Plus, it's fun! Sign up to volunteer here.
Sign up for AoB's newsletter or follow us on social media to stay up to date on details for Tour de Fat 2019!