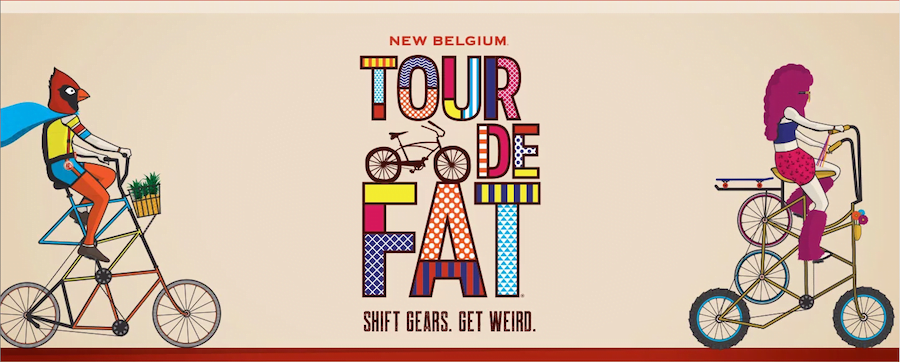 Tour de Fat 2018 is set for Saturday, September 22nd!
Get your costume ready, because it's baaaaack….Tour de Fat, the greatest little show on earth, is back for 2018 and will be stopping in Asheville at New Belgium Brewing, on Saturday, September 22nd, with Built to Spill headlining. Join us for this celebration of great beer, even better people, and humankind's most wonder invention—the bicycle! A portion of the proceeds go to Asheville on Bikes, so it's a win-win for everyone.
Join us:
Tour de Fat Asheville
Saturday, Sept. 22nd, 2018
12 noon to 6PM
at New Belgium Brewing
Musical Headline: Built to Spill
Entering its 19th season, the Tour de Fat has raised more than $5 million for local bike non-profits, including Asheville on Bikes. This year combines many favorite past acts, including Sedan Halen, The Handsome Little Devils, Daredevil Chicken, and KOLARS, plus new and emerging musical talent from across the country.
We're also bringing back our storied Bike Parade (time TBD) plus the "Bike Pit," our collection of rideable, bicycle-based oddities. This event is fun for all ages, and everyone 21 & up can enjoy a variety of New Belgium beers, including their flagship American craft beer Fat Tire, Voodoo Ranger IPA, Tartastic Strawberry-Lemon Ale, an the brand spankin' new Hemporer HPA, the world's dankest beer.
FREE Bike Parade & Afterparty at French Broad Outfitters
We're starting Tour de Fat in style with a 4.9 mile Bike Parade from French Broad Outfitters at 230 Hominy Creek Rd. to New Belgium Brewing. It will be mostly paved greenway or bike lanes through Carrier Park and French Broad River Park with short sections on road. Join us and ride your city with Asheville on Bikes!
The parade is free, family-friendly, and open to the public (you'll still need a ticket to get into the Tour de Fat main event area). Costumes encouraged!
Afterparty at French Broad Outfitters from 6PM to10 PM
After Tour de Fat is over, join us back at French Broad Outfitters for an afterparty from 6 to 10PM! The Secret B-Sides will be playing at 7PM, and food trucks will be on site for you to buy dinner. The afterparty is also open to the public.
These new events are going to be a ton of fun, so plan on coming out and share the event on Facebook to spread the word.
Volunteer for Tour de Fat
We've got many fun, easy and very important volunteer positions to fill at Tour de Fat. Volunteers get free entry to the festival and two Shift beers after you volunteer! Click Here to Volunteer »
Our volunteers are our lifeblood—we couldn't host so many fun, memorable events without you. Donating your time and enthusiasm fosters a stronger bicycling community and helps get more mileage out of our resources towards advocacy, afterschool bike programs, and everything we do at AoB. Plus, it's fun!
Sign up for AoB's newsletter or follow us on social media to stay up to date on details for Tour de Fat 2018!
See the event page on New Belgium Brewing's site here.