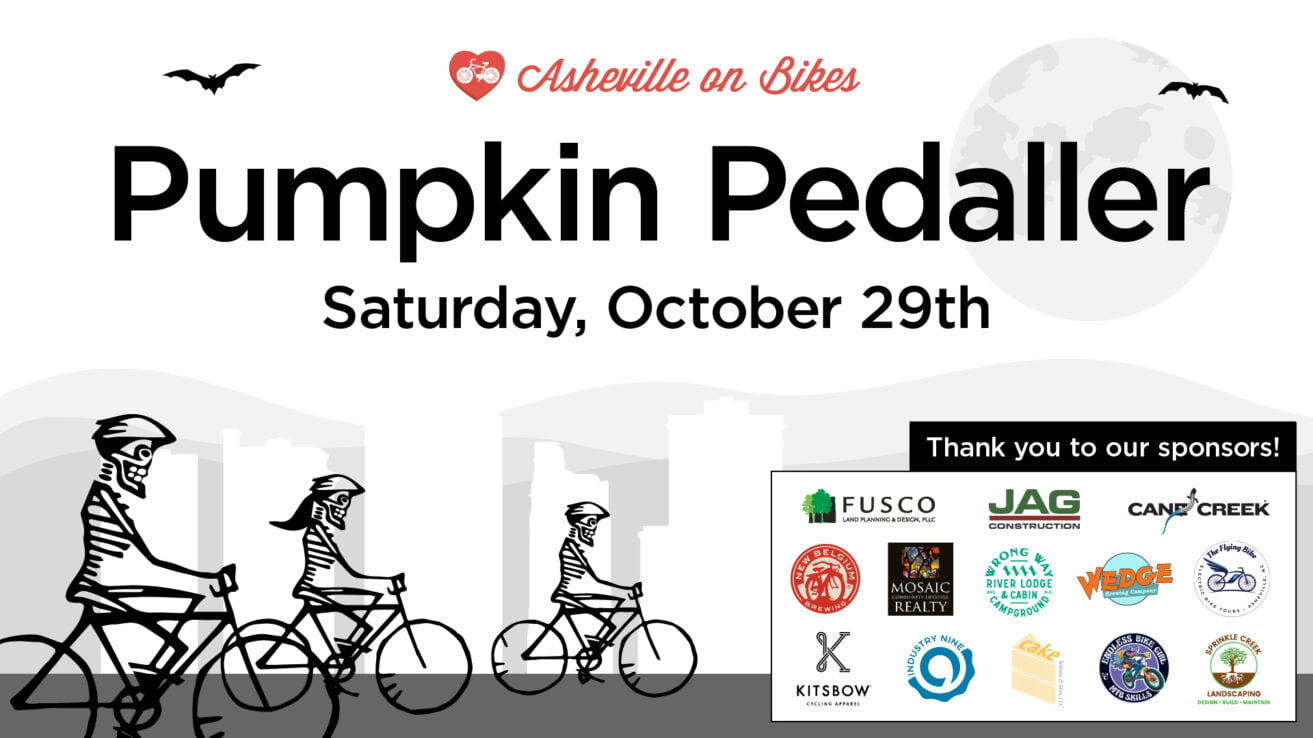 Get those Costumes Ready for the 2022 Pumpkin Pedaller
The Pumpkin Pedaller, presented by New Belgium Brewing, is Asheville on Bikes' (AoB) annual costumed community ride. The event is hosted at New Belgium Brewing on Saturday, Oct 29th.
Event schedule:
1:30pm – 7pm: Pop-Up Bike Park presented by Kid Cycle Club
2:30pm – 3pm: Ride Gathers + Costume contest photo booth
3pm:  Ride departs from New Belgium Brewing
4pm – 5pm: Staggered return
5pm – 7pm: Continued bicycle frolic
There are 3 routes from which to choose:
Cruiser Route – 4 miles on mostly protected bike facilities.
Main Route – 12 miles on a mix of bike facilities and active roads w/ a few climbs.
Ride More – 15.5 miles on a mix of bike facilities and active roads with a few more climbs and interesting turns.
Download and preview routes using AoB's Ride With GPS Membership Account.
Click here to sign up to Volunteer »
Pumpkin Pedaller Costume Contest
This year, we're hosting a costume contest! Winners will be picked in each of the following categories:
1. Totally off the wall
2. Best use of recycled materials
3. Best use of bicycle
4. Most likely to be re-gifted
5. Most likely to cause congestion
6. Best use of hot glue gun
7. Best play on words
8. Best themed group
Past Pumpkin Pedaller Photos
Thank you to all the riders, volunteers, and AoB's donors and sponsors for 11 great years of Pumpkin Pedaller!
Costumes are encouraged!