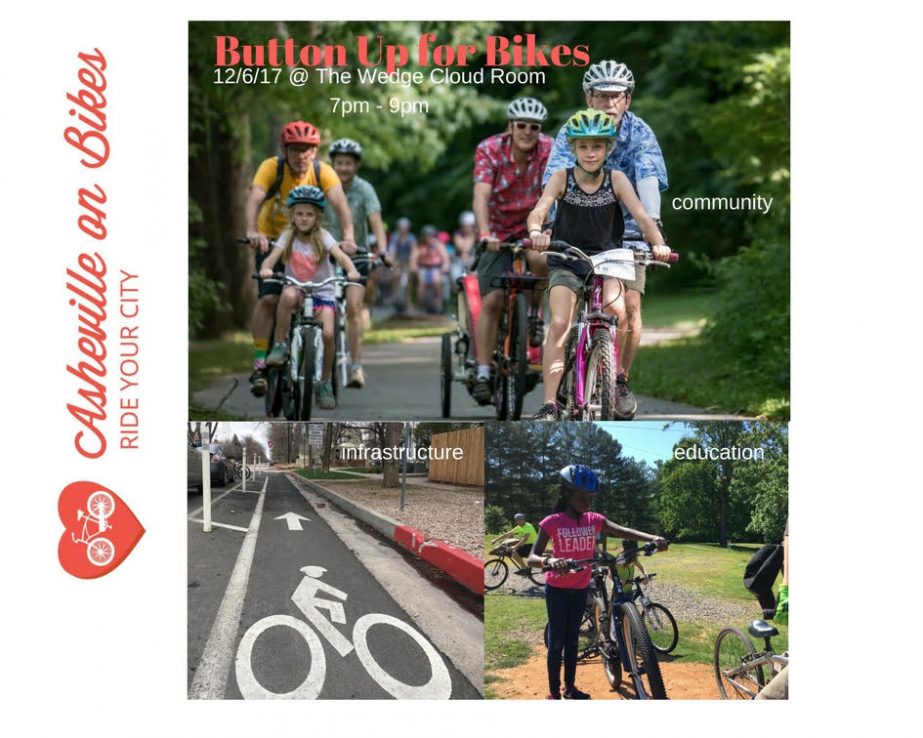 Button Up For Bikes is our annual December celebration and fundraising event. If you like bikes, or want to hear the word "multi-modal" a few times, or are in need of a progress report about Asheville infrastructure, may we suggest Button Up as your ideal winter holiday party? You could also attend if you like us, like being among friends, or like making new friends. 🙂
Button Up for Bikes 2017
When: December 6th, 6:30 PM  – 9:00 PM
Where: Wedge at Foundation, in the Cloud Room
How: Buy tickets in advance, then show up! Click here to Purchase tickets This event has sold out each of the last 3 years.
How much: Tickets are $40.
Come one, come all to Button Up for Bikes to support AoB's mission and advocacy work. Button up for Bikes is AoB's annual end-of-year fundraiser to support our general operating fund. This ticketed event features outstanding Wedge beer, wine, small bites from Farm Burger and Earth Fare, and a presentation by AoB stakeholders and leadership. All donations received at Button Up or before Dec. 31st apply to our current $10,000 donor challenge match.
Your annual donation to AoB ensures we can continue to offer our signature, high-quality youth bicycle education program, popular community rides, and impactful advocacy for years to come.
Button Up for Bikes 2016 – Thank you for your support!
Thanks to the generous support of AoB supporters and anonymous donors, we raised over $20,000 at Button Up '16! This far exceeded our $5,000 goal. We are awed and humbled by our community's passion for cycling and support of our mission. Button Up '16 happened December 8, 2016 at Catawba Brewing and featured local Catawba beer, Farm to Fender catering, desserts from Buxton Hall, and a live auction.