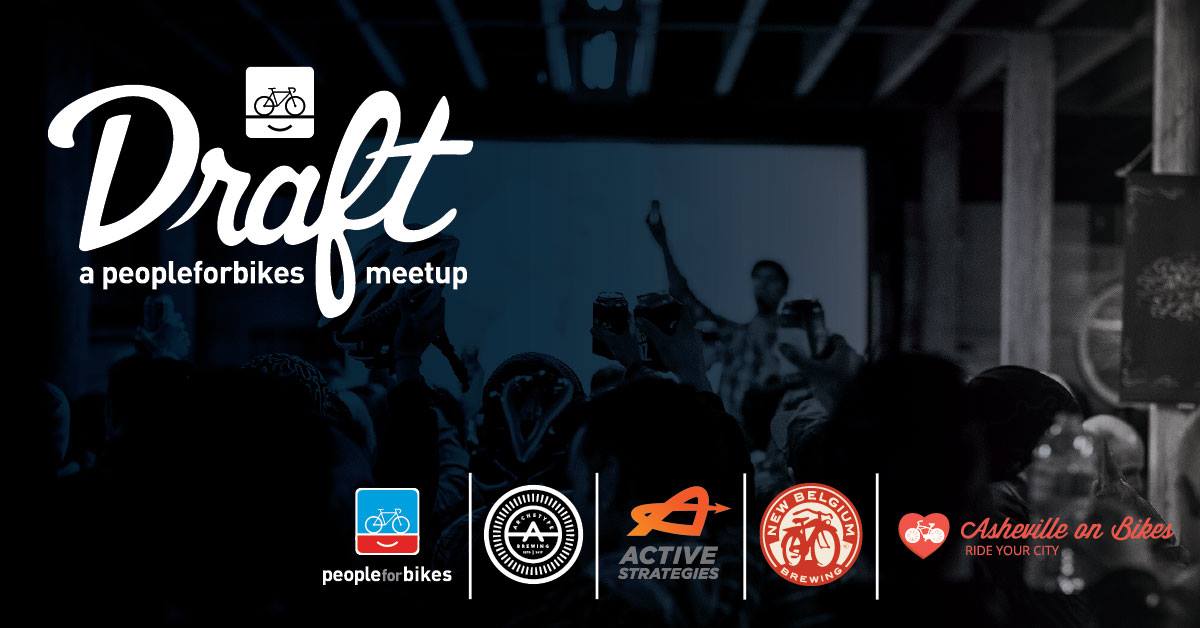 Join us for Asheville's first DRAFT Meetup, October 26th, 2018
Interested in learning more about the bicycle industry and bike culture in WNC, or perhaps even working in it? A great way to do this is to meet other people interested in the very same things! That's what DRAFT Meetups are all about, and we're excited to help People for Bikes host Asheville's first DRAFT Meetup in just a few weeks.
You're invited:
People for Bikes DRAFT Meetup
Friday, October 26th, 2018, 6 to 8 PM
at Archetype Brewing
265 Haywood Rd. Asheville, NC 28806
It's FREE to attend, but please RSVP here.
DRAFT Meetups are fun, fast-paced events where entrepreneurs, bicycle industry experts, and bicycle enthusiasts can get together, share ideas, and generally geek out about bike culture over a delicious craft beer.
Our Asheville DRAFT Meetup is the perfect opportunity for you to meet new friends and get more involved in WNC biking culture. If you are hiring or looking for a job with a company that loves bikes, this is a must-attend networking event. Plus, you can be the first to try New Belgium and Archetype's new collaboration brew; they'll be releasing this special beer at the event.
Here's how the evening will go:
6 PM Doors Open. Grab a beer and banter.
6:30 to 7:30 PM. Short program + speakers.
7:30 to 8 PM. Get another beer and banter some more.
There are some great speakers lined up, including:
Luke Bukoski from Cane Creek Components
Gregory Hardy from Rockgeist
Alice and Torin Kexel, fromThe Flying Bike
and the one & only Mike Sule from AoB & the Street Tweaks Project!
The event is free and open to the public, but we ask that you RSVP so we can make sure there's enough beer for everyone! For more information, check out the Facebook event (and share to help spread the word).
Stick Around for Pumpkin Pedaller on Saturday Oct. 27th!
Our fall community ride, the Pumpkin Pedaller, is set for Saturday, October 27th at New Belgium Brewing. Now in its 11th year, the Pumpkin Pedaller always draws a large, enthusiastic, and costumed crowd to ride around the streets and greenways of Asheville, followed by a festival-like party. There are rides and activities for all ages, so bring the family.
It's no coincidence that we planned DRAFT Meetup and Pumpkin Pedaller on the same weekend—we're expecting bike lovers from around the region to attend both of these events and get excited about the first Street Tweaks project on Coxe Ave., as we're "breaking ground" on that in early November.
Here's a sneak preview of what a DRAFT meetup is like