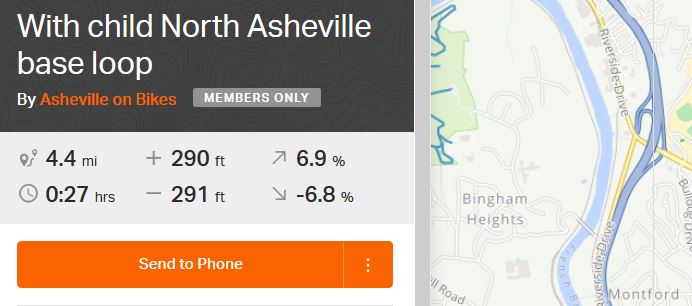 Welcome! Asheville on Bikes has a special benefit for our members, which is use of our Ride With GPS club account.
AoB welcomes you to join our Ride With GPS membership account as part of your annual membership and enjoy all of our rides. We welcome you to share routes with us so that we can expand our library to serve more people.
Ride With GPS is a mapping and route finding tool, similar to Strava, and we have pre-loaded our event routes and other surprises in our account, for members only. To access these resources, follow these three steps:
Click this special pre-approval link, which pre-approves you as an Asheville on Bikes annual member. It will prompt you to either setup a new free account or link your existing RWGPS account to our club account. Then you'll have access to all the members-only routes in our Club account. For any route in our Club account, you have all the pro (normally paid) features of Ride With GPS, including turn by turn navigation and offline mapping.
Download the Ride With GPS app on your phone and make sure it is working, before showing up for our rides!
If you need to find the RWGPS club account in the future, there are two ways to get there
From your RWGPS account, when logged in, click on your own profile. In the sidebar, you'll see Ashevile on Bikes listed in your clubs.
Click here to go directly to our RWGPS club page: https://ridewithgps.com/organizations/1802-asheville-on-bikes/ Keep in mind that you'll only see all our rides if you have followed the steps listed above, which link you as member of AoB with access to our club account.
Pro tip for seamless route finding:
For an AoB event, log in to RWGPS the night before and download the route to your phone.
In the RWGPS app on your phone, turn on the turn-by-turn directions
Use a bluetooth headset and RWGPS during the ride and RWGPS will whisper the directions in your ear as you ride!
Links to RWGPS help documents: