A POLICY & PLAN FRAMEWORK FOR NATURAL SURFACE TRAILS IN THE CITY OF ASHEVILLE, NORTH CAROLINA
UPDATE: Your input is needed for our AVL Unpaved Public Survey
The first phase of the AVL Unpaved trails are moving forward, and we are seeking community input to design trail kiosks and signs that will best support trail users. Take the AVL Unpaved Public Survey at this link to contribute. The survey will be open from September 11th – November 11th.
What are the AVL Unpaved Trails?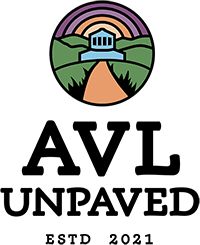 AVL Unpaved Alliance, in partnership with the City of Asheville, hired Elevated Trail Designs to design a series of natural surface trails in the undeveloped forested pockets of Asheville. In 2022, thanks to generous community support and grant funding through Explore Asheville, three initial projects were identified: Bacoate Branch, French Broad River West, and Azalea Park.
Explore the project maps: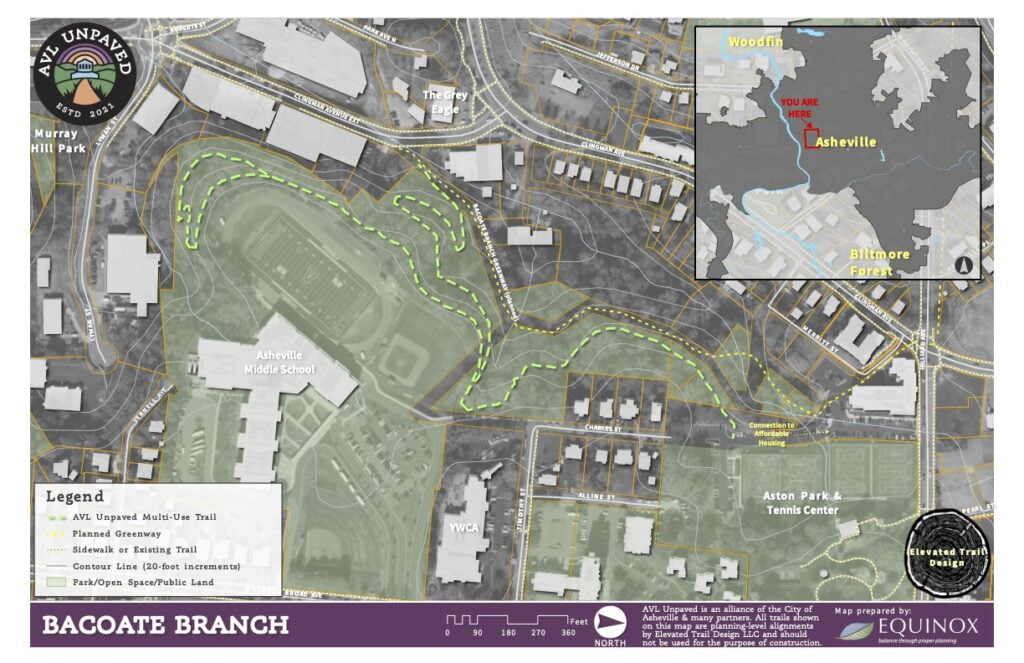 AVL Unpaved Alliance is dedicated to building three pilot natural surface trail systems to support better connections into the City's natural environments for Asheville-area residents and its visitors. Users will be able to access this unpaved trail system via greenway, sidewalks, bike lanes, transit, and trailheads, providing "front door" access to trails.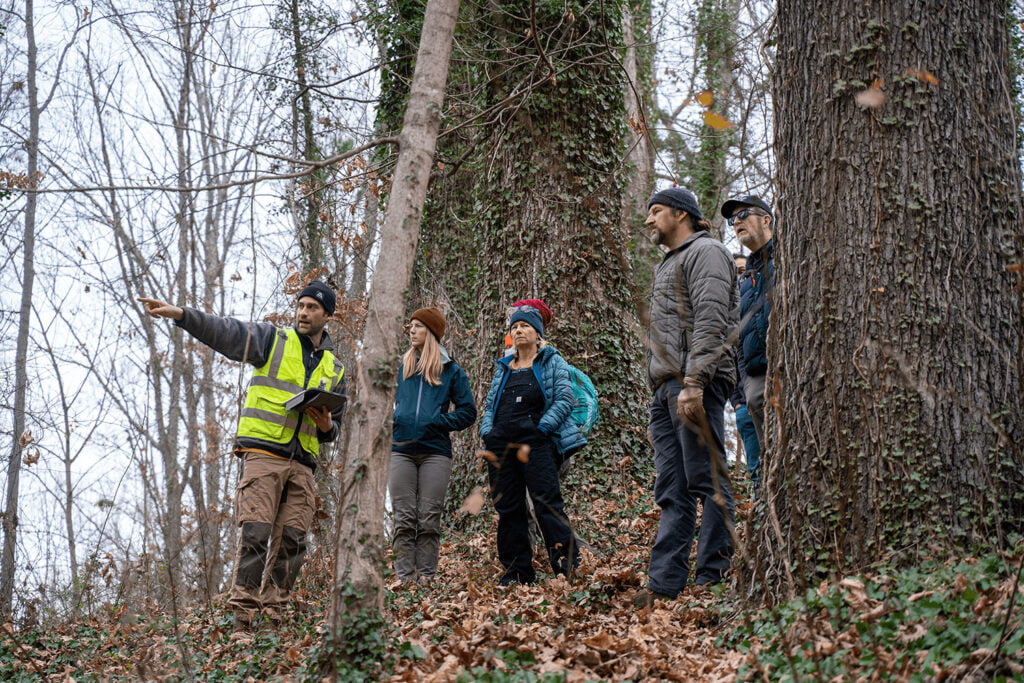 Why Trails in Asheville?
In 2021, the three non-profit partners met informally to consider how they might support advancing city trails. In October of 2023, City Council unanimously adopted the Close the Gap Plan which identifies natural surface trails as a strategy to improve Asheville's active transportation network. Complete streets, transit, and existing vehicular City parking will all support access into these trails. We call this the "reducing your distance to dirt," approach.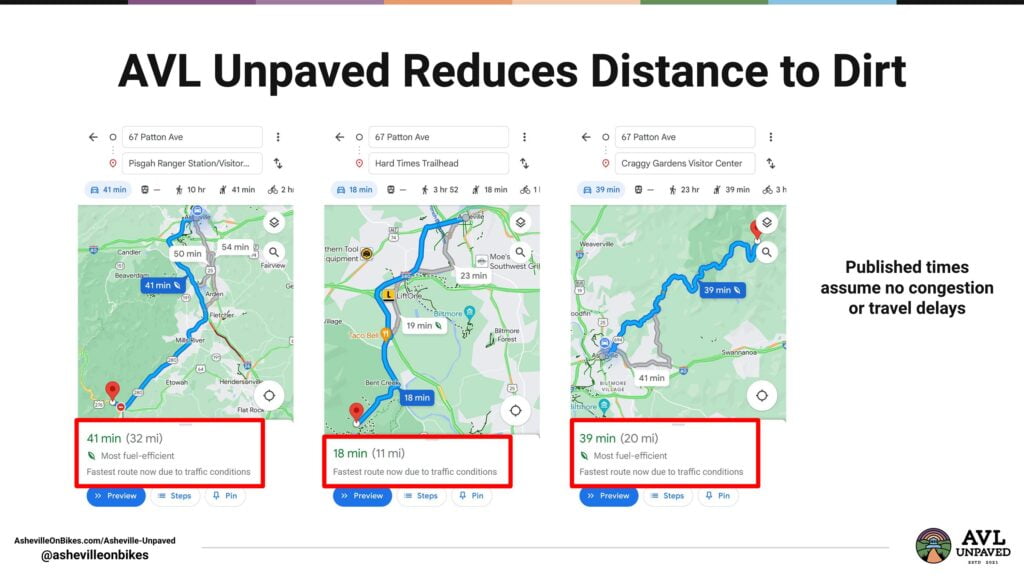 AoB is particularly invested in AVL Unpaved because of our youth cycling program at Asheville Middle School.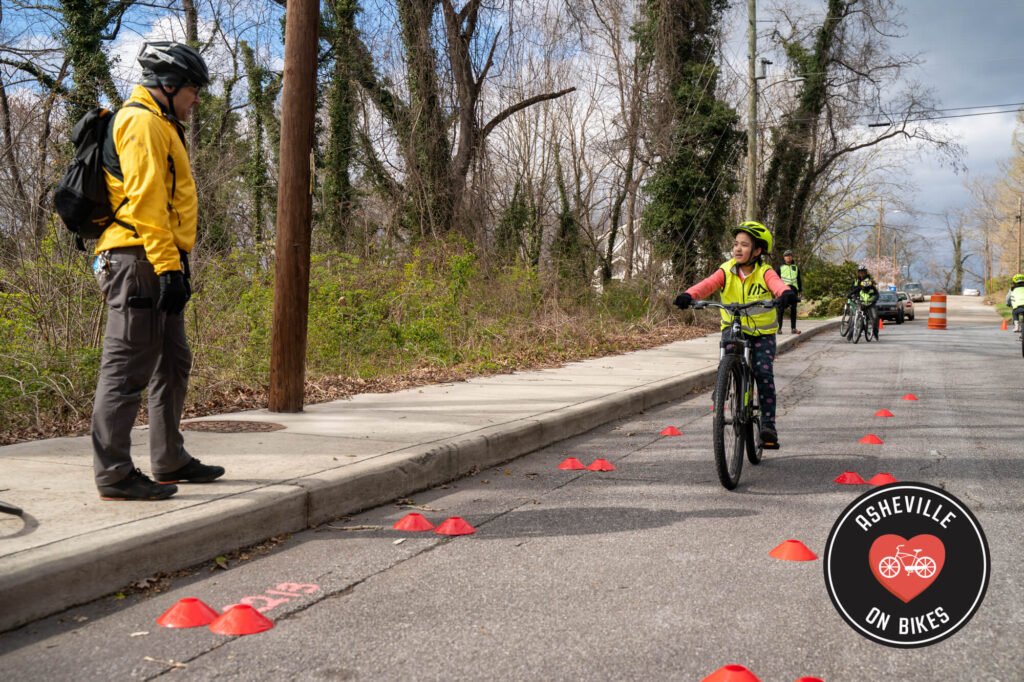 "The students in our city deserve direct access to trails and greenspaces. For over a decade, AoB's youth cycling program has taught middle school students how to ride their city. Our students learn all the urban skills but have limited access to experience trail riding due to issues of proximity, transportation, and scheduling. Trails adjacent to the Asheville Middle School and the Wilma Dykeman Greenway will move students from the classroom, onto a bike, and into the woods. These trials will complement other youth programing, too, like cross country running and natural studies. AVL Unpaved opens greenspaces in Asheville."

Mike Sule, executive director of Asheville on Bikes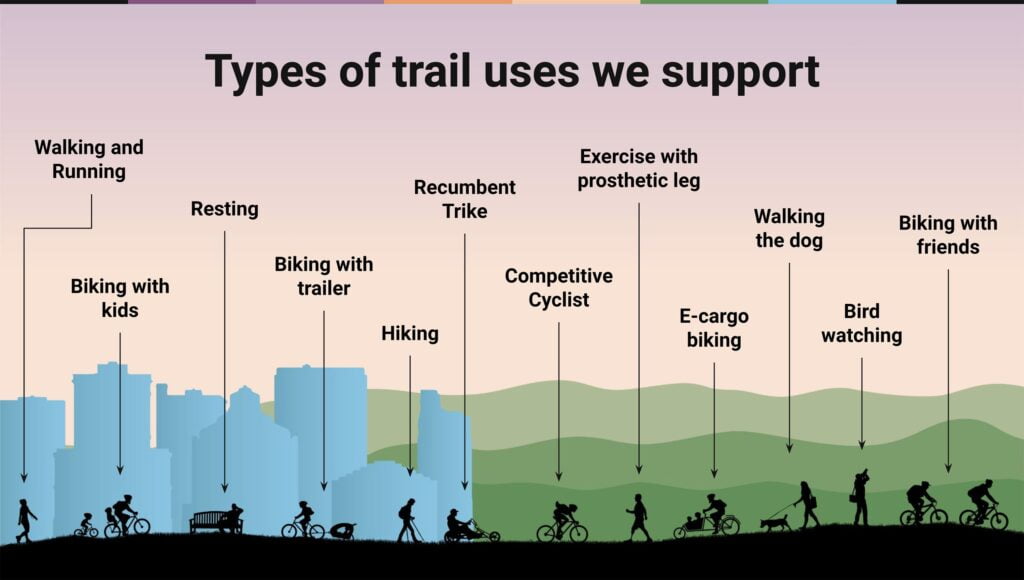 The AVL Unpaved trails are open for all the uses as well. Whether it's dog walking, bench sitting, trail running, or leisurely strolls, AVL Unpaved offers something to residents and visitors alike.
The next step to advancing Asheville Unpaved is to respond to the AVL Unpaved Public Survey so that we can build trails that work for all.
Benefits provided by Asheville Unpaved
Asheville Unpaved will provide residents and visitors with the following benefits:
Front door trail access:

No longer will residents and visitors have to drive 30 minutes to visit world-class trails. Instead, users will be able to go from their front door to the trail without a vehicle.

Equitable access: Trails will be developed in Asheville's natural lands and parks, campuses, and urban areas, and spread equitably across the city.
More trail miles for fewer dollars:

Natural surface trails can be one of the cheapest public investments for the greatest returns. Trails are 35 times cheaper to build than greenways. They can serve as precursors to greenways being built, or utilize lands where greenways would be too costly to build.

Minimal climate footprint: Natural surface trails can connect neighborhoods, greenways, and urban centers without creating the climate footprint associated with paved trails.
Sustainably designed and built: Asheville Unpaved's trails will be sustainably designed and built for minimal environmental impact and maximum use.
Improved health and wellness: Trails can play a critical role in physical and mental health.

Increased sense of community and equity:

Asheville Unpaved will be community-supported. With this comes collaboration, community service, and socialization. This system will provide opportunities for chance encounters, new friendships, and programmed activities. Users of these trails will include community members who have little access to the popular trail opportunities on the outskirts of Asheville, including urban school children who don't have trail access, those with disabilities that are given adaptive equipment to ride trails, and neighborhoods that are currently unsafe for walking. Asheville Unpaved will prioritize opportunities that provide the greatest benefit for equity, including opportunities to partner with neighborhoods that lack basic walking and biking infrastructure.

Positive economic impact:

Trails are proven to have a huge return on investment (ROI) seeing huge economic returns per the low cost of infrastructure, spurred business growth, and health savings cost. Two case studies of Southern communities that have seen a tremendous ROI from trails can be read about in

National Context

further below.
Why is Asheville Unpaved Needed Now?
WNC is a haven of outdoor activity; nearly half a million mountain bikers visit the nearby Pisgah National Forest each year, many of which hail from the Asheville metro area. However, lack of a car and a bike rack are enough barriers to prevent people from accessing trials. The AVL Unpaved system allows residents to connect to the trail system via neighbor streets. We call this improved access "front door access."
Additionally, the COVID-19 pandemic has emphasized the need and demand for outdoor recreation. As such, the need for more trails in the Asheville area is more apparent than ever before.
Who is involved in the Asheville Unpaved Alliance?
Asheville Unpaved is a partnership led by Asheville on Bikes, Pisgah Area SORBA, and Connect Buncombe. This alliance has funded the AVL Unpaved's phase I alignments and the upcoming round of public engagement. Future alliance partners are critical to AVL Unpaved's success. As this project requires trail's planning, funding, design, construction, stewardship, and activation of use.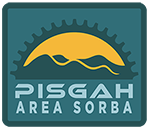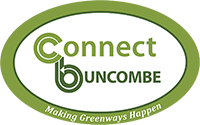 Goals of the Asheville Unpaved Alliance
The Asheville Unpaved Alliance envisions the following goals for Asheville Unpaved:
Trails serve as well-utilized transportation and recreation facilities.

Trails serve the need of connecting neighborhoods, utilizing public space, and providing immediate access to quality trail experiences without the need of an automobile.

Trails are built for sustainability.

Trails built with proven construction techniques make them last longer with less maintenance. These same techniques make them more accessible to a broader population of people of varying abilities.

Projects are equitable and meet the greatest need.

Priority projects will benefit the greatest amount of people and those most in need of trail access. The city-led public process will engage the public on trail projects on underutilized city-owned properties. Neighborhood groups or private landowners can work with the Asheville Unpaved Alliance to achieve shorter neighborhood trail connections.
Phase I: Proposed Projects
Phase 1 planning funders include the following Asheville-area non-profits: Connect Buncombe, Pisgah Area SORBA, and Asheville on Bikes.
The following two connectivity maps show the phase one alignments and how they connect to each other via existing road networks and future planned greenways: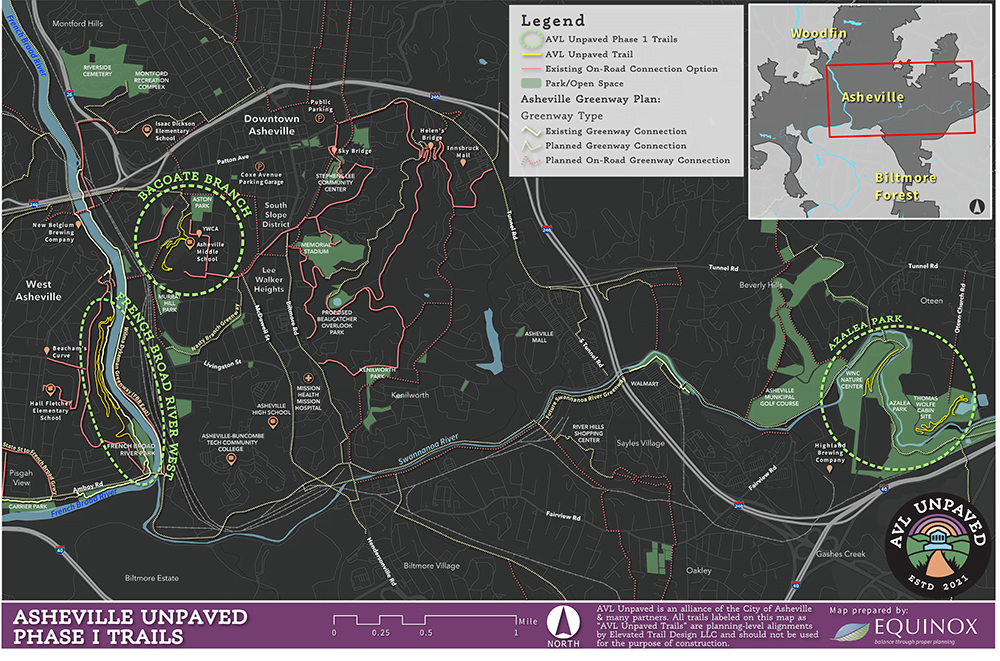 Trail Classes
Trail Hubs and Neighborhood Connectors are two classes of trail development that vary in purpose and method for implementation. The following is a description of these classes, their purpose, and characteristics:
TRAIL HUBS
Purpose:

To utilize public space for greater trail and recreation access on public lands. Hub trails can maximize use of space with "stacked" trail loops and can connect multiple destinations. The trail is designed to be the destination, may be more indirect, or have routes that serve as more direct transportation.

Need:

Hubs will take advantage of underutilized public space. Hubs can occur along greenway corridors either by building the trail adjacent to the planned greenway for a looped system or designing the trail to be an interim connection prior to the greenway being built.

Partners:

City, county, and/or state governments and Asheville Unpaved Task Force partners.

Considerations:

Design (level of difficulty and designing multi-use trails that reduce conflict), ADA requirements, MOUs needed, designing stacked looped systems, accessing multiple recreation destinations.
NEIGHBORHOOD CONNECTORS
Purpose:

To create neighborhood connections through private properties for quicker and more natural access. This provides an alternative route to get through neighborhoods. This may provide a shortcut, it might create a shorter connection (i.e. connecting two cul de sacs), it might just be nicer to walk in the woods than on the street.

Need:

Many neighborhoods in Asheville currently have community trails that are used to access through neighborhoods. This would allow for formalizing that access or to explore opportunities for new connectivity. The benefits would be less burden on the individual property owners via organized maintenance and freedom of liability in the chance of injury.

Partners:

Neighborhood organizations, private entities, city and/or county governments, Asheville Unpaved Task Force partners.

Considerations: Design (level of difficulty), ADA* requirements, easements for public use, MOUs needed, funding opportunities.
The Asheville Unpaved Hubs and Neighborhood Connectors Map
The following maps indicate where hubs and neighborhood connectors are considered. Future trail projects are not limited to what is on this map, but should fall within the framework.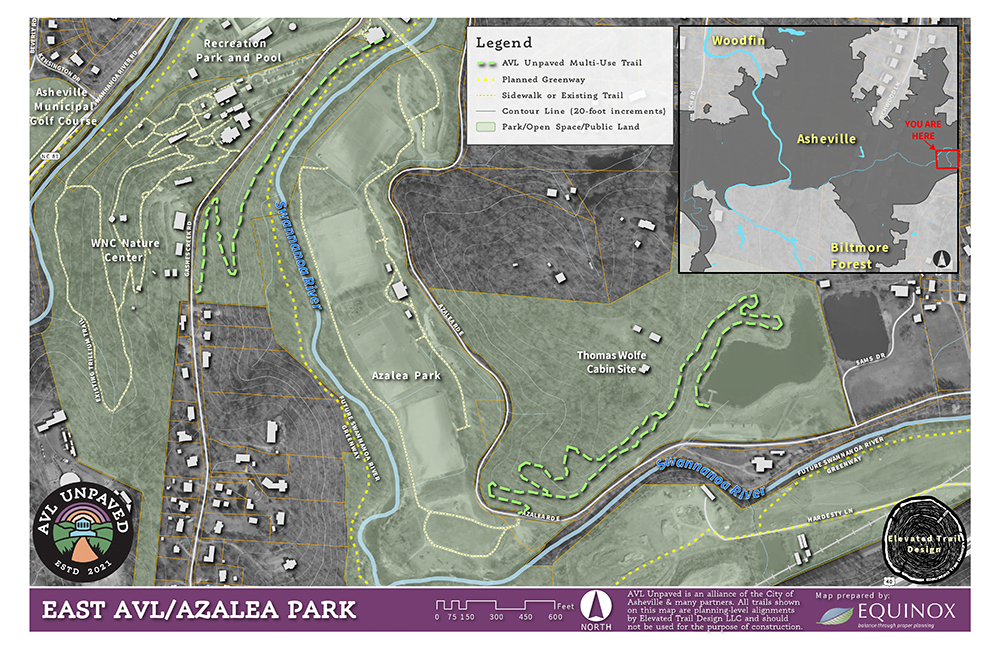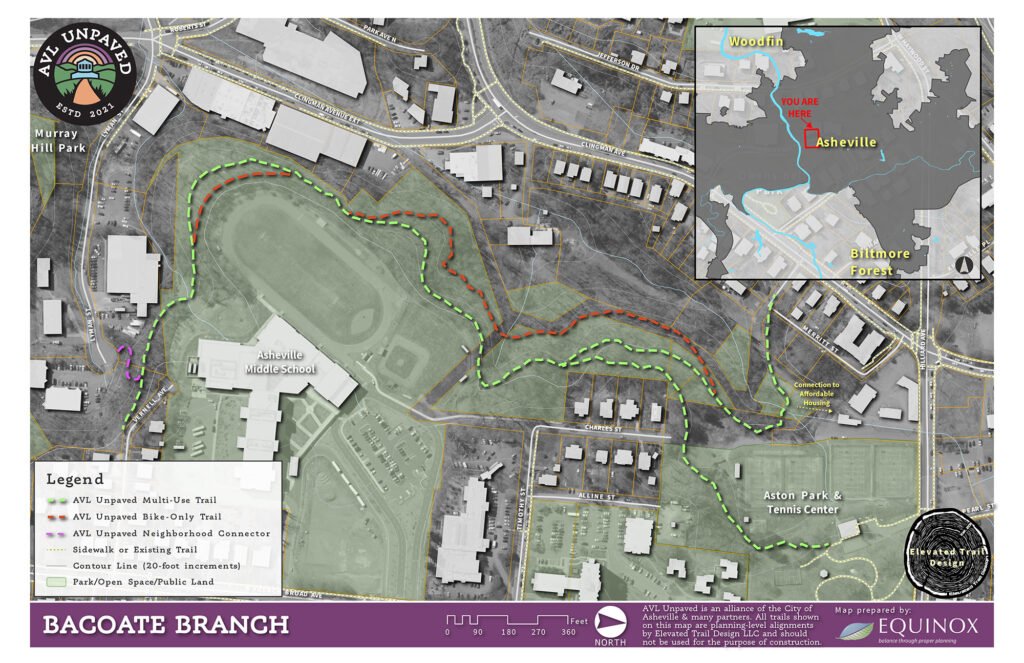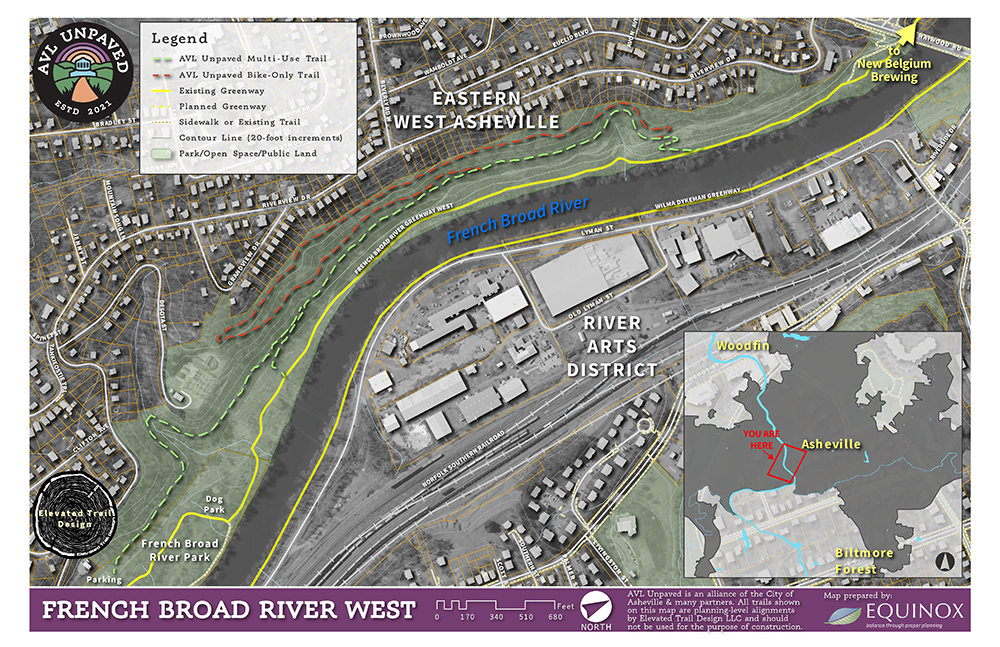 Provide Feedback
Asheville Unpaved is not a static natural surface trail plan, but a vision and framework open to opportunity and community collaboration.
We welcome all input from members of the Asheville community. If you are an Asheville resident and you wish to provide feedback or suggestions for the Asheville Unpaved plan, please email ashevilleonbikes@gmail.com or fill out the contact form below.
Schedule a Presentation
AoB will happily participate in your upcoming meeting to present on AVL Unpaved. If you'd like for AVL Unpaved to be included in your upcoming agenda, fill out this form to schedule. We can do either in person or virtual.