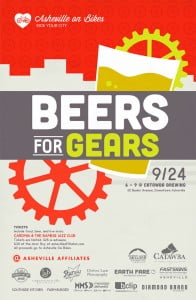 The Asheville Affiliates present Beers for Gears at Catawba Brewing Company on Thursday, Sept. 24th from 6pm – 9pm.
The event is a benefit for AoB and features local food, craft beer and wine, live music, silent auction, and raffle items that range from restaurant gift certificates, Biltmore passes and a variety of outdoor gear.
Early bird tickets can be purchased online for the discounted rate of $25 / person. They will be $30.00 at the door. Ticket covers all food, beverages, and entertainment.
Beers for Gears will take place at the new Catawba Brewing Brewery, 32 Banks Avenue
Asheville's Caromia and the Siamese Jazz Club will play a mixture of R&B, Soul, and Jazz.
Asheville on Bikes cultivates the culture of urban and commuter cycling through advocacy and celebration. We believe a biking community is a healthier community. The entire proceeds of this event will support Asheville on Bikes.
If you'd like to volunteer for Beers for Gears, please sign up w/ the Beers for Gears Volunteer Form.