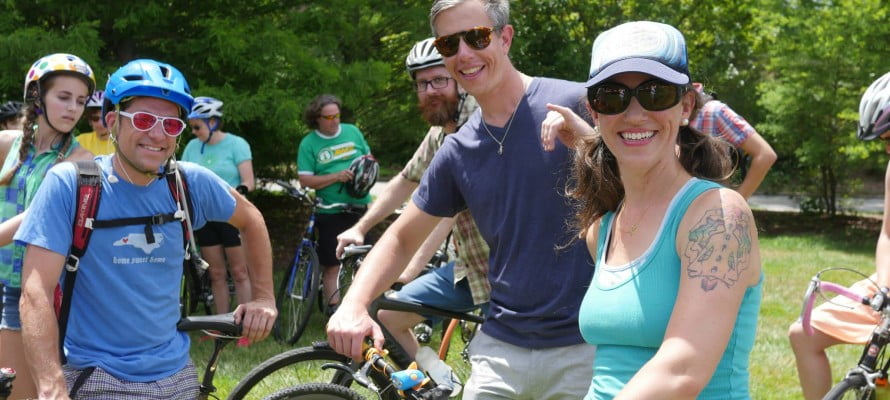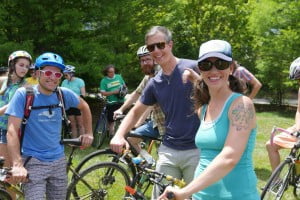 National Bike to Work Week is May 16-20 and a handful of WNC breweries are hosting Bike from Work week and supporting Asheville on Bikes and Friends of Connect Buncombe.
Enjoy a beer, support bicycle advocacy, and have your bike tuned at Wedge, HiWire, Highland, Wicked Weed and New Belgium Brewery on your way home from work. Proceeds from pint sales will be split between bicycle advocacy organization Asheville on Bikes and greenway non-profit Friends of Connect Buncombe. Each brewery will host an evening of bike-centric activities. On Friday, May 20 at 6 p.m. at New Belgium Brewery, the breweries will donate collective proceeds to the two non-profits.
Bike from Work Week Brewery Stops
Mon., May 16 – Wedge Brewing Company, 37 Payne's Way, Asheville, NC 28801
On Monday, Wedge will donate a $1 from India Blonde Ale & Witbier and has invited The Tacoed Wheel, a mobile bike repair shop, to join in the evening. Wedge will show Breaking Away as their outdoor movie that evening, starting at 8:30pm.
"We appreciate all the support the Asheville bike community has given the Wedge," says Tim Schaller, co-owner of Wedge Brewing. "We are happy to have an opportunity to give a little back, and have some fun."
Tues., May 17 – Hi-Wire Brewing-Big Top Location, 2A Huntsman Place, Asheville, NC 28803
Hi-Wire Brewing, in collaboration with Motion Makers Bicycle Shop, will be hosting the second day of Bike From Work Week at their Big Top location ( 2 Huntsman Place). Hi-Wire will donate $1 from all full pour beers and will be discounting $1 off of their four flagship beers including the Hi-Wire Lager, Prime Time Session Pale, Hi-Pitch IPA, and Bed of Nails Brown. Food will be available from Foothills Local Meats, a permanent food truck at their Big Top location.
Wed., May 18 – Highland Brewing Company,12 Old Charlotte Hwy, Asheville, NC 28803
On Wednesday, Highland will donate $1 of every pint and Cane Creek Cycling Components will be on site from 5:00-8:00 p.m. offering free demos, swag and a raffle for Cane Creek Cycling Components 110-Series headset. Tin Can Pizzeria will serve up pizzas and Woody Wood will play from 5:30-7:30 p.m. Run club leaves at 6:15 p.m.
"Asheville's future as a more connected city, by foot or pedal, is top of mind for me," says Leah Ashburn, President, Highland Brewery. "Greenways benefit everyone and fit Asheville's lifestyle. And, what if Asheville was the city where breweries built greenways?"
Thurs., May 19 – Wicked Weed Brewing, 91 Biltmore Ave., Asheville, NC 28801
On Thursday, Wicked Weed will donate $1 of every pint of Freak of Nature Double IPA.
"Beer and bikes have always been a wonderful pairing, and in Asheville bringing those two things together to help raise money for these incredible charities just makes sense," says Luke Dickinson, head brewer and owner, Wicked Weed. "Drink a beer and make Asheville better, not a bad deal."
Fri., May 20 – New Belgium Brewing, 21 Craven Street, Asheville, NC 28806
On Friday, New Belgium will donate $1 of every pint. A small gift will be given to anyone who rides their bike. Tune ups will be available. At 6 p.m., the breweries will donate collective Bike from Work proceeds to the non-profits.
"We support Asheville becoming a better city for bicycling and what better way than to do that with beer and friends," says Michael Craft, New Belgium VIPer Ambassador and national bicycle advocate. "We also support having fun, so come by the Liquid Center, enjoy a beverage and get a view of the City's soon-to- open greenway while you sip a pint on our deck."