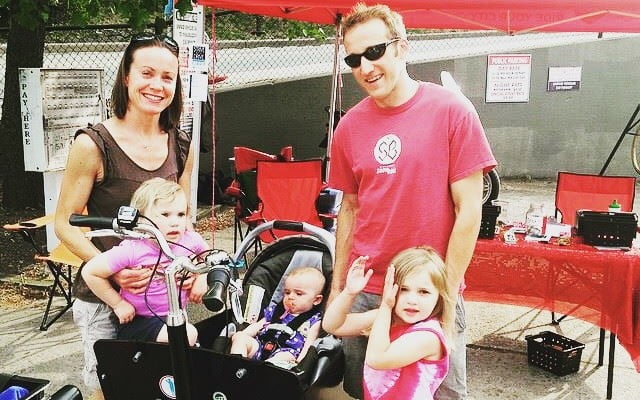 Asheville on Bikes rolls throughout the city in a variety of ways. Get your tires pumped, chain lubed, and helmet strapped as you're invited to participate.  
Saturday, June 4th 6am – 12pm
Volunteer to bike marshal the AVL ½ Marathon. Bike marshals are assigned a specific zone of the race course to ride. Their responsibility is to report when runners may need additional support.
Sunday, June 12th  12pm – 6pm
Second Gear supports AoB by donating 10% of all sales to AoB on June 12th. Supporters of AoB can donate their items to AoB at Second Gear to be sold on the AoB account.  AoB will receive 50% of the sale price on items selling for less than $250 and 60% for items selling for $250 or more.
AoB will also be selling Oskar Blues products at Second Gear. 100% of beverage sales support AoB.
Turn up to Second Gear and support AoB.
Sunday, June 26th 2:30pm – 8pm
The Summer Cycle is AoB's annual summer social ride. This year, we're changing up the program, route, and rolling in a new direction. Come join us and let us know what you think.
Summer Cycle Details:
2:30pm – Ride gathers at Second Gear
3:00pm – Ride rolls out
5:00pm – Ride culminates at Kolo Bike Park
8:00pm – Parting is such sweet sorrow
The route is 13.7 miles and includes 683 ft of climbing.  The ride includes wayfinding markers and pedal patrol. We've added a family specific pedal patrol so that families can ride safely in a group with support from AoB volunteers.
We need plenty of volunteers for the Summer Cycle, so review the volunteers options and pick a time and place that works for you. Sign up to volunteer.
The Summer Cycle gathers at Second Gear (444 Haywood Rd, 28806) in West Asheville and rolls through a variety of neighborhood streets and greenways, before culminating at Kolo Bike Park (1 Resort Dr, 28806) on the Crowne Plaza Campus. Once there, participants can enjoy Oskar Blues Brewing, food trucks, mountain bike riding, and socializing. 100% of all Oskar Blues Brewing products sold support AoB.
Bike to the Ballpark
Sunday, Aug. 7th
Tuesday, Aug. 30th
AoB, Oskar Blues Brewing and The Asheville Tourists are working to host two bike to the ballparks this summer. Check back with us on the details as we're getting it all sorted now.
Clips Beer and Film Festival
Friday, Aug. 26th
New Belgium Brewing Company returns to Asheville to host Clips – Beer and Film Festival. Clips is an outdoor film festival hosted in Pack's Park downtown Asheville. The event is free and open to the public. New Belgium will have a variety of beers for sale and AoB receives 100% of beer sales for the evening.
This event requires about 50 volunteers so please check back with us and volunteer for the event as Clips is one of AoB's biggest fundraisers of the year.