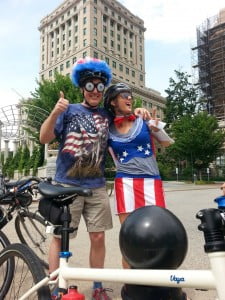 Sunday, June 26th 2:30pm – 8pm
The Summer Cycle is AoB's annual summer social ride. This year, we're changing up the program, route, and rolling in a new direction. Come join us and let us know what you think.
Summer Cycle Details:
2:30pm – Ride gathers at Second Gear

3:00pm – Ride rolls out

5:00pm – Ride culminates at Kolo Bike Park

8:00pm – Parting is such sweet sorrow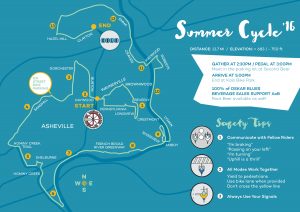 The route is 13.7 miles and includes 683 ft of climbing.  The ride includes wayfinding markers and pedal patrol. We've added a family specific pedal patrol so that families can ride safely in a group with support from AoB volunteers.
We need plenty of volunteers for the Summer Cycle, so review the volunteers options and pick a time and place that works for you. Sign up to volunteer.
The Summer Cycle gathers at Second Gear (444 Haywood Rd, 28806) in West Asheville and rolls through a variety of neighborhood streets and greenways, before culminating at Kolo Bike Park (1 Resort Dr, 28806) on the Crowne Plaza Campus. Once there, participants can enjoy Oskar Blues Brewing, food trucks, mountain bike riding, and socializing. 100% of all Oskar Blues Brewing products sold support AoB.
Asheville on Bikes appreciates our sponsors: Oskar Blues Brewing Company, Second Gear, Skylanes, Sarver Realty Group, Kolo Bike Park, and Crowne Plaza Resort.