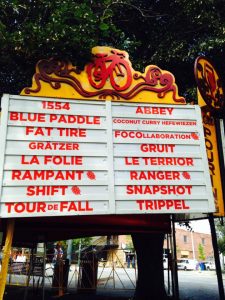 New Belgium  Clips Beer and Film Tour  2016 return to Asheville on Friday, August 26th from 7-10pm. Clips is one of Asheville on Bikes biggest fundraisers of the year.  Help us keep AoB rolling forward; volunteer at the event or bring your friends out that night! Volunteer for Clips 2016  
Contact Rachel@ashevilleonbikes.com if you have any questions.
At the end of each summer Asheville on Bikes and New Belgium Brewery host Clips Film and Beer Tour in Pack Square Park. You will find new friends, old friends, tasty suds and a rockin' film festival. All films are created by people just like you! Bring your blankets and sit under the stars or be a part of the evening and consider volunteering. See you at the end of August!