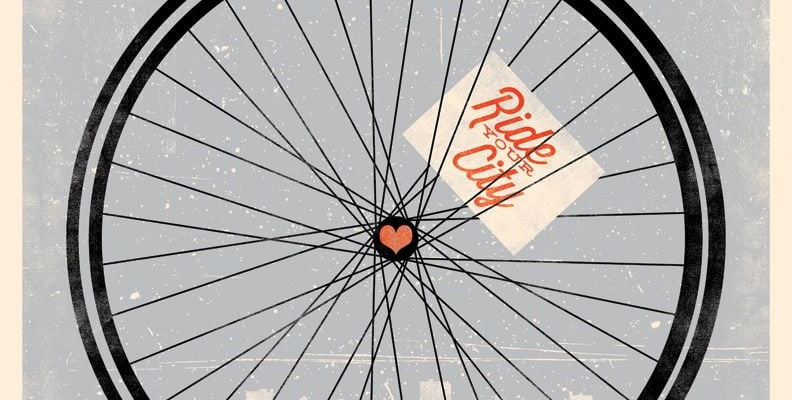 That's right—your favorite biking good time is back, and better than ever. Clear your calendars, kids, 'cause you're not gonna want to miss a minute of this. The nuts and bolts:
Saturday, February 22, at ISIS Restaurant and Music Hall in West Asheville.
Tickets are $15 in advance or $20 the day of the event.

With your advance ticket, you'll have the option to purchase a $5 AoB membership; it's $10 with your day-of ticket. (More on membership in a minute!)
Tickets on sale now at Pro Bikes, Youngblood Bicycles, Motion Makers, Ski Country Sports, and Liberty Bikes.

Pace yourselves; this night is chock-full o' fun:

6-11pm: Silent Auction, Bike Drawing ticket sales, Membership Drive, tasty eats & beverages

8pm: 20×20 presentations from area cycling, multimodal transportation, and urban planning notables

9pm: Music begins. Jamar Woods and the Broken Spokes take the main stage, followed by a late set from DJ Marley
A few things you might be asking yourself:
Bike Love 2013 rocked my socks off! What's new this year? Glad you asked! Last year's presentation of bike plans and maps was incredibly popular, so this year we're going one better. At 8pm in the music hall, join us for live presentations from leaders in Asheville's transportation planning community. We're calling them 20×20 presentations–each presenter gets 20 slides, at 20 seconds each. Think of it like a short & sweet TED talk, only by people you know and about the city you love!We're also kicking off our very first membership drive. Why is membership so important? Well, as you know, AoB officially incorporated as a nonprofit in 2013, and membership is how nonprofits demonstrate their reach and pull within the community. Being able to show membership numbers gives weight to our voice at the local, regional, state, and national levels. It's a vital next step in expanding our advocacy and education goals. And we're working hard to make sure you get something for your membership dollars, too–we'll offer merchandise discounts, a members-only event later in the year, and more perks. Everyone who attends Bike Love will have the opportunity to purchase a discounted membership; after this event, an annual membership will be $15.
Of course I'll become a member! What do I need to do? Whether you purchase your ticket in advance or at the door, fill out the back (legibly, por favor!) with your contact information. Visit the membership table in the upstairs bar at ISIS to activate your membership. Once activated, you'll be entered into a drawing to win a sweet Industry Nine wheelset.
I heard that volunteering for AoB is awesome. How can I help? Like everything else we do, Bike Love wouldn't happen without our amazing volunteers. Shifts are available the day of the event, or you can help with cleanup the following morning. Either way, you'll get free admission and a tasty beverage, and you'll have a rockin' good time. Contact Rachel at rachel@ashevilleonbikes.com to find out how you can help—please include your availability and any preference for where you'd like to be assigned. Your options are:

Set Up, Saturday the 22nd

: 12pm-4pm. Bike hanging, decorating (lights, hearts, signage), setting the mood

The Door

: 5:45 pm-2:00am (various shifts). Welcoming folks, talking up AoB membership deal, taking/selling tickets

Bicycle Raffle

: 6pm-11pm (various shifts). Spreading the AoB gospel, selling raffle tickets, getting people fired up! Costumes welcome!

Silent Auction

: 6pm-12am (various shifts). Keep things organized, help manage the mad rush when the auction ends

Clean Up, Sunday the 23rd

: 12pm-3pm. Cleaning up, breaking down, moving it all out!

I should book my sitter now, huh? You bet. We love seeing your little ones at our community rides, in the bike corrals, and at special events all year long, but Bike Love is and always will be for those 21 and over. 
Paper or plastic? Good news, bike lovers–AoB now accepts credit cards! We'll always accept cash, but this year you can also purchase your membership, t-shirts and other sweet loots, bike drawing tickets, and anything else that strikes your fancy with the swipe of a card.
Who else can I thank for making Bike Love happen? Our volunteers work like busy little bees to ensure you love Bike Love. But this event would also not be possible without the generous support of our sponsors: New Belgium Brewery Mosaic Realty WNC Bike Dealers' Association and others like Clasique Acupuncture and Pilates Studio, Mountain Physical Therapy, and Suspension Experts. Say thanks next time you visit them!