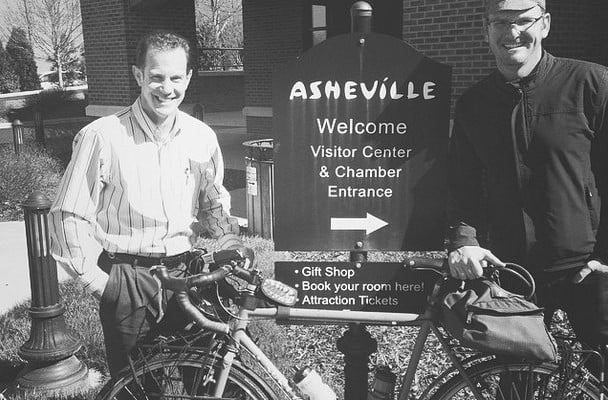 Yes, it's permitted. It's even encouraged.
Mix business and pleasure with Asheville Rides, a project of Asheville on Bikes and the Asheville Chamber of Commerce. Just out, a full schedule of Second Thursday night rides for spring!
Asheville Rides are social, easy paced rolling tours designed to showcase interesting aspects of the city with interesting people. Each ride begins at the Asheville Chamber parking lot on the second Thursday of each month starting in May. Asheville Rides are a great way to take in the city and wind down from the work day. At Asheville Rides, we mix business with leisure.

Asheville Rides meanders through neighborhoods, parks, greenways, and business districts with city and Asheville neighborhoods. We will ride by and visit chamber businesses, but mostly have fun. All rides start and end at the Asheville Chamber parking lot. Everyone is invited. Bring the entire family. Rides are the second Thursday each month. We gather at 5:30PM, ride at 6:00PM.

Get continuing info here.

Questions? Contact Michael Jordan at mjordan@ashevillechamber.org  or (828) 230-1423.

See you next Second Thursday.