Ride your City in the Summer Sun on Saturday
Date:         Saturday, June 20, 2009
Time:        10:00am – 2:00pm
Location:  River Arts District, Clingman Cafe  (242 Clingman Ave) (view map)
Asheville on Bikes invites all to join us for a summer community ride that highlights Asheville's surrounding neighborhood roads, anticipated bicycle infrastructure and SORBA's Richmond Hill mountain bike trail building.
10AM – Join AoB for breakfast & coffee @ Clingman Cafe.
11Am – Summer Cycle Begins
12pm – Siesta w/ SORBA @ Richmond Hill
2pm – Winddown @ Wedge Brewing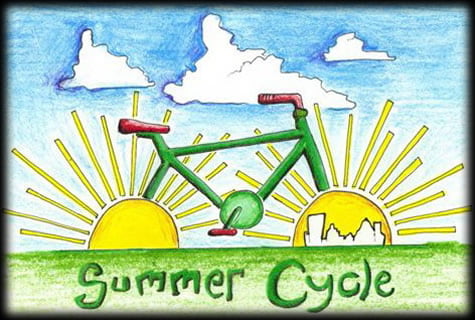 Preride Perks:
ProBikes, Liberty, BioWheels, Youngbloods and Carolina Fatz offer AoB participants $2 off bike lights or bells prior to community rides. Simply mention Asheville on Bikes and the Summer Cycle to cash in on the safety savings.
Biowheels offers 15% off any bike in the shop with the mention of Asheville on Bikes and the Summer Cycle.

The offer starts June 10th and is good until July 4th.
ProBikes waves bicycle rental fees for the Summer Cycle. Rentals are limited so call today and reserve a bicycle.

ProBikes – 828 253 2800
Locations Along the Way:
Clingman Café
http://www.clingmancafe.com/
SORBA @ Richmond Hill
http://www.pisgahareasorba.org/
Wedge Brewing
Remember that community rides are an excellent way to get reluctant riders excited about pedaling possibilities. Invite your friends to ride. AoB promotes safety, fun and advancing Asheville's vibrant bicycle culture.