Dear AoB Supporter,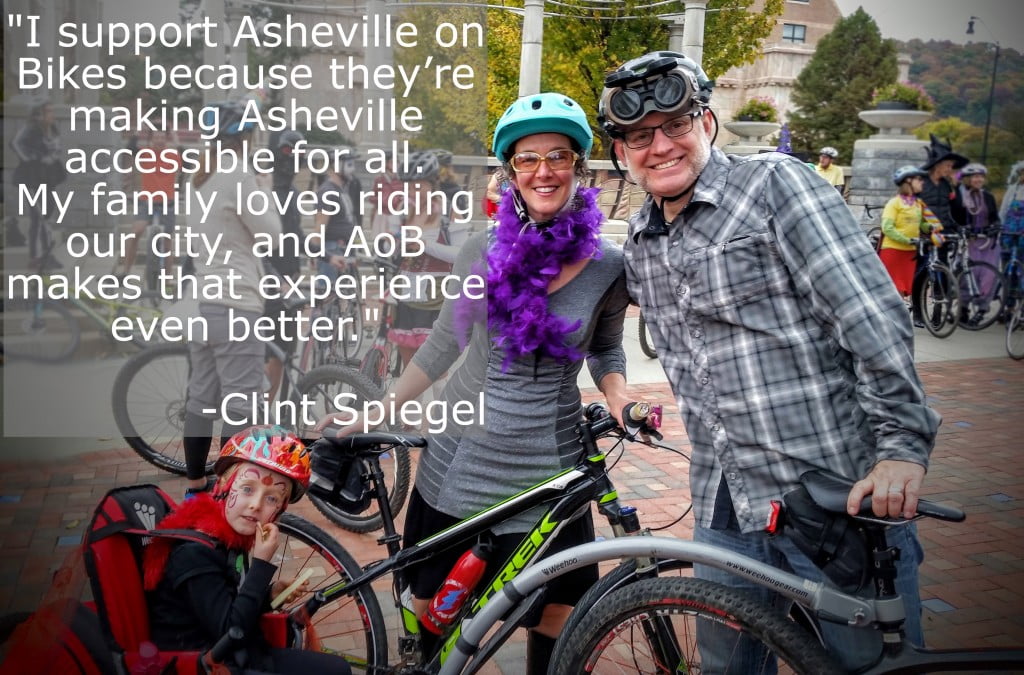 When you first biked in downtown Asheville, what did you notice? If you're like most in our community, you probably had a hard time finding a complete bike friendly route to get to your destination.
Why? Because Asheville's infrastructure development is only five years old. And since that first bike ride, what changes have you noticed?
Your voice, your volunteerism, and your contributions have helped make critical changes for biking in Asheville.  We are so grateful for helping to make these changes possible, and as we continue to gain ground in our community, your generosity will continue to determine our success.
You are the HEART of Asheville on Bikes! You made 2015 a BIG year…
Your participation helped defeat state legislation which jeopardized the implementation of bike lanes and sidewalks on state owned roads.
You successfully advocated for Asheville's first protected bike lane as part of the RADTIP project.
You partnered with the City of Asheville, the West Asheville Business Association, and the North Carolina Department of Transportation for the first on-street bike corral.
Your voices were heard and a 5 foot bike lane on Craven Street became reality.
Participation and the number of community rides continues to grow each year.
You created new partnerships with the Blue Ridge Bicycle Club, the University of North Carolina,  and enabled Asheville to host Cycle Smart, adult bicycle education classes.
You created a transformative partnership with the Asheville City Schools Foundation to provide after school bicycle education to middle school students.
You played a meaningful role in our community by hosting Asheville city candidate forums to inform public of transportation issues and candidate positions.
Thanks to you, Asheville on Bikes continues to push the pedals to advance Asheville's urban cycling. We're on a roll, but to sustain this cadence, your support is needed. We're asking you to fuel the Asheville on Bike's engine – by donating to our operating budget with a year-end gift.
Please click here to give online»

Thank you so much for your help!
Warm regards,
Mike Sule
Director of Asheville on Bikes