Presented by Mosaic Community Lifestyle Realty and JAG & Associates Construction
This year's route features West Asheville's greenways and neighborhoods and includes something for all levels of riders. The route incorporates AoB's signature "dynamic intersections" which allow participants to select their distance and elevation gains.

"Riders can keep it flat, on the greenway and under three miles. Or, they can opt for twelve miles with a few climbs. Or, they can select something in between. There is something for everyone, especially those who are new to urban riding," says AoB's executive director, Mike Sule. Participants are encouraged to review the route map, have a bicycle in good working condition, and to ride with a water bottle, lights, and a bike bell.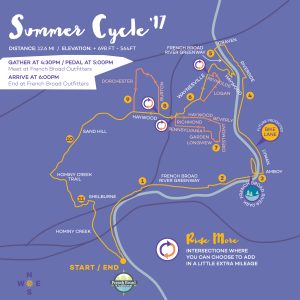 Summer Cycle Details:
4:30pm – Gather at French Broad Outfitters (230 Hominy Crk Rd)
5:00pm – The ride begins
6:30pm – Return to French Broad Outfitters
Things to Consider:
Review the route before the ride.
Tune your bike.
Equip your bike with front and rear lights, a water bottle, and a bike bell.
RSVP for Summer Cycle and invite your family and friends.