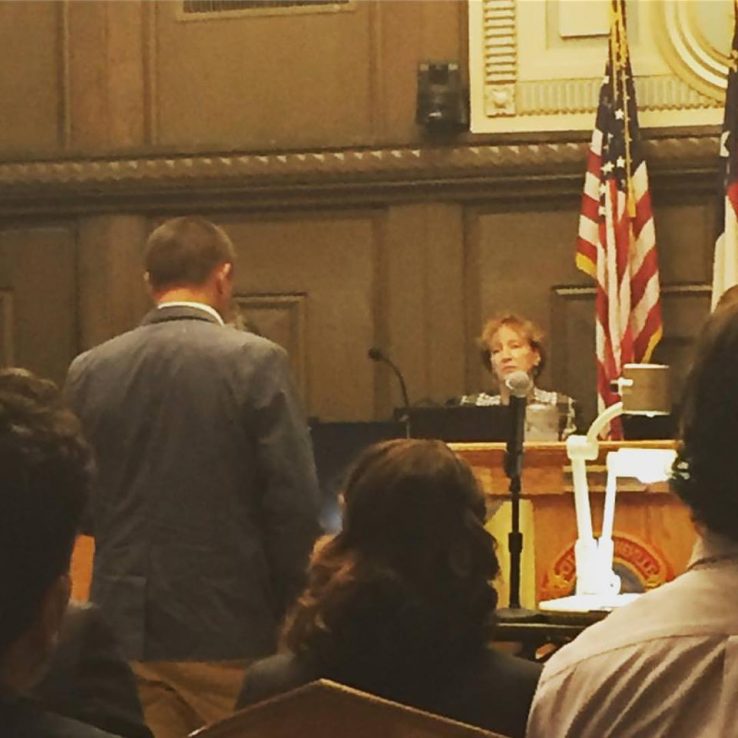 Thank you to all our supporters and a special thank you to those of you who emailed city council and staff last week about changes to the planned RADTIP infrastructure. Your support of bicycle facilities in the RAD was heard and city leadership is responding. While there is no guarantee leadership is ready to increase the width of the Lyman St multi-use trail, they're prepared to explore the feasibility. This is a good first step in prioritizing active transportation facilities. The following is a recap of RADTIP re-design.
On Tuesday 6/27/2017 City Council voted to move forward with a modified RADTIP, and we are writing this post in order to summarize that meeting and the path forward, from our AoB point of view as advocates for bicycles, pedestrians, and transit users.
Asheville on Bikes sent several board members to the city council meeting, including Matt Fusco, who spoke on behalf of our organization. Matt explained AoB's position regarding the upcoming changes to RADTIP now that it is over budget. Matt advised council that:
We want council to direct staff to widen the multi-use trail to 16 feet, with lane markings for cycling and walking, following FHWA standards; if that were impossible, we want to build the safest and best possible bicycle and pedestrian facilities suitable for a high-use corridor. This multi-use trail along Lyman will one day have both nearby walking traffic and through traffic from Swannanoa, East Asheville, South Asheville, West Asheville, Kenilworth, Biltmore Village, Woodfin, Weaverville, and Marshall. All of those people will converge on what is currently described as a 10 foot wide asphalt walking path. Our position is that this multi-use trail needs a change order as part of phase 1 in order to make it both useful and safe.
Phase 1 must also include safety improvements to make the Riverside drive rail crossing safe for cyclists.
This project sets important precedents for future bicycle and pedestrian facilities. It is being closely watched locally, regionally, and nationally.
You can watch Matt speak at 02:17:00 in the recorded version of the meeting.
Mark Hunt also advocated for this same greenway change and you can watch him speak and show illustrations of the proposed 16 foot wide greenway design at 02:13:00 in the meeting.
City Council voted to proceed with the RADTIP phase 1 as currently designed, with the omission of the Lyman Street bike lane and roadway improvements as well as the omission of other greenways and street changes that were in later phases of the project. You can read about some of the changes in the Citizen Times story that ran today. As you can see in the video of the council meeting, council had little room to vote otherwise because the project had to break ground by August 1st in order to keep Federal and Tourism Development Authority funds that make up a significant portion of the project funding. This is a reasonable way to proceed.
City Council also voted for staff to evaluate widening the Lyman St multi-use trail and to do so within a 60 day time limit. We appreciate this extra motion that requires staff to study the width of the Lyman St multi-use trail and consider our 16 ft wide proposal. We also note that this change is not quite "done" and we will continue to advocate for active transportation improvements until we see them built out.
Link to Citizen Times article summarizing the Council Meeting
Link to Mountain Xpress article
Link to the beginning of the RADTIP discussion during the council meeting. To watch the whole RADTIP discussion, watch from 01:24:00 – 02:40:00 (an hour and 20 minutes long):

Related Content: Click here for more posts about RADTIP.