Saturday, Nov. 21st
9:30am – 1pm
This year, AoB partners with the Blue Ridge Bicycle Club and Asheville CityTransit with the theme of  "Riding High in the Clean Sky." Our parade event highlights the connection between multimodal transportation networks and preserving one of our most valued local resources, our pristine mountain air.
AoB's bicycle participants will be costumed as both clouds and the variety of townsfolk who make use of Asheville's multimodal transportation system.
For more information please contact AoB's Director of Arts and Volunteers, Rachel Reeser at ashevilleonbikes@gmail.com. If you decide to join last minute, find us in the parade lineup on South Charlotte Street entry number 18.
Ride your City with Asheville on Bikes. Thank you all for your continued support.
Respectfully,
Mike Sule
Executive Director
Asheville on Bikes
Pre-Parade Party
Saturday, Nov. 14th
6:30 – 9:30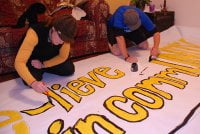 Join Arts Director and Volunteer Coordinator, Rachel Reeser for a pre-parade costuming party. Rachel asks that participants consider contributing costuming accouterments that will advance AoB's parade theme, "Riding High in the Clean Sky." Paint, markers, fabric, glue, and anything cloud like are all appreciated. In thanks for your volunteer efforts, Rachel will have a pint or two of Wedge beer to share with you. Help Rachel put together a spectacular parade event. Find the creations at 264 Hazel Mill Road, Asheville, NC 28806.