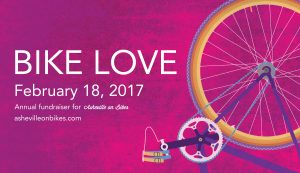 Bike Love '17, presented by New Belgium Brewing, returns on Saturday, Feb. 18th to the Salvage Station. The event includes an early reception, a cycle-centric silent auction, a bicycle raffle, photo booth, and a wide variety of music. In other words, something for everyone.  
Stephanie Morgan, DJ Marley Carroll, and DJ Dr. Filth  provide the grooves to keep the passions pulsing throughout the night.
AoB currently seeks volunteers for several different position to support Bike Love. If you're interested in investing a bit of time, talent, and elbow grease in exchange for a ticket, please review the volunteer options and pick the one that works best for you.
There are a few ways to enjoy Bike Love. Advance tickets can be purchased online:
Reception

: This reception is  from 7pm – 8pm and includes a small bites, a New Belgium beer, and '17 AoB membership and general admission. Stephan Morgan will perform during the early reception.

General Admission & '17 AoB Membership

: Renew or activate your annual membership for 50% off and secure your Bike Love ticket. Membership packets include AoB spoke card, helmet sticker, and membership welcome letter can be picked up at the event. Secure your ticket and activate your AoB membership. Robust membership help is a simple way to support AoB's advocacy efforts.

General Admission

: Keep it simple and secure your general admission ticket

Membership

: Support AoB's advocacy efforts and active your membership.   
The evening's agenda is as follows:
Reception: 7pm – 8pm
General Admission Doors: 8pm
Silent Auction: 7pm – 11pm
Bike Raffle: 11pm
Music:
Stephanie Morgan: 7pm – 9pm
DJ Marley Carroll:   9:15pm – 12:30am
DJ Dr. Filth:  12:30am – 2am
AoB appreciates our annual sponsors: New Belgium Brewing, Mosaic Community Lifestyle Realty & JAG & Associates Construction, Mountain Air Roasting, Wedge Brewing Co, Industry Nine Components, Mellow Mushroom, Beauty Parade, Shelia Christofalos, Edward Jones, Clasique Acupuncture and Pilates Studio