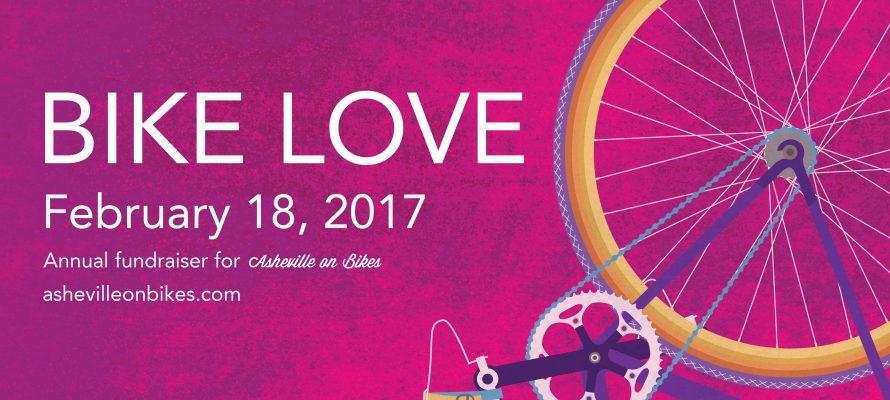 For Immediate Release: Announcing Bike Love '17 Saturday, Feb. 18th at Salvage Station
Asheville on Bikes (AoB), the advocacy organization focused on advancing Asheville's urban and commuter bicycle culture and infrastructure, hosts the eleventh annual Bike Love '17, presented by New Belgium Brewing, at Salvage Station located at 466 Riverside Drive, on Saturday, February 18th.
Bike Love is Asheville on Bikes' annual signature extravaganza. This year's event incorporates an early reception, music by Stephanie Morgan, DJ Marley Carroll, and DJ Dr. Filth, a silent auction featuring the very best in bike gear from across the country, and the chance to win a $500 bicycle voucher from Western North Carolina Bike Dealers Association (WNCBDA).
"AoB is gearing up for a big year in 2017. We're expanding our youth bicycle education program, adding new features to our community rides, and are preparing to launch a series of new projects that will engage the community and improve biking and walking infrastructure for all. We've got big plans for 2017. Bike Love is the opportunity to showcase our goals, celebrate with our vibrant cycling community, and stoke the bike love passions to propel us into 2017. There are challenges ahead of us, but we've got love, lot's of it. This year's lineup is the very best of Asheville's lively music scene," says AoB's executive director, Mike Sule.
"Bike Love's music bill is diverse and packed with talent. The night begins with Stephanie Morgan's band which includes Drew Hellar (of Toubab Krewe) on guitar, Ryan Reardon (of Zansa and Les Amis) on bass, Patrick Armitage ( of Jon Stickley Trio) on drums, and Rich Brownstein (of Royal Suits) on keys. Following Morgan, DJ Marley spins a three hour set, and DJ Dr. Filth lays down a late night soul set to close it all out. It's very fast paced this year," shares AoB board member and Bike Love committee chair, Emily Kujawa.
Bike Love reception begins at 7pm and includes a small bites menu, New Belgium beer, annual membership enrollment, and intimate Stephanie Morgan set. General admission is also included. Reception tickets are $60 and can be purchased online through Asheville on Bikes. Reception seating is limited.
General admission begins at 8pm. General admission tickets can be purchased online or at a variety of local shops, including Youngblood Bicycles, Asheville Bicycle Company, Motion Makers, Second Gear, Find Your Line, MustAsheville Bikes, Asheville Street and Dirt, & Liberty Bicycles .
Asheville on Bikes' Bike Love is presented by New Belgium Brewing, and sponsored by Mosaic Lifestyle Community Reality, JAG Associates and Construction, Mountain Air Roasting, Industry, Wedge Brewing Co., Industry Nine, Mellow Mushroom, Second Gear, Beauty Parade, Shelia Christofalos, Edward Jones, Clasique Acupuncture and Pilates Studio, Asheville Yoga Center, Home Trust Bank, and Oak & Grist Distilling Co.
Quick Facts:
Bike Love supports Asheville on Bikes
Where: Salvage Station, 466 Riverside Drive
When: Saturday, Feb. 18th
Reception from 7pm -8pm
General Admission begins at 8pm
Cost: Reception tickets are $60, General Admission tickets are $20 (AoB annual memberships are 50% off with purchase of a general admission ticket)
For more information contact: Mike Sule, Asheville on Bikes, mike@ashevilleonbikes.com, 828-582-4705