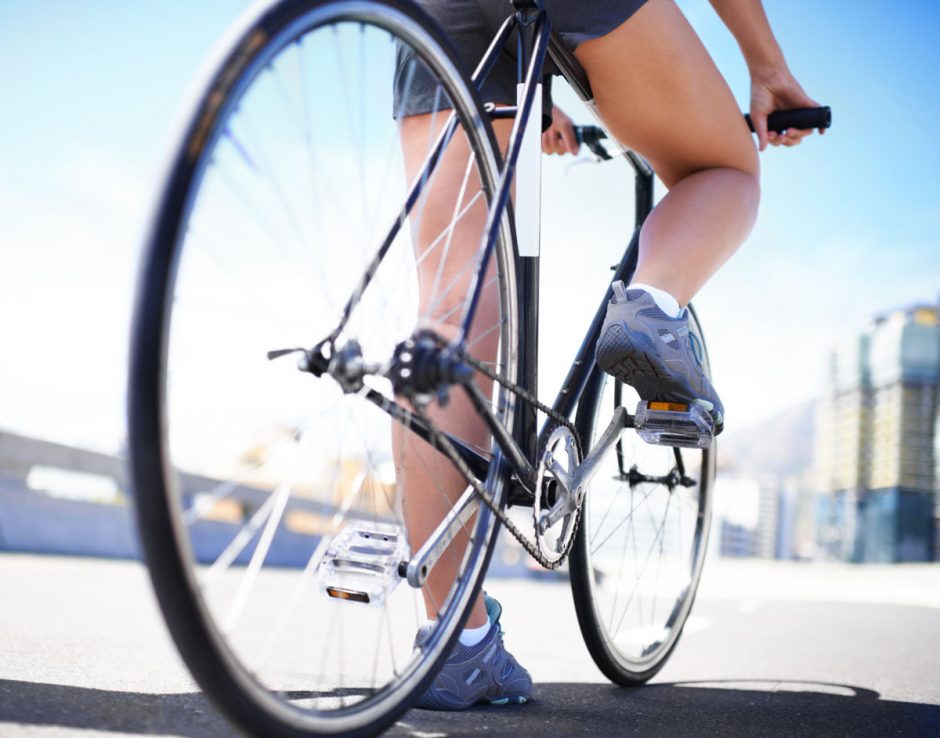 Do you want to start riding more often, but feel overwhelmed whenever you walk into a shop and see loads of expensive bikes, spandex wear, carbon-fiber contraptions, and GPS units? It's true, there is a lot of stuff for bikes, and as a newer rider, what your road-racing buddy considers "gotta-have" gear may not be of use to you.
We don't think "stuff" should stand between you and riding your bike. Truthfully, you need very little to safely and successfully get from point A to point B. Here are the essentials.
A helmet that fits you
A helmet is a no-compromise piece of cycling safety gear. If you're under 16, it's the law to wear a helmet. If you're over 16, it's stupid to ride without one. Plus, helmets work.
Walk into any Asheville bike shop, and you'll see helmets ranging from about $40 to $250 and up. With few exceptions, a cheaper bike helmet will protect your head as well as a top-dollar helmet. What matters is that your helmet fits you properly (a good test is to shake your head side to side with straps unbuckled; your helmet should not move) and is in good working order. Just be sure to replace your helmet after a crash if you have one; they are designed to take a serious impact only once.
Roadside flat repair kit
New riders are often reluctant to immediately buy a basket of stuff that they may not use for months, thinking "I'll deal with it later." But trust us, as soon as you're stuck 10 miles from home in the hot sun waiting until your friend gets off work in 2 hours to pick you up, you'll wish you had something to repair a flat tire. Save yourself from inevitable grief and get the following:
Patch kit and/or a spare tube. Patches create less waste, but only work really well on punctures in a tube (as opposed to tire sidewalls) and may not be adequate for larger punctures. The tube costs a little more, but is the most convenient option. Make sure you get the right size for your bike tires—it's written on the sidewall in terms of wheel diameter x tube width (i.e., "700 x 38c" or "29 x 2.25"). Tubes come in size ranges, so if your tire says 700 x 38c, a tube that's sized 700 x 35-40c will fit.
Tire levers. These little metal or plastic wedges can be a time and thumb-saver when removing tires from the rim.
Air in the form of a mini-pump or CO2 cartridge. Mini-pumps fit in your pocket or wedge under the top of your bike frame. They are the bulkier, slower option (it takes several minutes of pumping to get good pressure) and require a larger up-front investment, but you'll never run out of air. CO2 is a compact, convenient, and faster option, but there is a slight learning curve, and each cartridge is good for only one inflation.
Think of a Swiss Army knife for bikes. Multitools are compact and contain the essentials for most on-the-fly adjustments. Look for one with at least a 4, 5, and 6 mm allen wrenches, a Phillips head, and a flat head screwdriver. Here are some examples.
A dollar bill (or two). Did you know that a dollar bill can serve as a makeshift patch if you have a tear in your tire sidewall? Having emergency cash for drinks, bus fare, etc. is also a smart idea on any ride.
Side wall repair hacks: the dollar bill wins!
You can keep your fix-it kit in a backpack, but many riders choose to buy a seat bag to stash it and forget it. (For more info on what to put in your bike kit, read this).
Front and rear bicycle lights
North Carolina law requires cyclists on the road to have front and rear powered lights if they ride at night.
If you're only riding in daytime in good weather, or off-road during the day, you can get away without lights, but it's inadvisable—lights make you more visible to motorists, pedestrians and other cyclists, potentially avoiding injury to you or them. If you're commuting or riding on the road in the early morning or late evening, they are essential for your safety.
Also, if you are riding on the Blue Ridge Parkway, a rear light is required due to the tunnels. We strongly recommend a front light too. Although this rule is not always enforced, it is not fun and quite dangerous to be stuck in a tunnel without lights.
Lights range from cheap clip-ons that are just bright enough to be seen (fine for daytime city riding) to lighting systems for off-road night riding that cost $100s. Get a white light for the front and a red light for the back—this follows the conventions of cars, helping drivers recognize what direction you are moving in. Also, buy a light that can switch between steady beam and flashing—the former is great for helping illuminate your way in low light, while the flash setting is ideal for daytime riding.
A bike lock
Sadly, bikes do get stolen, and it can happen in the blink of an eye. Even if you're just stopping at the food truck for a quick taco, it's smart to lock your bike up so you don't risk being stranded without transportation or losing such a valuable item!
Bike locks don't have to be fancy to work. A $10 cable and padlock setup will suffice in most situations; however, U-locks are a little more tamper-proof. Whether you choose a key or combo lock is up to you—choose the option you're most likely to remember.
If you want to learn the best ways to lock, watch "Hal grades your bike locking" and learn from a veteran New York City bike shop guy.
Gloves & eyewear
These two articles are often overlooked by beginners, but gloves and glasses are important for both safety and comfort. Gloves help save the skin on your hands if you take a spill, they provide padding for a more comfortable ride, and they make a convenient sweat or snot wiper. Eyewear keeps low-hanging branches and bugs from hitting your eyeballs.
Again, fancy is not necessary. Cycling gloves start at about $15, and eyewear can be as simple as gas-station sunglasses. Pricier options are often more durable, and offer features such as gel padding in gloves or interchangeable lenses in sunglasses.
Other not quite essential additions: Bells & whistles
There are some cycling accessories that we can't justify as essential but sure do make riding more pleasant. Here are some of the creature comforts we think are worth the dough:
A bell. A bike bell is a nice thing to have to make your presence known on a greenway, bike path, or road without yelling out. If you're a mountain biker, a jingle-bell can help create a constant noise so that you don't scare hikers (or startle a bear)!
Wet roads can quickly result in wet, dirty legs, butt, and face. Fenders can keep you clean and prevent annoying spray hitting you between the eyes. Your local bike shop can help you find a set that will fit your bike.
Chain lube. Like any moving part, your chain and sprockets need to stay clean and lubricated to work properly. Chain lube costs around $10 a bottle and will last several months. Ask a local bike shop for recommendations based on your style and frequency of riding.
Bottle cage/water bottle. If you're planning to be out for more than 30 minutes, it's nice to have water with you. A basic bottle cage + bike bottle will set you back less than $20.
Take a bicycle maintenance class. For a small fee, you can take a basic 2-hour class at Asheville bike shop (and AoB member) Liberty Bikes. It's a great way to learn the essentials like changing a flat, and just for getting to know the parts of your bike. (Compare a $25 class to the $10 you'll pay for labor each time a shop has to fix a flat).
If you want to save cash on these extras, check out Second Gear. They have a constantly changing inventory of gently used bikes, accessories and clothing, and you can get some great deals. Plus, they're an Asheville on Bikes sponsor, so you'll also be helping us out when you shop there!
Now, you're ready to ride! Want more great tips on bike commuting in Asheville? Check out our info for bike riders, or better yet, join Asheville on Bikes or attend one of our upcoming events!