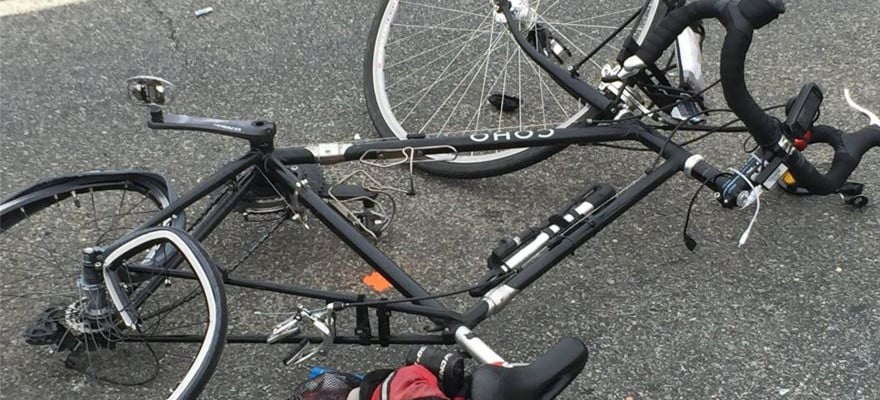 By guest writer Luke Heller, RUSA Organizer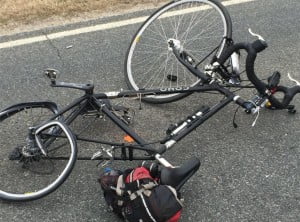 Four randonneuring friends were admitted to Wake Med ED on Saturday 2/20 nearing the end of a 200km ride on quiet country roads East of Raleigh after being plowed down by an inattentive driver. There were no skid marks suggesting that the driver attempted to stop. The four bikes were in a single file paceline in the order of Mike Dayton, Lynn Lashley, Joel Lawrence, and Chris Graham. The cyclists were struck from back to front with Chris taking flight and landing approximately 10 feet from the impact. The injuries sustained by these friends are numerous and gut wrenching.
I had the duty of picking up the mangled bikes from the wrecker service that arrived at the scene the night of the wreck. Seeing the condition of my friend's bicycles was only the buildup of visiting them in the ICU. Out of respect for my friends, I won't recount the depth and specifics of each person's injuries; the road to recovery will undoubtedly be longer for some than others. The NC Randonneuring cycling community and cyclists far and near will be pulling for these tough individuals. It's hard to rattle a randonneur as they're known to go out for unsupported long distance rides in the worst of weather. We're all turning the pedals to carry that spirit on for their recovery.
How to cover yourself:
It is highly unlikely that this driver has adequate insurance to cover even the medical bills one might face after a crash like this. And your own health insurance will step to the front of the line to recover their costs first. If you drive, your own uninsured or under-insured coverage picks up where the driver's insurance stops – check your policy and ensure you have uninsured/underinsured (UM/UIM) auto insurance. Non-driving members of your household are also covered by your auto policy. Yes, your own medical insurance will cover medical expenses (at some percentage, and with some out-of-pocket max) and hopefully now, we all have medical insurance. But there is so much not covered by medical insurance. So this is my advice to those of you wondering now what else can you do to protect yourself.
The community has gathered support for these cycling comrades by starting a GoFundMe page to help shoulder the financial burden created by this crash that the driver's insurance will fall short of. If you'd like to support our friends and their families, you can send a donation of any amount via this Go Fund Me Page.
Next Steps:
This is the head scratcher. What happens next? The driver has been charged with 4 misdemeanor traffic charges for an "accident" that has changed four people's lives forever. How can we make our roads safer? Where is the accountability? Operating a motor vehicle is not a right, it is a privilege. Yes, the repercussions for such negligence and endangerment seem to be all but absent. Keep turning the pedals for safer roads and for a strong recovery for our cycling comrades.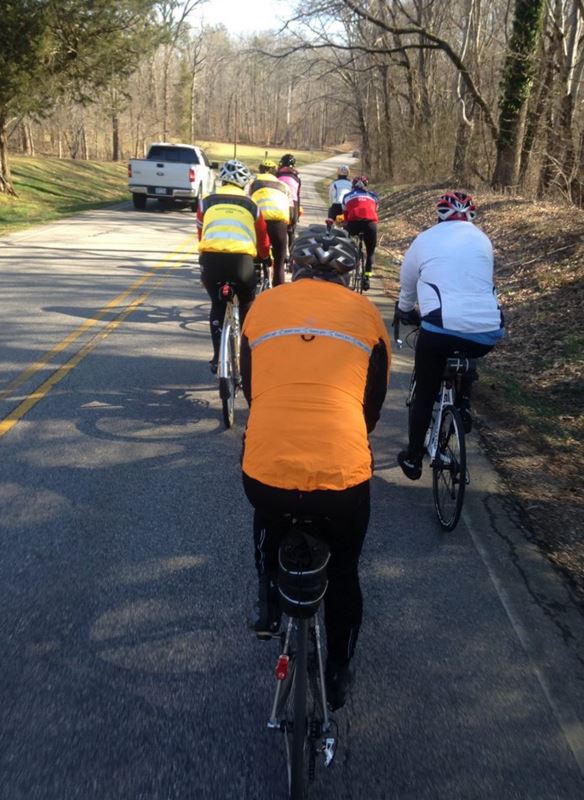 Driving Tip:
When asked for a cause to her actions, the driver in question said simply "I didn't know what to do." When you are behind and preparing to overtake cyclists, treat them as the vehicle that they are.
1 – Slow down, this is sharing the road.
2 – Patiently wait for a passing opportunity. No oncoming traffic and a clear line of sight.
3 – Pass with clearance, using passing lanes, as if passing a car.