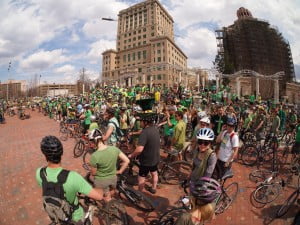 On Sunday, March 20th, the 10th annual Bike of the Irish rolls through the streets of Asheville and culminates at Kolo Bike Park located on the Crowne Plaza Resort.
Each spring, the Asheville on Bikes community celebrates the return of spring with an its annual festive ride. Participants decorate themselves and their bikes in green as they ride the city.
The event is free and open to the public, but AoB does ask that you consider making a donation to the organization, renew a membership, or purchase a few tickets to the raffle. Membership, donations, and raffle tickets can be purchased in advance through AoB's Eventbrite page.
This year's route is eight miles, includes five hundred feet of climbing, and rolls through downtown, Montford, and West Asheville before ending at Kolo Bike Park. This is a perfect ride to invite the reluctant cyclists in your life as it's fun, easy paced, and festive.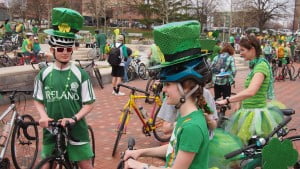 Once at Kolo, the festivities will continue with mountain biking, Oskar Blues, food trucks and a chance to win an Chris King wheel set. 100% of all Oskar Blues products sold at Bike of Irish support Asheville on Bikes.
Please consider volunteering for Bike of the Irish as several volunteers are needed. If you're interested on a volunteer position, simply respond to the Bike of Irish Volunteer Form. There are several times and tasks available. Once your sign-up an AoB agent will contact you with details.  
Join AoB on Sunday, March 20th for the 10th annual Bike of the Irish.
Bike of the Irish Details:
1:30pm  – Gather at Packs Park
2:00pm – The ride begins
3:00pm – Culminate at Kolo Bike Park w/ Oskar Blues  
Things to Consider:
Review the route before the ride.  
Know the weather before you ride.
Pack an extra layer, a warm afternoon cools quickly.
Spending money is a good idea.
Food trucks will be at Kolo.
A variety of beverages will be available, not just beer.
Cars can be dropped at either Crowne Plaza or Westgate parking lot.