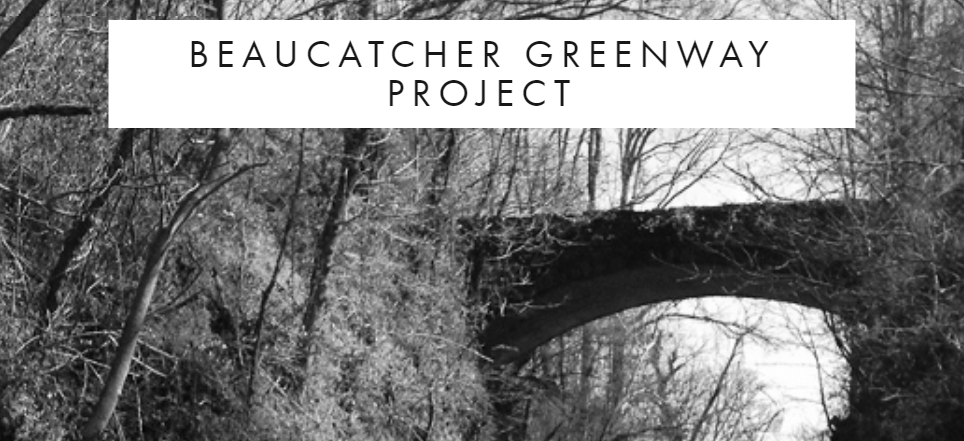 The City of Asheville is currently taking public comment on the proposed Beaucatcher greenway and community input is essential to the success of this project. There is no guarantee that there are enough votes on city council to approve this plan. If you support expanding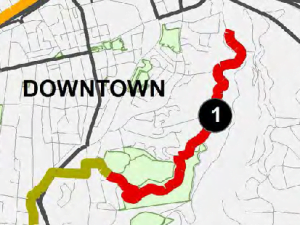 Asheville's greenway system along the Beaucatcher ridge, please be sure to voice your support through Open City Hall,  the city's online public input platform before Sunday, April 3rd.
AoB director, Mike Sule, sent the following letter to city council and encourages supports to reference AoB's support for the Beaucatcher greenway.
---
Asheville City Council
70 Court Plaza
Asheville, NC 28801
Asheville on Bikes (AoB) supports approval and construction of the Beaucatcher greenway because: greenways are a valuable public asset, our community has demonstrated overwhelming public support for their expansion, and this project helps our city achieve the goals established in Asheville City Council's 2036 Vision.  On Tuesday, April 12th you'll have the opportunity to advance our community's investment in greenways. On behalf of Asheville on Bikes, I encourage you to approve the Beaucatcher greenway.
A small number of individuals have criticized the Beaucatcher greenway for not providing essential transportation connectivity to goods and services. These people have argued that the funds for Beaucatcher greenway should be invested in other more critical projects. However, the TDA funds for this greenway are dedicated solely for this project: We either use these funds or lose them.  Additionally, many on city council have advocated for TDA funds to be invested in Asheville's infrastructure. What message does it send if city council refuses the money for expanding our greenways? This is an opportunity to build momentum through a project that increases our citizens' access to greenways, increases quality of life, and promotes a healthy lifestyle.
Furthermore, a greenway that rolls through the natural world and connects to a park is just as valuable as one that connects to goods and services. Transportation systems should connect people to beautiful settings.  Our greenway system needs to reflect the values of sustainability by connecting people to both services and the natural world. To pit one against the other is to misunderstand the value of greenways.
It's sometimes easy to forget the costs associated with accessing the natural world. It's expensive. Unless you're a very fit hiker or cyclist,  access to Bent Creek, the Blue Ridge Parkway, and the majority of other trails and parks requires an automobile. Despite our city's location, many in our community have very limited access to the natural world. The Beaucatcher greenway opens up new possibilities for our citizens to experience nature and engage in healthy lifestyle habits.
I encourage all members of city council to review Asheville City Council's 2036 Vision and consider the positive impacts of Beaucatcher greenway on our community. If council is committed to advancing the 2036 Vision it should recognize  that the Beaucatcher greenway promotes the following elements of the 2036 vision:
A DIVERSE COMMUNITY, by providing access to healthy transportation and the opportunity for all people to participate in the natural world.

A WELL-PLANNED AND LIVABLE COMMUNITY, by increasing the abundance of open spaces, parks and greenways.

TRANSPORTATION AND ACCESSIBILITY, by providing

 

greenways and bike facilities to get people where they want to go safely and keep them active and healthy.   
Let's continue to work together to build a greenway system that moves all kinds of people to a variety of destinations.
Respectfully,
Mike Sule
Asheville on Bikes
HOW CAN I HELP?
You can respond by either supporting Asheville on Bikes' letter of support or you can include your own comments, here.
CLICK TO DOWNLOAD THIS LETTER

Additionally, you can contact your council representatives directly and/or sign the petition in support of Beaucatcher greenway.
Asheville City Council can be reached:
Mayor Esther E. Manheimer – esthermanheimer@avlcouncil.com
Vice Mayor Gwen Wisler – gwenwisler@avlcouncil.com
Councilman Cecil Bothwell – cecil@braveulysses.com
Councilman Brian Haynes – brianhaynes@avlcouncil.com
Councilwoman Julie Mayfield – juliemayfield@avlcouncil.com
Councilman Gordon Smith – gordonsmith@avlcouncil.com
Councilman Keith Young – keithyoung@avlcouncil.com