Asheville on Bikes will be providing its five-star bicycle parking for Beer Camp. Join the fun here.
From the Mountain XPress, July 17, 2014 by Thom O'Hearn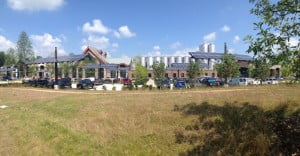 Sierra Nevada is gearing up for Beer Camp Across America. The seven-stop festival starts this weekend in Chico, Calif., and wraps up with its final stop on Sunday, Aug. 3, at the new brewery in Mills River. In preparation for the event, Sierra sent Xpress a few final details.
To start, don't plan on driving in to the brewery on Aug. 3. There will be no parking on site, but the shuttle service is likely to satisfy most festival-goers. The use of the shuttles is covered in the cost of the ticket, and shuttles will run from both North Pack Square in downtown Asheville as well as the WNC Agricultural Center. Service will start at 11 a.m. the day of the festival.
Unlike the shuttles, food is not included in the ticket price but a huge group of food trucks will be on site (about 15 at last count).
While festival-goers will be able to catch a glimpse of the brewery, no tours will be offered as part of the festival. Public tours and tastings are scheduled to start later in the summer, with the gift shop scheduled to open in August or September. The taproom and restaurant will follow a bit further behind with an anticipated opening in late fall (likely after Thanksgiving).
Last but not least, all festival proceeds from the Mills River event will benefit the N.C. Craft Brewers Guild. There will also be a special brewers guild beer on tap at the festival. Click here for more information or tickets.
 Other Beer Camp Celebrations
If you're not able to make it to the Mills River event, a variety of local businesses will help bring the festival spirit to you. Sierra Nevada Communications Manager Ryan Arnold put it this way, "Beer Camp Across America is a chance to celebrate the overall momentum of craft beer, not just our own milestone. …Western North Carolina is a perfect snapshot of [all craft brewers'] ambition, and we're fortunate to take root here. The festival and the events leading up to it will radiate the sense of craft beer community that's here."
So in addition to the festival, Sierra has partnered with a dozen breweries for an all-star 12-pack featuring collaboration beers from Firestone Walker, Oskar Blues, Russian River, the Asheville Brewers Alliance and many more. Some or all of those beers will be featured, along with chances to win tickets to the Aug. 3 festival in Mills River, at the following businesses:
Friday, June 18: Creekside Taphouse features the ABA and Oskar Blues collaborations.
Wednesday, July 23: Appalachian Vintner features all 12 Beer Camp Across America beers, live music from Chris Porter and JP Furnas and is auctioning Russian River beers with proceeds going to a local children's charity.
Thursday, July 24: Barley's Taproom features the ABA, Oskar Blues and Cigar City collaborations.
Tuesday, July 29: Jack of the Wood features the ABA, Oskar Blues and Cigar City collaborations.
Thursday, July 31: Thirsty Monk Biltmore Park features all 12 Beer Camp Across America beers.
Friday and Saturday, Aug. 1-2: Brixx Pizza features the ABA and Oskar Blues collaborations.
Thursdays, Aug. 14, 21 and 28: In case you missed them, or want to revisit any of the beers, Thirsty Monk Downtown will feature four of the collaborative beers on each of these Thursdays in August.