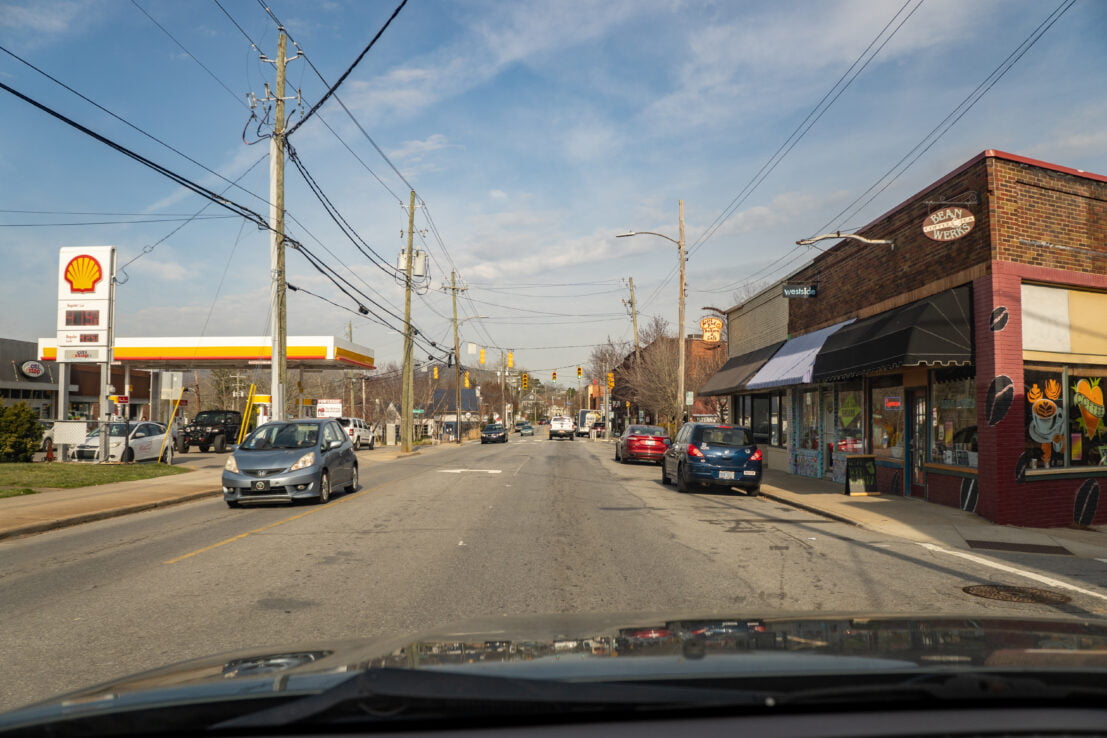 Please provide feedback in favor of pedestrian, bicycle and traffic calming changes to the two mile stretch of Haywood Road that is up for repaving. Public comments are open until Jan. 13, 2023 and details are listed below. Also check out our earlier post about Haywood Road.
Haywood Road Repaving Project, History and Details
The North Carolina Department of Transportation (NCDOT) is performing a regularly scheduled road resurfacing of Haywood Rd in West Asheville from Ridgelawn Rd to Patton Ave. The project is identified as Project # HL-0003 in the State Transportation Improvement Project and will be implemented in the summer of 2023.
The French Broad River Metropolitan Planning Organization is providing additional funding for the resurfacing project in order to improve safety along the corridor.
This road once served as the only route west out of downtown Asheville and was also a leg in the Asheville trolley system, which had a line than ran up to Beachum's curve. When the location of I-240 was decided in the 1960's, that interstate demolished many homes and streets in low income and majority black parts of town, including through West Asheville. I-26 and I-240 divide the City today and the interstate divides West Asheville into two parts. Haywood Rd runs along the top of a ridge connecting those two parts and is often considered the heart of West Asheville. Read more history in this Mountain Xpress article or download this excellent pdf, "The Story of Haywood Road," published by the West Asheville History Project.
Each repaving project presents an opportunity to change lane configurations, improve intersections, improve ADA compliance, and make other alterations in between the curbs, in the current right of way. Repaving projects do not typically alter the curb configuration of the road or change the size of the right of way.
How to leave a public comment on the project
NCDOT is accepting public comment for the Haywood Rd resurfacing project until Jan. 13, 2023. Asheville on Bikes encourages you to include our recommendations in your comments and send a copy of your comments to us at ashevilleonbikes@gmail.com.
To share your comments with NCDOT:
Email: Haywood-Maintenance-Buncombe@publicinput.com
Phone: (984) 205-6615
Mail: Attn: Alecia Hardy, NCDOT EAU
1598 Mail Service Center Raleigh, NC 27699-1598
Our Summary of Haywood Rd Existing Conditions
This section of Haywood Rd is a vibrant commercial corridor connecting West Asheville neighborhoods. The road is in a 2 lane configuration except for the I-240 bridge and the junction with Patton Avenue, where it briefly extends to 4 lanes.
Existing conditions:
Haywood Rd ranked 16 in the City of Asheville Close the GAP (p. 36 & 37) which indicates that the corridor's existing conditions are unsafe and unnavigable for differently abled people.
Haywood Rd hosts the highest bicycle and pedestrian counts outside of downtown Asheville
The vehicular average daily traffic volumes (ADT) range between 1300 – 15,000 / day
Pedestrian and bicycle needs have historically been ignored along the corridor. There are several American With Disabilities Act (ADA) violations along the corridor
NCDOT representatives confirmed at the public engagement meeting on Dec. 6th 2022 that the proposed treatments were not informed by Haywood Rd crash data, speed analysis, or the Close the GAP plan.
Our Guidance for Haywood Rd Public Comment:
All design changes to the corridor should be informed by vehicular speed and crash data with the goal of reducing excessive speeds and collisions.
A design speed of 20 mph throughout the entire corridor should be used if bicycle sharrow markings are to be incorporated into the project. The National Association of City Transportation Officials (NACTO) recommends sharrows on streets with a less than 25 mph design speed.
Bicycle May Use Full Lane signs should be incorporated wherever sharrow marks are incorporated.
Where road widths allow incorporate bicycle lanes with special consideration of bike lanes that funnel into bicycle boxes at intersections so that people on bikes have priority movement through intersections.
All pedestrian facilities must comply with American with Disabilities standards.
The design should include midblock crosswalks with refuge islands and elevated crosswalks.
All crosswalks must be marked. Unmarked crosswalks are unacceptable.
Signalized crosswalks should be timed to allow for the greatest allowable crossing time as opposed to the minimum.
Curb extensions and vertical speed control elements like speed tables and speed cushions should be incorporated to ensure a 20mph design speed and to improve pedestrian crossings.
I-26 bridge concerns
We have also written about the special concerns that surround the future I-26 project bridge replacement at Haywood Rd and I-26, as well as the need to better accommodate the future users of the new greenway that will join Haywood Rd across from B&B pharmacy. This future greenway will wrap around to the Patton bridge, resulting in a car-free path to the west side of downtown with no red lights and less elevation change than the current dip to the river on Haywood before the climb up.

We hope this future bridge design can be an example of the multi-modal changes this corridor needs, instead of forcing a car-centric design into the middle of this vibrant area.

You can read that earlier post here, which links to the I-26 project public documents.