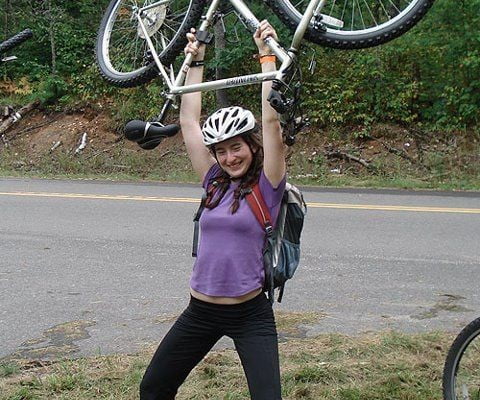 AoB congratulates Hannah Siler on reaching her fundraising goal!
In Hannah's own words:
First off, I want to thank everyone for taking a little time to read this message. My name is Hannah Siler and I'm a freshman at the University of North Carolina Chapel Hill. I'm originally from Asheville, North Carolina, where I was introduced to road biking and mountain biking. My dad, Marshall Siler, who is an avid biker who just completed a 2,000 mile bike ride following the Lewis and Clark trail out west, introduced me to cycling and really inspired me to take on the challenge I have committed to for this coming summer. I will embark on a bike ride across the country, beginning in Providence, RI, and ending in Half Moon Bay, CA. The purpose of this ride, besides providing a great way of traveling around the country, is to raise money and awareness for affordable housing projects across the country. Throughout the ride, I will be stopping in cities and towns throughout the country to lend a personal hand in building houses on build days and educating town members on the importance and necessity of affordable housing for the community. In order to be able to participate in the ride however, I will need to have raised $4,500 by April, and I am reaching out to anyone and everyone who would be willing to help!
I will be doing this ride through an organization called Bike & Build. Bike and Build is a 501(c)(3) non-profit founded in 2002. Since their start, they have raised and granted over $3.38 million dollars to various affordable housing organizations. The case study that was done in 2011 showed that 335 affordable housing organizations in 48 states received Bike & Build grants, totaling $608,023. The riders pedaled 1.05 million miles and volunteered nearly 20,000 hours in 103 build sites.
You may be wondering why affordable housing is such a pressing issue in the US, especially compared to the many environmental problems and other societal issues that receive broader attention. I certainly asked this question before I researched the topic more in depth. The need for affordable housing comes from an increase in homelessness, poor living conditions, overcrowding in homes, and high prices that cause families to spend more than 30% of their gross income on housing. These conditions negatively impact individual families as well as the community as a whole, as they discourage local economic investment, undermine health, and widen the gap between the upper and lower class. However, the transformational ability of sufficient affordable housing is great. According to the Habitat for Humanity website, clean, decent, and stable housing provides stability for families and children, a sense of dignity and pride, health security and physical safety, and an increase of educational and job prospects. Affordable housing also allows for greater means of wealth creation, which could lead to more community investment, involvement and development. From what I can tell, affordable housing can cause positive, healthy effects to infiltrate many aspects of society.
My reasons for partaking in this journey across the country and the fundraising before I leave is mostly that I want to continue using my time not spent in school, like summer and other breaks, for amazing and unique experiences, but up the ante a bit and use these experiences to make an impact on other people and communities. Bike and Build includes some of my passions of traveling and biking, but also has components that are completely new to me, like intense manual labor and fundraising (on a larger scale than for middle school band). I want to make my experiences have more of a statement of purpose, so then I can build on them and continue to help people and places in new and exciting ways.
As I participant, I will be asked to raise $4,500 dollars by the end of the semester, hopefully by the end of April. $500 of this will go to the affordable housing charity of my choice. The rest will be given to Bike & Build to be made in to grants to give to affordable housing organizations around the country. A portion of the money will be used to cover travel expenses along the ride such as camp sites, travel gear, and fuel for the support trailers, but all of the money will be used for either our bike trip of granted to charities. In order to do this, I'm reaching out to anybody who would be willing to donate any amount of money to support my ride and spreading awareness on the need of affordable housing. Any amount would be amazing. I'll be sure to send a shout out to any donators on my Facebook page for my ride. Additionally, please share this email to anyone who would be interested! I'm trying to expand my network as much as possible. Thanks for your time and support!
Sincerely,
Hannah Siler
hlsiler@live.unc.edu
Find Hannah on facebook or at Bike and Build's website.