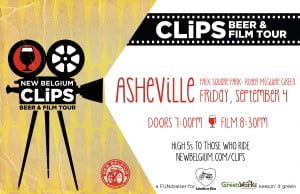 On Friday, Sept. 4th, AoB and New Belgium Brewing host "Clips Beer and Film Tour." Clips is a beer-toting, film-traveling, nonprofit-benefiting outdoor cinema and beer tasting event that returns to Asheville for its sixth year!
This free event is rain or shine! Beer tokens cost $1.50 for a three-ounce pour and $6 for a 12-ounce beer. All ages are welcome. 100% of proceeds support Asheville on Bikes so be sure to save the date for Friday, Sept. 4th.
AoB is also actively recruiting volunteers for the Clips. There are several volunteer options to choose from, so pick the one that works best for you. Simply, click on the Clips Volunteer Form to make a volunteer investment and support the event.
New Belgium Brewing took its love for beer and film fans and put them together in this one-of-a-New-Belgium-kind event. You'll get to try our most esoteric beer offerings – up to 17 varieties – and pair them with inspiring short films created by fans. And good news – 100% of the proceeds from beer sales benefit Asheville on Bikes.