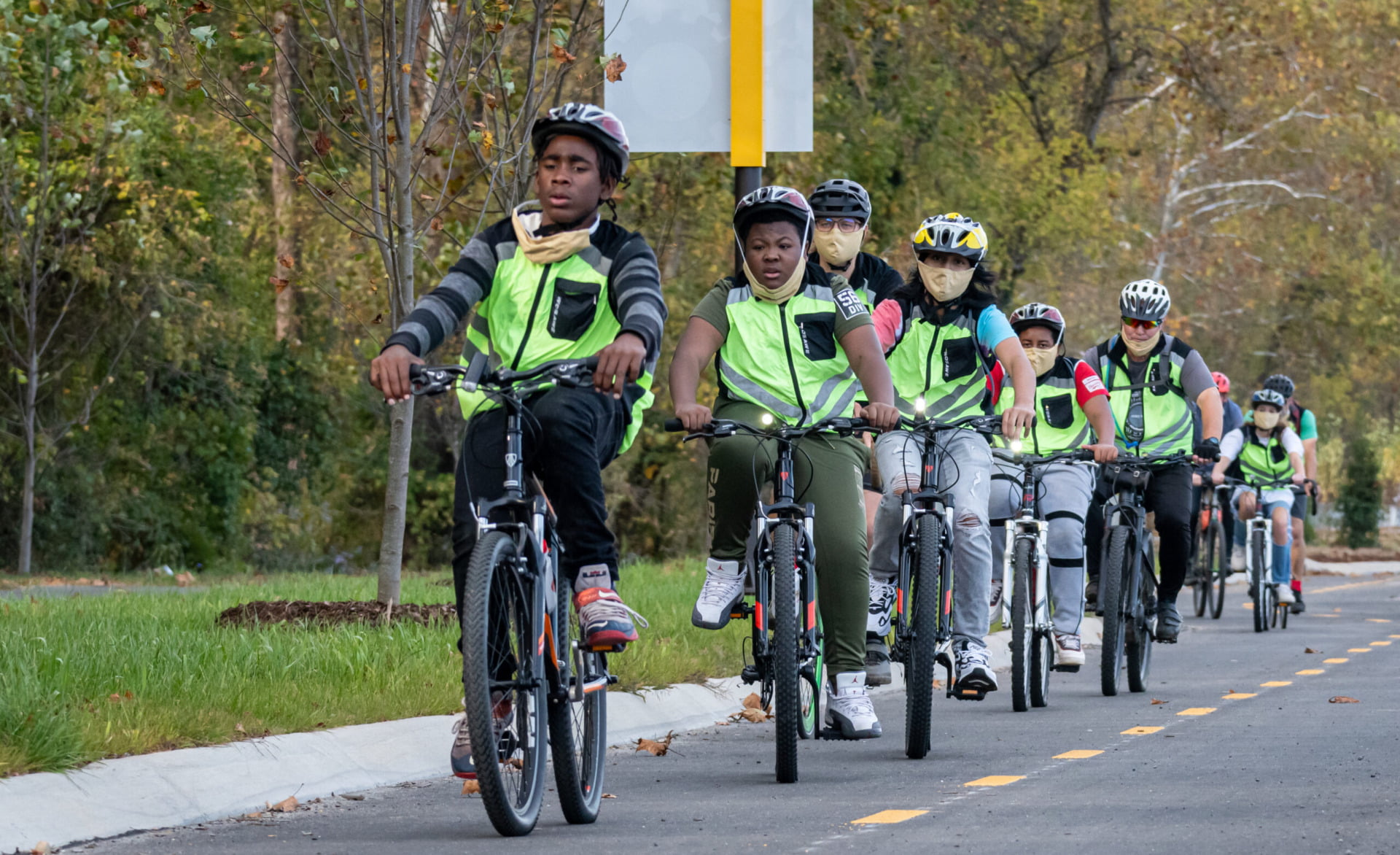 Each week, Asheville on Bikes teaches two groups of middle school students how to navigate bikes in our city. It's a great privilege to run this program and work with the next generation of riders.
Youth Cycling Program
Our youth cycling program teaches kids to ride their City! We have three types of programs:
1) Bike Club! We run after school bike instruction at Asheville Middle School. This program runs in conjunction with the Asheville City Schools Foundation, and we are partnered with In Real Life (IRL) to offer this program. Our Bike Club is the longest running school-based bicycle education program in NC. We pair two bike instructors and two volunteers with each group of students, and students get to work with these same instructors throughout the course of the 6-week program that runs primarily from Asheville Middle School. In that time, students learn how to wear safety gear, operate and maintain their equipment, and navigate traffic on a bike. We build in plenty of time and activities that allow students to safely practice navigating on two wheels. By the end of the program, they have real experience using a bicycle for transportation.
2) Summer programming. We partner with other local groups to offer summer programming and bike instruction. This is our highlight reel from working with My Daddy Taught Me That in the summer of 2022:
3) Popup bike parks. In conjunction with other events, we run a pop-up bike skills park that helps parents and kids practice on a closed skills course featuring progressive obstacles and ramps.
All of our instructors and volunteers have experience working with bikes and a background working with kids. Many are former or retired teachers, coaches, or they come from a background in outdoor leadership.
More about the Bike Club
Bike Club students acquire riding skills to navigate their city with confidence, knowledge, and joy. Students are empowered riders taught by a coaching team committed to keeping the next generation rolling forward.
Bike Club Delivers to Students:
A coaching team that is well coordinated and prepared for teaching bicycle riding skills.
Equipment and materials that are quality and safe for students to use.
A program focused on incremental skill development at the student's pace so that students have the opportunity to excel, strive, persevere, fail, and succeed.
Competent riders who know their skills, current limitations, and future goals.
A space to experience the joy of riding bicycles.
---
Summer Pop-Up Programs
This summer, we had the pleasure of partnering with youth programs that aren't normally on bikes. We love to partner with community organizations like these, whose youth relished the chance to round out their schedules with some exercise.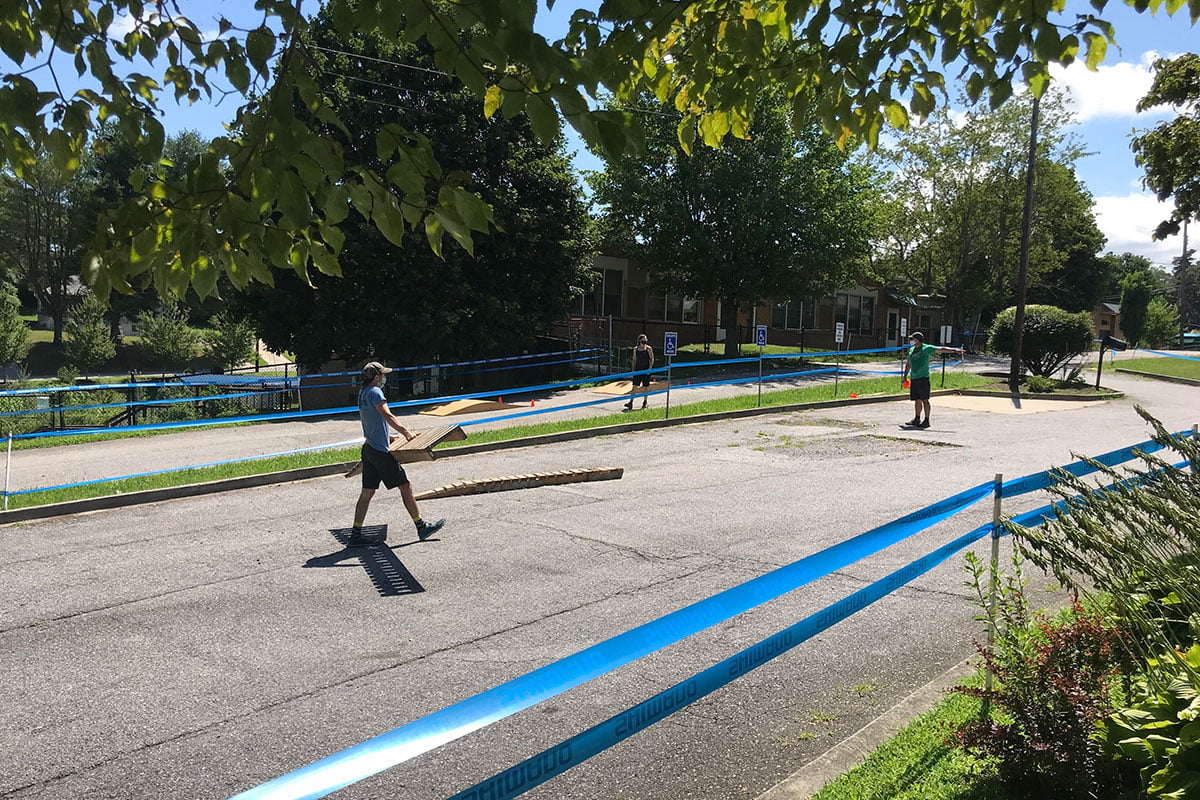 Word on the Street Summer Program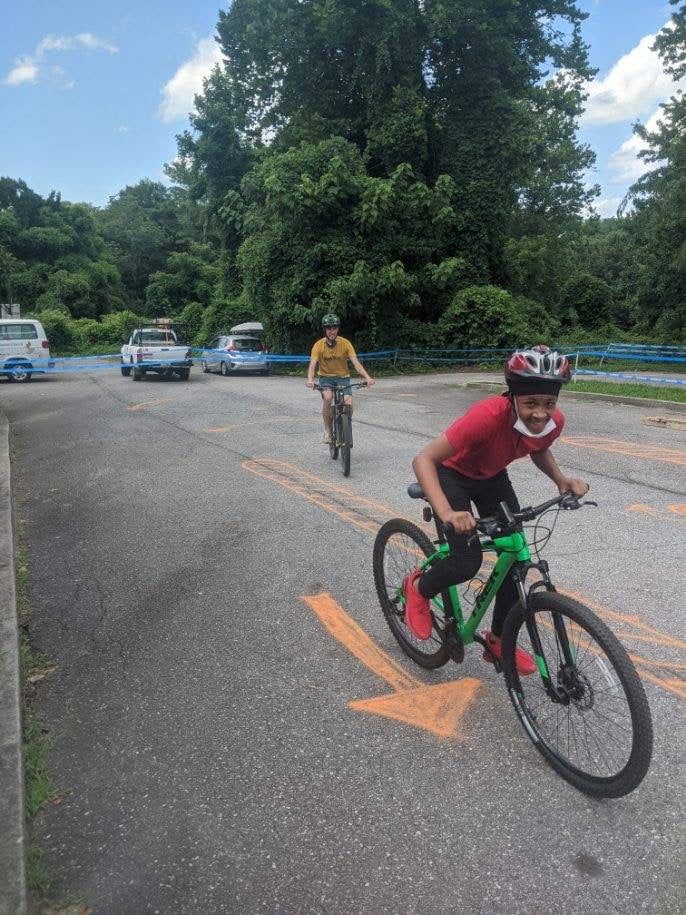 Word on the Street/La Voz de les Jóvenes (WOTS/VDLJ) is a youth program that centers on the leadership and creativity of black and brown teens. Through arts-based programming, participants (known as The Squad) develop healthy relationships with peers and mentors, while working to make a difference in their community using their voices, talents, and imaginations. During the summer, the program ran a paid internship for teens and invited us to participate in a celebration on the final day of their summer program! We created a temporary bike playground for the group to enjoy.
The temporary bike playground was a smashing success. Students had fun challenging themselves and playing on the bike playground. In the future, Asheville on Bikes would like to create bike trails and a permanent bike playground on the campus of Asheville Middle School or at a nearby city park. We want all Asheville residents to experience the joys of bike riding in a fun and challenging setting.
Here's what some of our 2020 attendees had to say:
"I liked riding the bikes. It was a good experience that reminded me of when I was smaller and would ride my bike everyday, I am thankful I got to do it, it made my day!" -Sharissa

"It felt good to have a moment to let my internal kid come out. I am very happy I had the chance to do some exercise before leaving for college." -Pamela

"My experience at the bike ride was amazing. It brought flashbacks to when I used to ride my bike last year and how exciting it was to work hard to get somewhere. I was sweating a lot but it was worth it. I love it !! I wish I could do it again !!!" -Kenny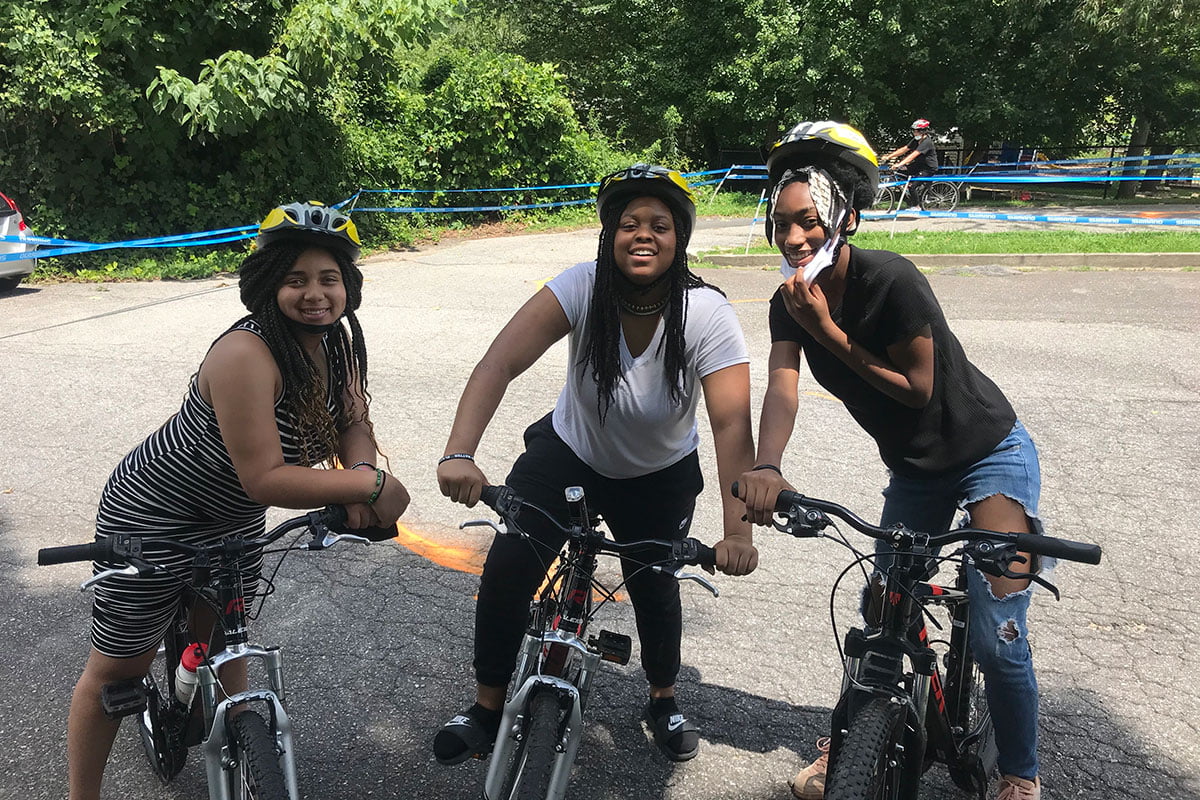 YTL Summer Program
We also partnered with the Youth Transformed for Life (YTL) in July of 2020. YTL focuses on the whole student with extracurricular experiences, academic support, and experiences to support personal growth. The students enjoyed a series of bike rides at Carrier Park, where they had the opportunity to learn a little bit about how bikes work and how to safely navigate. One middle-schooler even got to ride a bike for the first time!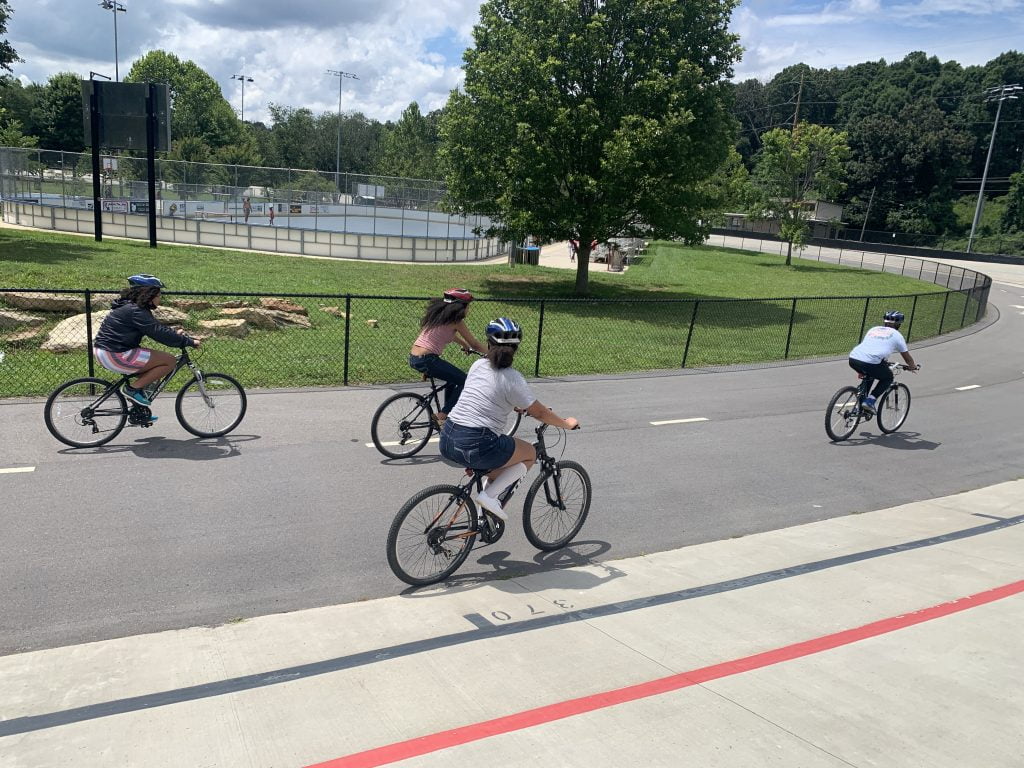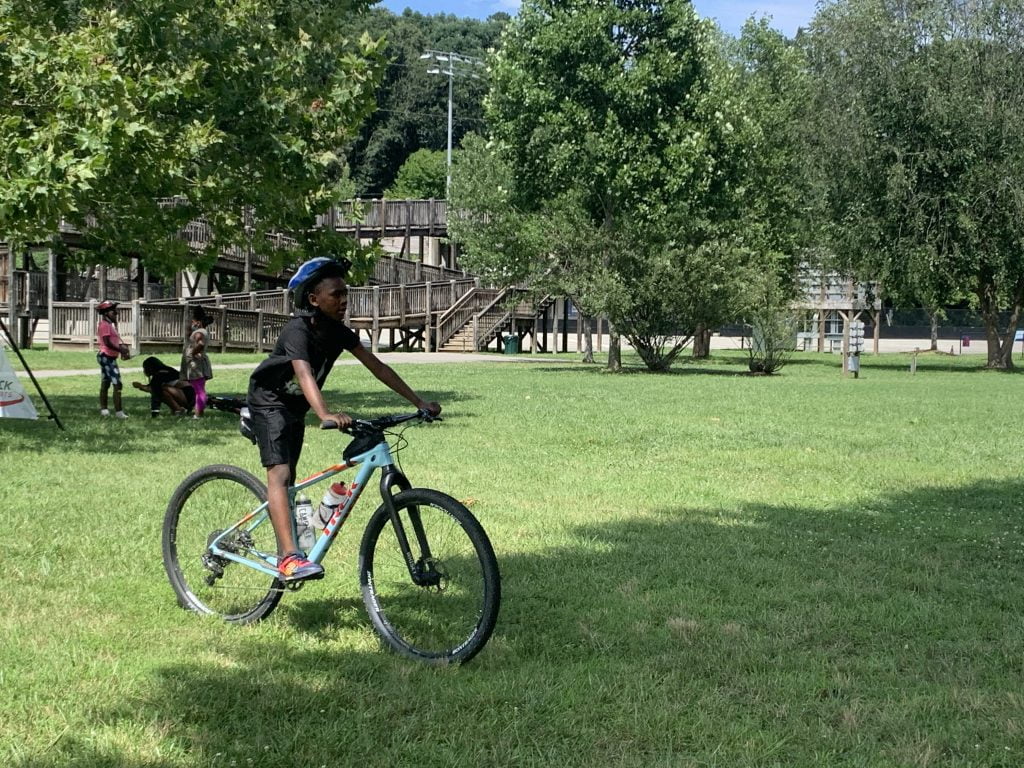 ---
From Former Bike Club Bike Instructor, Drew Cristola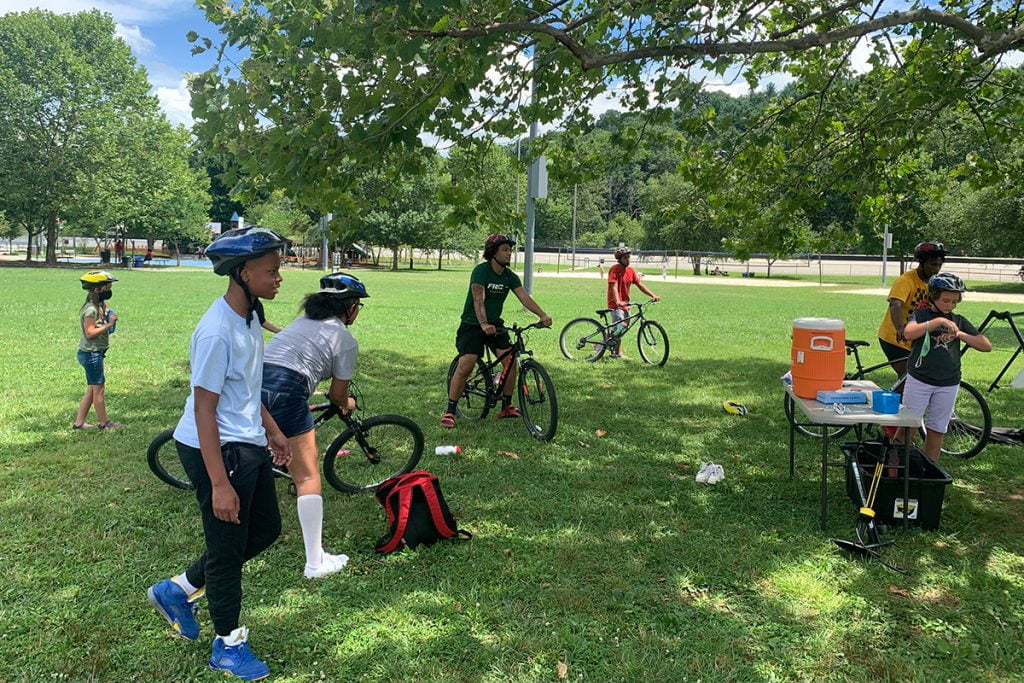 When we asked Drew Cristola, a former Asheville on Bikes instructor, why he loves bike club so much, he wrote this note:
"Every Thursday afternoon we take students from Asheville Middle school to go on a bike ride. Asheville on Bikes functions as a service provider for IRL (the after school program put on by the Asheville City School Foundation) and we get to ride with them from 3:30-5:00 every week. We meet them in the cafeteria, fit them with bikes and helmets, and then take off around the city.
Each week we cover a small lesson in safe bike riding. We start with the basics like shifting gears and doing power starts. We spend about 15 minutes explaining each skill, showing them hands-on, and then asking them to repeat it back. Often, we ask them questions like 'Why should we always pass on the left?' or 'Is it easier to climb a hill sitting down or standing up?' They always surprise me with their answers.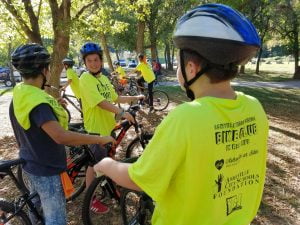 After the skill time, we take them out to actually ride their city. And to be honest, we don't take it easy on them. During the course of the semester, we ride from Asheville middle school to Montford cemetery through downtown rush hour traffic. We take them to the French Broad River Park and take the lane to cross the super narrow bridge. We ask them to climb up Clingman Avenue and Bartlett Street, which have some of the steepest inclines in the area. Each week I am always impressed by what these kids can do on a bike. Friends my own age would not do what they choose to do every week.
For many of the students, it is a new experience. Most live in the west-Asheville-River Arts-Southside corridor and are used to driving these roads with their parents. For them, they get to experience their city first hand on their own terms. You can tell that they love the adventure and the excitement of having that independence.
For some students, it is a challenge. Nothing in Asheville is flat and we have to go uphill to get almost anywhere. At the beginning of class, many students don't think they can pedal up the hill (or even scarier, go down it).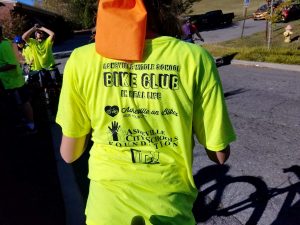 The class for them becomes a time where they have to face being uncomfortable or scared. While we give them the skills and encouragement they need to accomplish the task, they make the choice to do it themselves. And fortunately, many of them make that choice. You can tell when they feel empowered and accomplished after these hard moments.
Every Thursday we get to see these kids step out of their small middle school world and jump into their city. They change from awkward to empowered, from scared to excited, and from indifferent to active. Each Thursday we get a small glimpse of the adult that they will be in the future.
That is why I love teaching at Bike Club." – Drew Cristola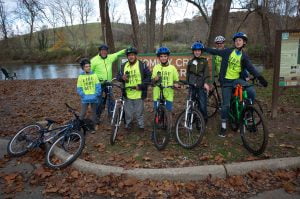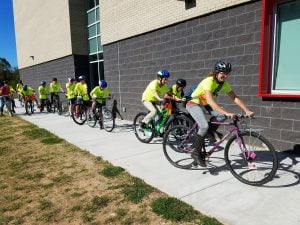 Want to be an After School Bicycle Instructor?
Get job description  »