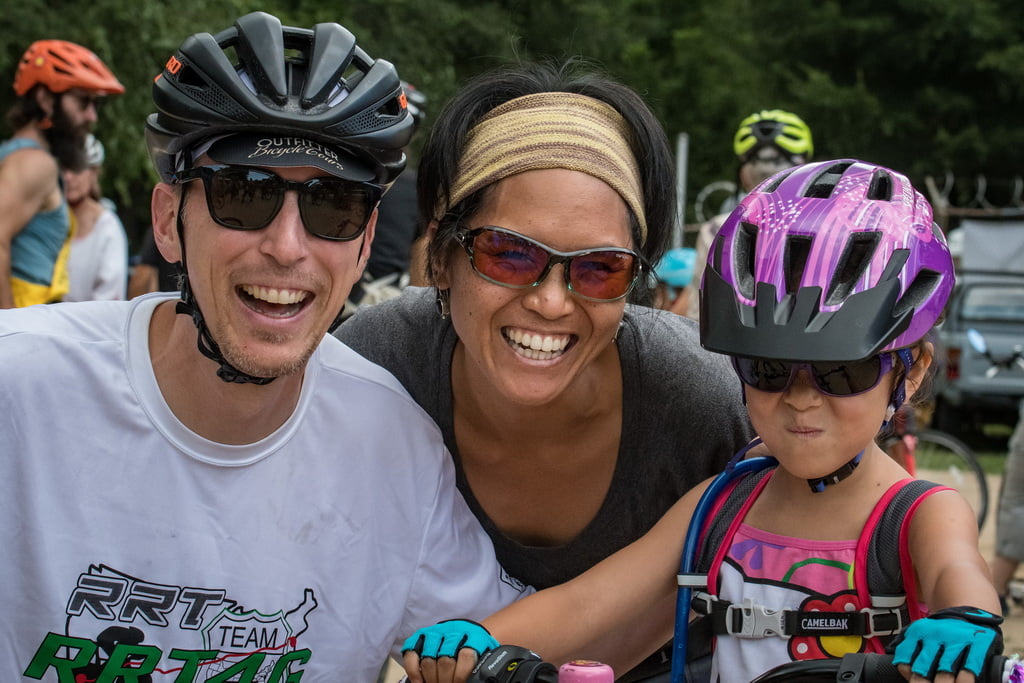 Annual family-friendly bike ride and social offers fun, scenic routes for all ages and skill levels.
Asheville on Bikes' annual Summer Cycle '18, presented by Mosaic Community Lifestyle Realty and JAG & Associates Construction, returns Saturday, June 23rd, 2018 at New Belgium Brewing.
Summer Cycle is a free, family-friendly event that includes easy-to-follow route options for bike riders of all ages, levels and abilities, with a celebration at New Belgium Brewing following the ride.
"Summer Cycle is one of our most popular for families and new bike riders, as well as those who want to ride their bike more but may not be sure where to start," says AoB's executive director, Mike Sule. "The event connects families, neighborhoods and business districts by bike. We strive to create a welcoming, all-inclusive atmosphere with something for everyone. It's a great way to explore new routes, meet your neighbors, and relive the joy of riding a bike."
Route options for all ages, all skill levels around the River Arts District and West Asheville
Summer Cycle '18 kicks off with short "balance bike loop" around the perimeter of New Belgium's Liquid Center. Open to all ages, this loop is suitable for the youngest riders on balance bikes, training wheels or tricycles, but open to kids of all ages. A 1.5 mile loop tracing the River Arts District is available for those who prefer a shorter distance. The main route of 10 miles highlights the River Arts District and West Asheville, with options to add on more if desired.
"The Summer Cycle routes represent the best of the River Arts District and West Asheville," says Mike Sule. "Riders can keep it short and flat or take on a climbing challenge, or enjoy the city's longest stretch of connected greenway before returning to New Belgium Brewing. Riders can opt to tack on a few extra miles or select a more direct route. Either way, all will enjoy Asheville's greenways, neighborhoods, business districts, and the Asheville on Bikes community."
Arrive with a safe, road-ready bike and helmet
Summer Cycle participants should equip their bicycles with front and rear lights and make sure their bicycle is road-ready, "especially if it has spent most of the season in the basement," notes Sule. "Take your bike to a local shop for a tune-up, and pick up a bell while you're at it." He notes that bike bells are a courteous custom and only cost a few dollars. "A ring-a-ding of the bell is a pleasant and effective way to communicate with others. As we welcome people to participate, we need to share the habits of safe riding, too."
All riders should wear a properly-fitting helmet (required by law for riders under 16) as well as a water bottle, as water stations are not provided on the bike routes.
Participants are also encouraged to review the route maps before the event. The Bike Balance Loop circles the perimeter of New Belgium's event space. Maps of each road route option are available below:
Details & Event Schedule
Asheville on Bikes is expecting over 150 riders at Summer Cycle '18. Participants are advised to arrive early to get ready and to stay for a post-ride celebration.
3:30 pm: Gather at New Belgium
4:00 pm: All-Ages Balance Bike Loop & Summer Cycle routes depart
5:30 pm: All riders return to New Belgium and celebrate
Interested participants are encouraged to RSVP and share the event on Facebook. Asheville on Bikes is also seeking volunteers to help before, during, and after the event to mark the courses, guide riders, and help with clean-up. Volunteers can sign up for positions here.
For more information, contact Mike Sule at mike@ashevilleonbikes.com or (828) 582-4705, or visit our event page.