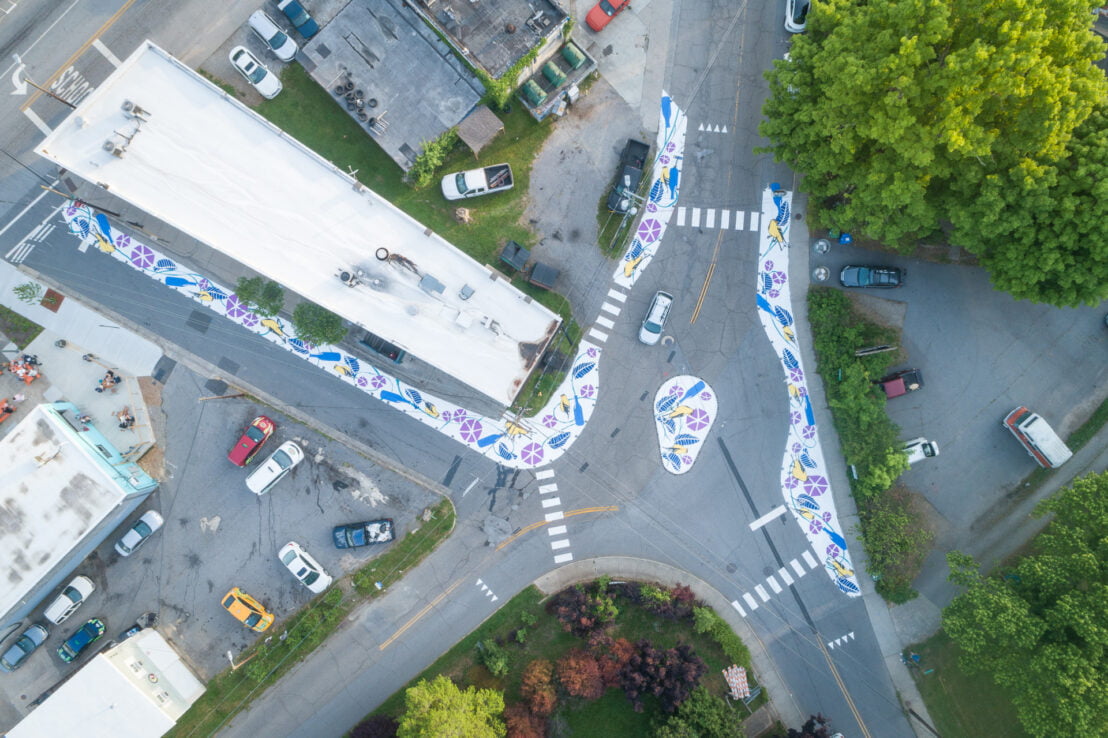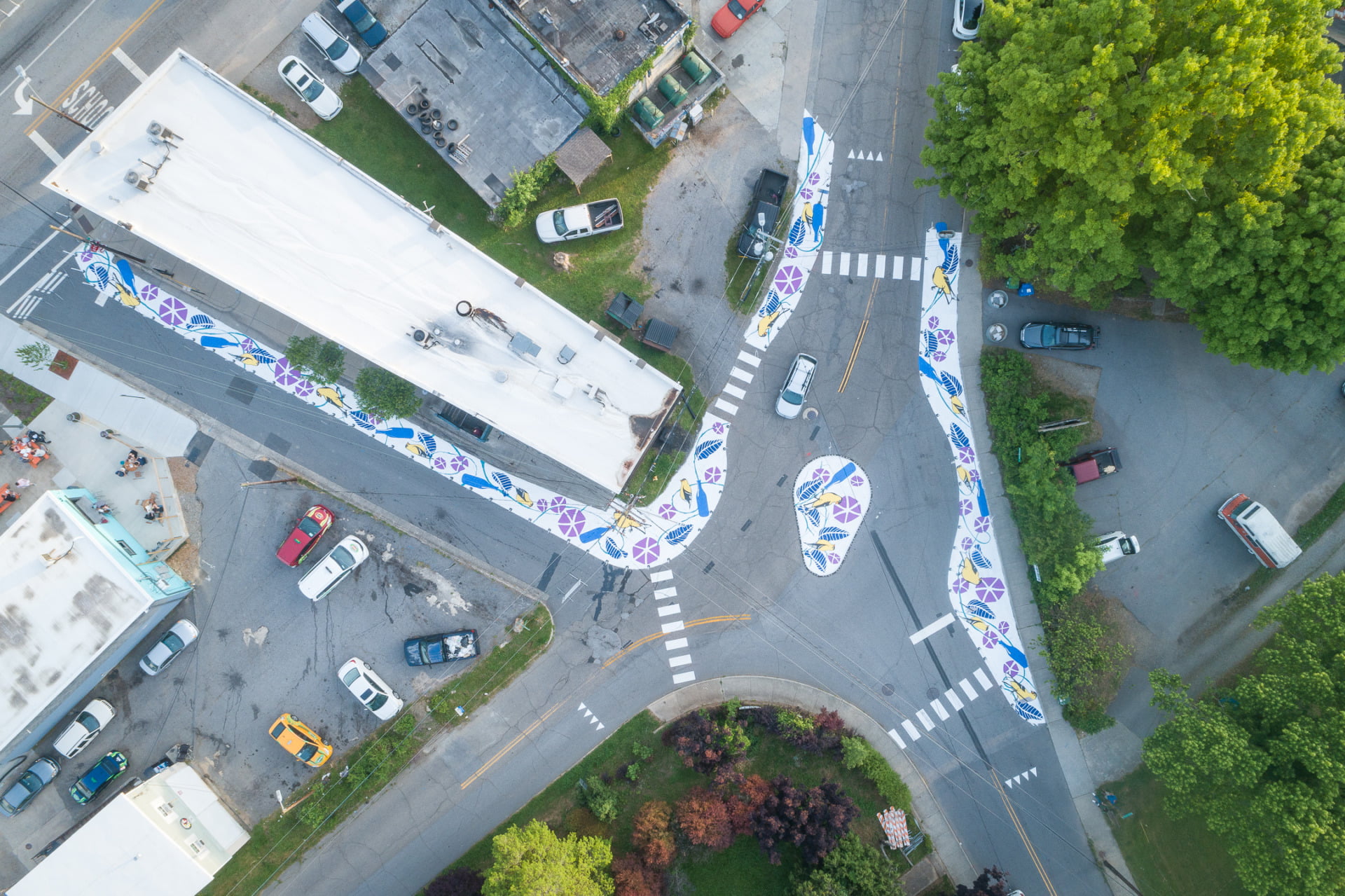 We are thrilled to announce the completion of the West Wayne tactical urbanism project! Located at the intersection of Westwood Place and Waynesville Avenue in West Asheville, this project features a variety of traffic calming features including a roundabout, crosswalks, and curb extensions to enhance vehicle & pedestrian flow and improve safety. It also features beautiful street art from Asheville artist Leslie Rosenberg.
Read on to learn more about the West Wayne installation process and the amazing people who made this project a reality.
Video footage of the West Wayne project courtesy of Asheville on Bikes.
The Street Tweaks Team and tactical urbanism
This project would not have been possible without the Street Tweaks Team and their approach to creating more safe and vibrant cities. Asheville Street Tweaks is a coalition of local non-profit organizations including Asheville on Bikes; the AARP, North Carolina, Mountain Region; and the Blue Ridge Bicycle Club, whose goal is to make public spaces more accessible, safe, and functional for all users.
The Street Tweaks Team accomplishes this goal through tactical urbanism, an approach that allows a city to make widespread, lasting improvements by funding and implementing a variety of smaller, cheaper, quick-turnaround projects. City officials are often reluctant to approve large-scale infrastructure projects because they aren't sold on their benefits or they're overwhelmed by the required investment; tactical urbanism allows them to test a project before committing to a long timeframe or spending a lot of money. Larger cities like New York City and Seattle have had great success implementing bicycle and pedestrian infrastructure projects, which has led smaller cities like Memphis and Asheville to embrace this approach.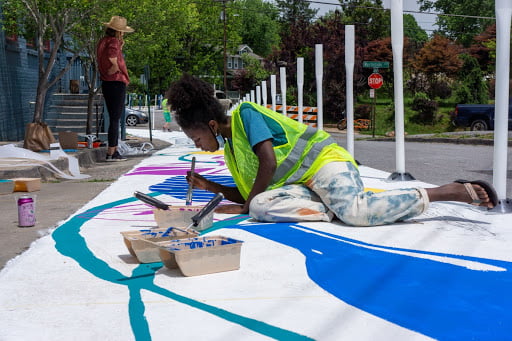 Help from our Asheville community partners
There were many organizations outside of the Street Tweaks team who helped make the West Wayne project a reality. These include: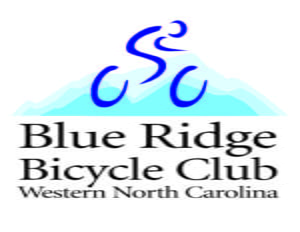 This project would not have been possible without the generous support of these partners who invested their time and talent.
Why did Street Tweaks choose this intersection?
Simply put, it's dangerous. Asheville has the most pedestrian deaths per capita in North Carolina, and the Westwood Place & Waynesville Avenue intersection is exceptionally dangerous due to its high volume of mixed-modal traffic and lack of crosswalks.
Another reason Street Tweaks and the City chose this location is because it's a very wide intersection, which makes it ideal for accommodating traffic fixtures and pedestrian flow.
What's the inspiration behind the artwork?
Asheville-based artist Leslie Rosenberg was commissioned to design and implement the street art based on her role as studio technician with UNC Asheville's STEAM Studio and her experience as an artist. In order to develop the idea for the artwork, Rosenberg polled neighbors to find out what they'd like to see portrayed. Overwhelmingly, residents said they wanted to memorialize Christopher's Garden, which was known for its goldfinch, blue bottles, and milkweed.
If you're wondering why the Street Tweaks Team includes street art in their projects, consider that street art has been shown to increase mental well-being and boost tourism revenue.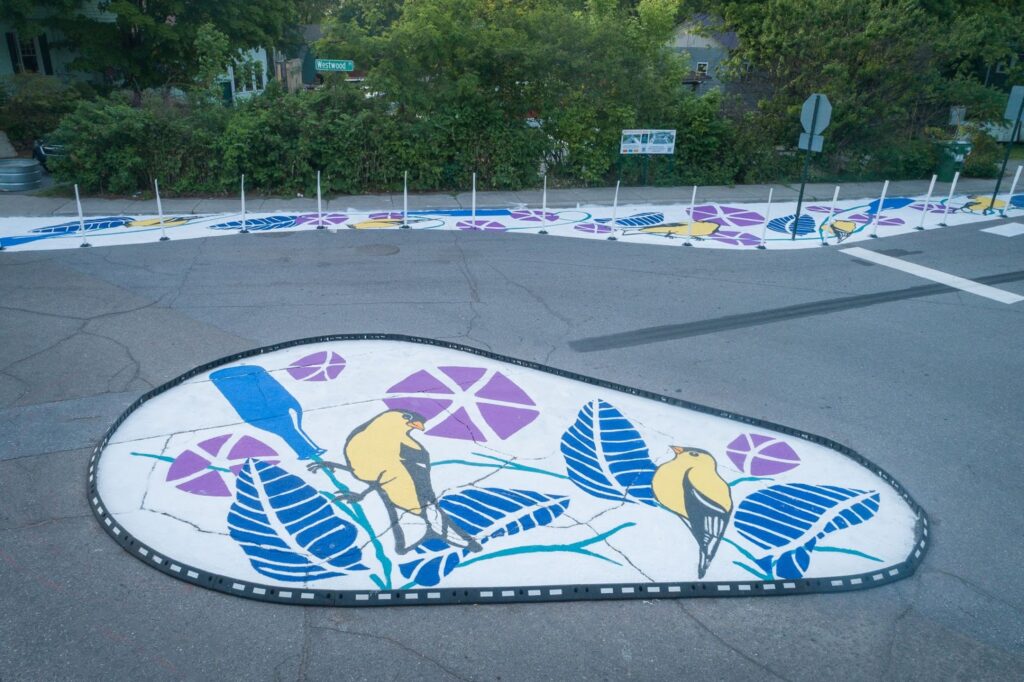 Where else has tactical urbanism been used in Asheville?
Before the West Wayne project was underway, the Street Tweaks Team spearheaded the Coxe Avenue project in 2018. Funded entirely by the Street Tweaks Partnership, the Coxe Ave project was Asheville's first foray into tactical urbanism and, according to the project's follow-up report, was a huge success. The installation, which featured new stop signs, crosswalks, widened pedestrian paths, a temporary street mural, and bike lane dividers, was able to reduce traffic speeds by over 28% and increase pedestrian & bike use.
From the get go, the project was intended to be temporary (a main tenet of tactical urbanism projects). It was installed in November of 2018, with an understanding between the Street Tweaks Team and the City of Asheville that it would be removed after 2 years. But while the butterfly mural was removed in August of 2020 (it was beginning to fade from vehicle use), the City extended the project due to COVID-19 because it helps support social distancing.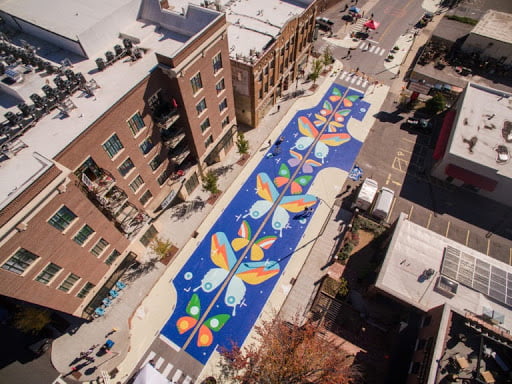 Is the West Wayne project here to stay?
The West Wayne project is designed to remain in place for a year with the possibility of being extended if it receives direct support from the City, neighbors, and local businesses. The best way for you to show your support for this project is to use it, share your experiences about it, and write to Asheville City Council.
Check out photos & a video recap of the installation.