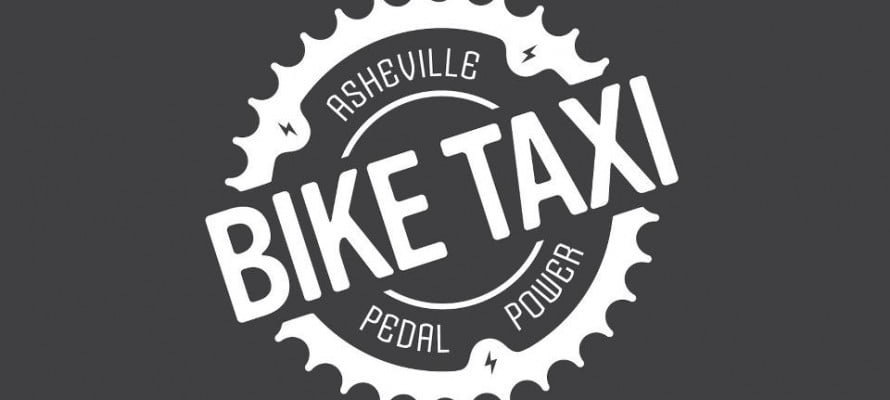 When we at Asheville On Bikes saw pics of a snazzy yellow bike taxi on facebook, we wanted to know more. Jessie Lehman, owner of Asheville Bike Taxi, took a few questions about her new business.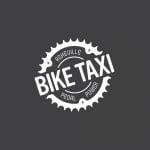 Tell us about what inspired you to start Asheville Bike Taxi.
A little of my background:
I've been in Asheville since 1995 and graduated from Warren Wilson college with a degree in Environmental Philosophy. I was lucky enough to be heavily involved with campus greening at that time and was part of the research and planning team for the Eco-Dorm and other Appropriate Technology projects over the years.
Upon graduating, I wanted to stay in Asheville, and most of us who live here have probably experienced the need to get creative in the Asheville job market in order to be able to stay here because we love it and we want to.  I have tried many different things from wilderness therapy, painting, landscaping, teaching athletics at a private middle school for girls, teaching and performing West African drumming, running a fruit and berry farm and CSA in weaverville, being a waitress, etc.  All were fine, but not completely satisfying in many ways, or were satisfying but not financially lucrative.
As for ABT, the idea and inspiration actually came from a great friend who started the Eating Asheville walking food tour and he didn't want it for himself.   I saw how he was successful in the growing tourist industry in Asheville, and so I just started looking down the Bike Taxi rabbit hole so to speak by doing some initial research to see what was involved.  One thing led to another and I realized that this entrepreneurial endeavor was actually something very much down my alley.  I am always trying to find a way to make a living while having fun and being good to the environment. And as a bonus, its a job that is healthy for my mind and body. You get paid to exercise, it changes daily, and it provides service that helps people move through Asheville in a more environmentally friendly and fun way.
Here is our mission statement:  Our mission is to safely get you around town, while doing our part for the planet and local community through bike advocacy. We also strive to encourage healthy living and general merriment through public displays of exercise and fun.
What do you envision ABT will add to a tourist's or a local's experience of Asheville?
Both tourists and locals alike will find fun in pedicab transportation.  Whether it is ride back to a car, a ride closer to home for some locals after a night at the bars, or being picked up and dropped off at your hotel for a romantic evening, Asheville Bike Taxi and our friendly drivers, who are knowledgable of downtown Asheville's restaurant and local scene, will help you get around in a fun and unique way without having to worry about traffic or parking.
We are also going to be having a Four Corners of Asheville Downtown Tour as well as a Montford tour, and be available to be rented by the 1/2 hour and hour.
How many staff will you have initially?
I am starting with one cab and initially it will just be myself driving as I learn the ropes and understand the battery limits of my new pedicab. However, within the month, if not sooner I would like to get my cab out as much as possible and so will probably have around 5 or so drivers capable of covering the shifts.
What are your hours, rates, and areas of coverage? How many passengers can you take at a time?
Hours will fluctuate depending on the season.  And will be limited to begin with,   but eventually we will be open from morning till late night, weather permitting.
I think you will mainly find us servicing the central downtown business district, although we will offer a tour of Montford.  We are allowed in central downtown, Montford, the River Arts district, and up Clingman into West Asheville, but it is at the discretion of your driver whether they want to go outside of central Asheville.
We are planning on charging a dollar a minute with a $5 minimum for 1-2 people,  $7 minimum for 3 people with driver discretion due to tiredness and hills 🙂
How do potential passengers get in touch?
Hail us down, Call us at 828-777-5115, or book ahead through ashevillebiketaxi.com
Do you think seeing bike taxis on the road will alter anyone's perception of the bicycle as transportation?
Hopefully my service will help people see the ability and usefulness of bikes as transportation and can inspire others to travel around town with less of a carbon footprint.
Anything else you'd like folks to know?
I wanted to thank my Asheville community for the support offered to me so far.  Please pass my service along. If you want a ride look for me on the streets, hail me down, or call me at 828-777-5115.  My website will be up and running any day at ashevillebiketaxi.com  and can answer many people's questions as well as explain my services clearly.  Looking forward to pedaling you around Asheville!
Jessie Lehmann
owner/operator
ashevillebiketaxi.com
828-777-5115