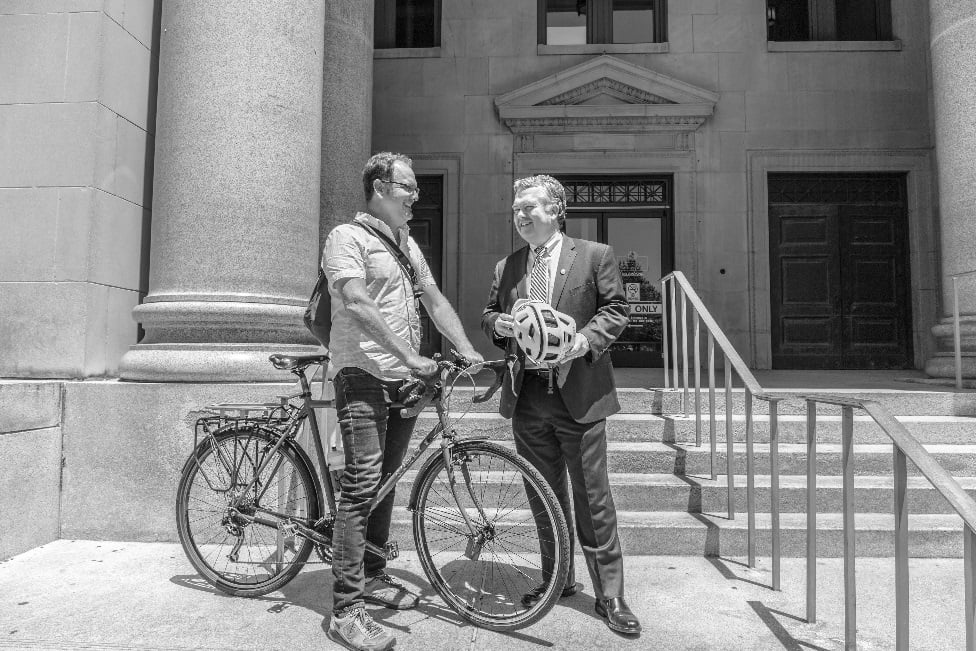 Asheville area cyclists who are cited with a minor traffic violation now have option to attend CycleSmart classes in lieu of paying fines in new Bicycle Ticket Diversion Program.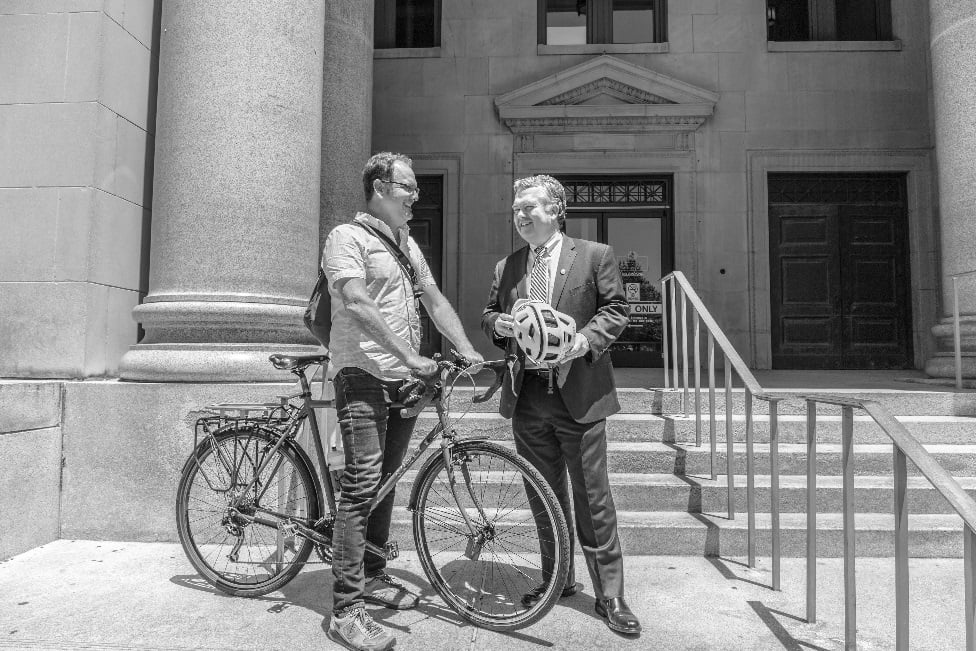 ASHEVILLE, NC, June 8, 2017 – Today the Buncombe County District Attorney's Office, Asheville on Bikes, and Buncombe Bike Ed jointly announce a new Bicycle Ticket Diversion Program (or Cycle Smart) aimed at reducing and eliminating court costs, driver license points and fines for bike riders charged with minor traffic violations in Buncombe County.
This is the first Bicycle Diversion Program offered in the state of North Carolina.
Cycle Smart is a program offered by Asheville on Bikes and Buncombe Bike Ed in partnership with the District Attorney's Office, which allows people ticketed with a vehicle violation while bicycling to attend and complete a safe-riding class and have the fine associated with their ticket dismissed upon completion of Cycle Smart.
"Bicycle riding is a critical to our transportation and recreation options and contributes a lot to the affordability, and livability of our community. Cycling can also reduce congestion on city streets. As our community grows and more people ride bicycles in Buncombe County, the DA's Office is committed to ensuring the safety of all on our roads. When riders are ticketed for a minor moving violations, I want them to have the option to enroll in Cycle Smart. Better, safer, law-abiding riders make for safer roads for both cyclists and motorists benefiting us all," Buncombe County District Attorney Todd Williams said.
While a bicycle is perhaps the most efficient and economical form of transportation, many riders have trouble paying court costs and fines and are often surprised that driver's license points accrue against their licenses when they are cited with a minor traffic violation on a bike.
"Bike education classes are a great way to encourage new riders and improve the skills of seasoned ones. It's fair to say that the riders who need bike safety the most are the least likely to sign up on their own. Partnering with the DA's office enables bicyclists who are ticketed to participate in Cycle Smart which educates riders on the habits of safe cycling. The long range goal are safe streets and cycling that is safe for both cyclists and motorists. We're excited by this partnership," states, Mike Sule, Asheville on Bikes' executive director.
Cycle Smart classes are led by League of American Bicyclists certified instructors. The classes are three hours and incorporate classroom instructions, bicycle skill development, and on road instructions. Classes are open to the public and are held the second Saturday of every month from April – October except July at Senior Opportunity Center at 35 Grove Street at 10 am. Enrollment is $25. To enroll or find out more information, please send an email to buncombebikeed@gmail.com.
For further information please contact Michael Sule, Executive Director of Asheville on Bikes at 828-582-4705.