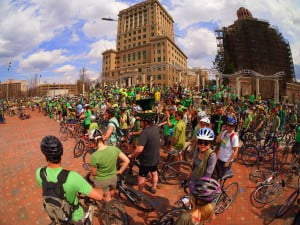 Bike of the Irish rolls this Saturday, March 15th at 1 pm. Asheville on Bikes' annual community ride attracts participants of all ages to celebrate spring and the joy of bicycle culture in Asheville. This year, the 13-mile ride celebrates more than the wearing of the green.
"This year, it's about green and greenways," says AoB founder Mike Sule. "Construction begins this month on an extension of the Reed Creek Greenway, and our annual ride celebrates that greenway achievement as well."
Saturday's Bike of the Irish 2014 is led by Asheville resident  (and AoB member) Tony Hauser. A civil engineer with Altamont Environmental, Tony designed the final leg of the greenway that will connect the UNC-Asheville area and downtown.
"It's been a pleasure for Altamont to work with UNC-Asheville on this long-awaited leg of the greenway," says Tony. "The facility connects commuters, students and families with transportation and recreational opportunities along a restored natural corridor."
For more information on the new greenway in Asheville, read today's article in the Asheville-Citizen Times.
So how about joining a few hundred of your closest friends Saturday to celebrate green and greenways on AoB's iconic Bike of the Irish ride? There's a volunteer Pedal Patrol to help support and direct participants. For more event information, visit AoB's Facebook event page. Tech type? For topographical information on the route, click here.
Smiling, Tony adds, "If my 9 year-old can ride Bike of the Irish, you can."