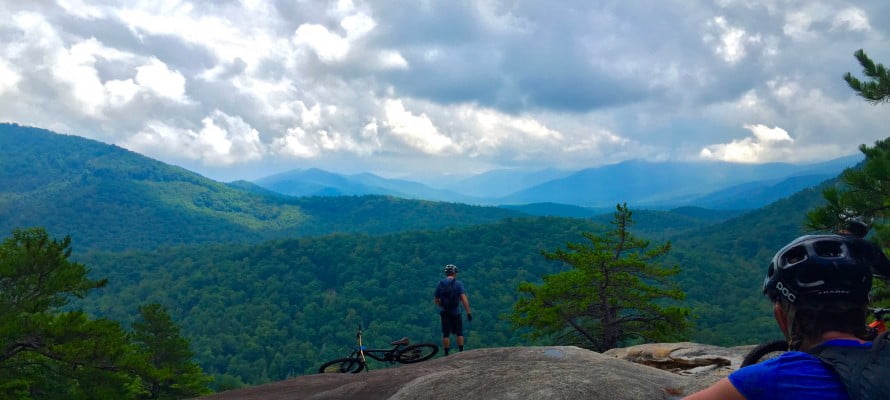 Designated "Bicycle Friendly Businesses" in Asheville
We're grateful to have so many local businesses that support bike transportation. Only a few, however, have earned the official title of Bicycle-Friendly-Business by the League of American Bicyclists. These businesses have made conscious efforts to make their business a more welcoming, practical place for their customers and employees who ride bicycles and have proven their bike-friendliness to the nation's longest-running bicycle advocacy organization.
New Belgium Brewing
Platinum Level
New Belgium opened their East coast brewery in Asheville's River Arts District in 2016 and brought their bike friendly ways to their brewery in our fair city. They are one of the most bicycle -friendly businesses in the U.S. and have worked hard to be good neighbors.
Liberty Bikes
Silver Level
Liberty Bikes is one of Asheville's longest-running bike shops, established in 1980. With 16 employees, Liberty encourages bike commuting, holds regular group rides, and offers bike maintenance clinics for customers among many other bike friendly activities.
Industry Nine
Silver Level
Industry Nine is a bicycle component company with 30 employees. In addition to having sweet facilities for employees who commute to work, I9 sponsors numerous local cycling events and a racing team.
CAKE Websites & More, LLC
Bronze Level
CAKE Websites & More, LLC is a web design and full-service marketing firm in downtown Asheville with 14 employees. To earn their Bronze status, CAKE installed bike racks outside their building, allows their employees bring their bikes inside, pays a monthly multi-modal stipend to employees who don't drive a car, provides a guaranteed ride to work for non-drivers, keeps bike tools and supplies for employee use, and offers several other related benefits.
Join these Bicycle Friendly Businesses & Make Asheville Proud!
Want to be instantly recognized as a business who supports employee wellness and cares about their community? Become a League of American Bicyclists Bike-Friendly Business. Read all about the benefits and learn how to apply by clicking here to visit the League of American Bicyclists.
Does cycling have an economic impact in Western NC? Yes, a strong one. The industry is a steady source of manufacturing jobs, tourism, and inbound migration to our region.