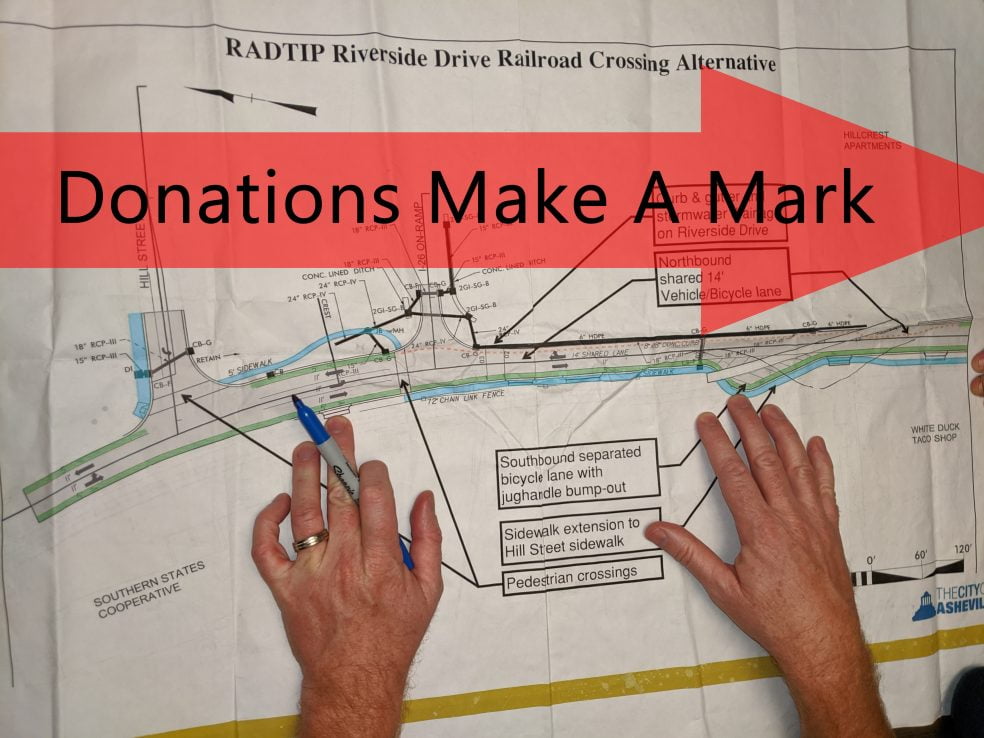 $5000 match challenge, starting today! This match challenge is made possible by the combined generosity of Jon Sarver of Sarver Realty and Eddie Dewey of Dewey Property Advisors. Any donation made between Nov 25th and Dec 31st is eligible for this match and, if we raise the additional $5000, Jon and Eddie will combine forces to match your contributions with an additional $5000.
Click here to donate to Asheville on Bikes.
Jon and Eddie are each long time Asheville on Bikes members and supporters. We appreciate their willingness to fund this match challenge. They also wanted to be public about their support, why they choose to give, and why our fundraising is important to the future of our City.
From Jon:
Asheville on Bikes continues to make Asheville a better place for me and my family to live. I'm a lifelong bike rider and have run businesses in Asheville for many years. I want people to know how good the work of Asheville on Bikes is.

My children have grown up on your group rides from the beginning, and I really appreciate the time I've been able to spend with my kids, exploring Asheville. Asheville on Bikes showed us the routes that we now ride as a family, like the Hominy Creek Greenway. – Jon Sarver
And Eddie:
As Asheville continues to grow it has become more important than ever to improve and expand upon the "bikeability" of our community. Asheville on Bikes is dedicated to this cause at every level. They are educators (riding programs for kids), planners (family/student bike event), activists (bike and political) and much much more. Our Company and my family have all benefited from the changes that Asheville on Bikes has affected in our community! Thank you! – Eddie Dewey
Jon runs Sarver Realty Group, a local real estate agency handling residential and commercial property. About Jon: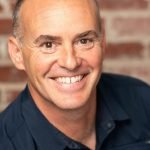 Jon arrived in Asheville in 1989 when he came to Warren Wilson College as a freshman. A former BMX racer, Jon quickly fell in love with the mountains and with mountain biking. In 1994, Jon and a fellow Warren Wilson alum started Asheville Bicycle Couriers, a bicycle messenger firm located in downtown Asheville. After growing the company to include deliveries via trucks and motorcycles, they sold the company in 2001. The following year, Jon became a licensed real estate broker and began his career in real estate sales and affordable housing development. Sarver Realty Group, LLC, was established in 2005 and has remained a small, vibrant firm dedicated to integrity and client satisfaction.
Eddie runs Dewey Property Advisors, a local commercial real estate agency. About Eddie: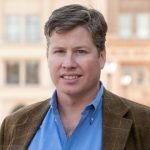 Eddie is founder of Dewey Property Advisors where he oversees brokerage and acquisitions for the Firm. Eddie has transacted over 200 million in real estate brokerage, consulting and (re)development work in Greater Asheville. Eddie's focus is primarily on local and regional investors, tenants, and developers. In addition to establishing Dewey Property Advisors in 2009, Eddie co-founded Altamus Property Management in 2014. Previously he was with Asheville Community developer Biltmore Farms and Brokerage Firm Spake Real Estate.
Both Jon and Eddie have raised families and worked in Asheville for many years. They are good examples of the behind-the-scenes leadership that both strengthens our City and pushes for a better future. Thank you both for supporting Asheville on Bikes.
Together we roll forward! Click here to donate to Asheville on Bikes.