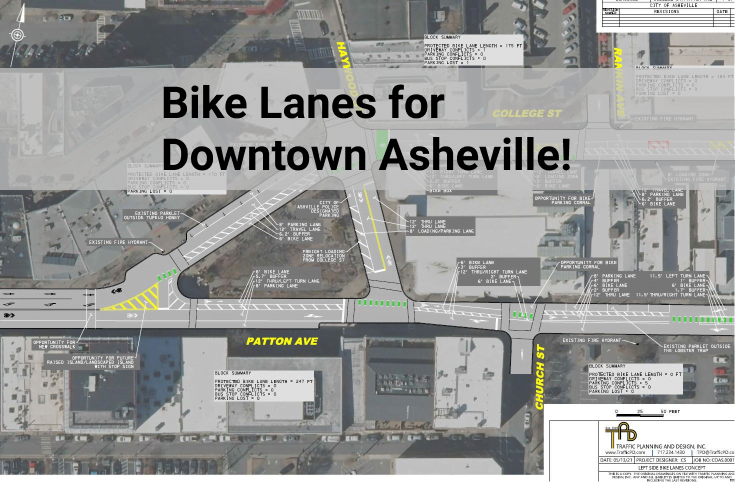 A plan is underway to bring protected bike lanes and loading zones to downtown Asheville! This plan will add bike lanes and loading zones to College and Patton in downtown Asheville, as the core of a future network of low-speed connections in Asheville. Click here to see the designs as a pdf.
On College, a new bike lane would connect to the existing bike lane that ends at Spruce St. and go to Pritchard Park
On Patton, a new bike lane would start at Pritchard Park and go to Biltmore Ave.
Watch our College / Patton Complete Street Plan Project Overview
View Maps of the College / Patton Complete Street Plan Project
Here's a map with the new proposed bike lanes shown in green and proposed loading zones are shown in yellow. Note that these green lines form core connections within a larger network that is steadily growing, as it should: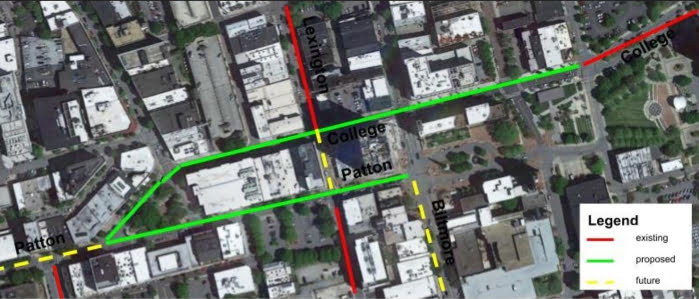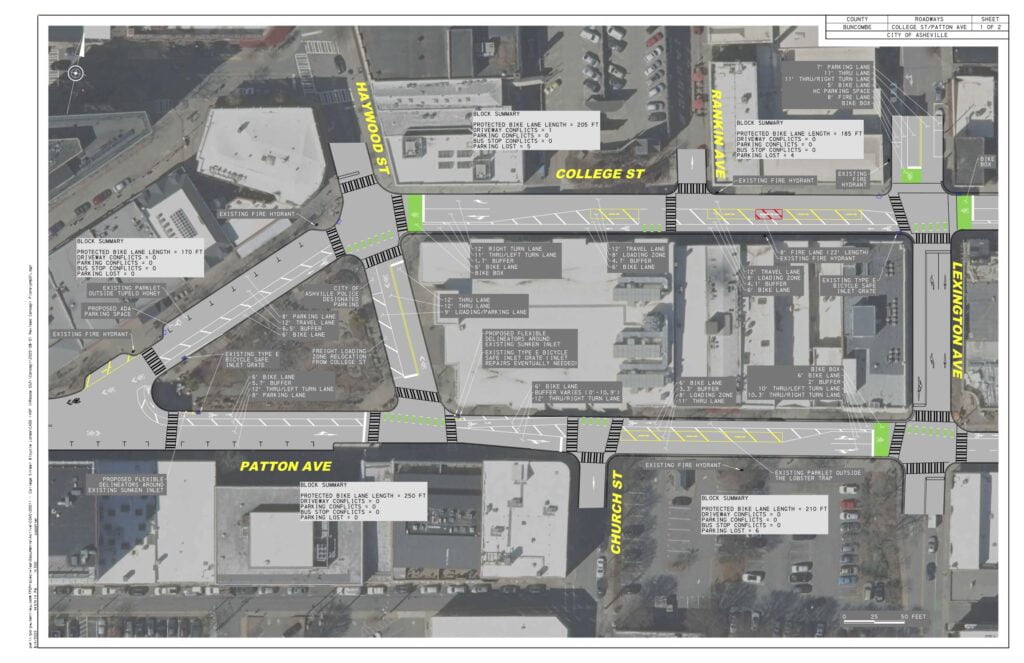 10 reasons why Asheville needs these downtown bike lanes and loading zones:
It will make biking and walking safer downtown. Asheville kills or injures more pedestrians and cyclists than any other city in North Carolina and it has maintained that status for several years.
New bike lane facilities are a directly stated goal in many of our city planning documents.
Biking and walking facilities are a component of housing affordability as each serves to decrease reliance on automobiles and their required maintenance. The number of people biking and walking increases when there are safe and predictable facilities.
There will never be enough parking downtown if we continue to focus on cars instead of people. The way to move people downtown is to expand mobility options. Increases in biking and walking help reduce parking demand while increasing the number of people a street is able to move and increasing the number of locals who can easily reach downtown.
This plan improves access to local businesses. People who bike or walk spend more over time when compared with similar car-driving visitors in a downtown area. Encouraging biking and walking is good for business.
Increases in biking and walking directly support our climate, resilience, community health and affordability goals.
In the last 10 years biking and walking in downtown has increased dramatically, but very little space has been added to accommodate the change in patterns downtown. The pandemic further accelerated this shift.
Our COVID streets plans have shown us how we could reshape public spaces and use them differently.
Electric bikes, scooters, one wheels and trikes are increasingly more common. The vibrancy of our downtown depends, in part, in our ability to keep pace with innovation.
These separate bike lanes and loading zones will facilitate our future bike share program by creating safe spaces to ride.
Asheville can make better use of our multi-lane roads by carefully re-configuring existing space
As many people have noticed over the years, College and Patton Avenue have extra space, in the form of lightly used travel lanes in the heart of downtown. The multi-lane sections often function as if they were one-lane streets. These streets are also one-way, working in tandem to move people east or west in the heart of downtown.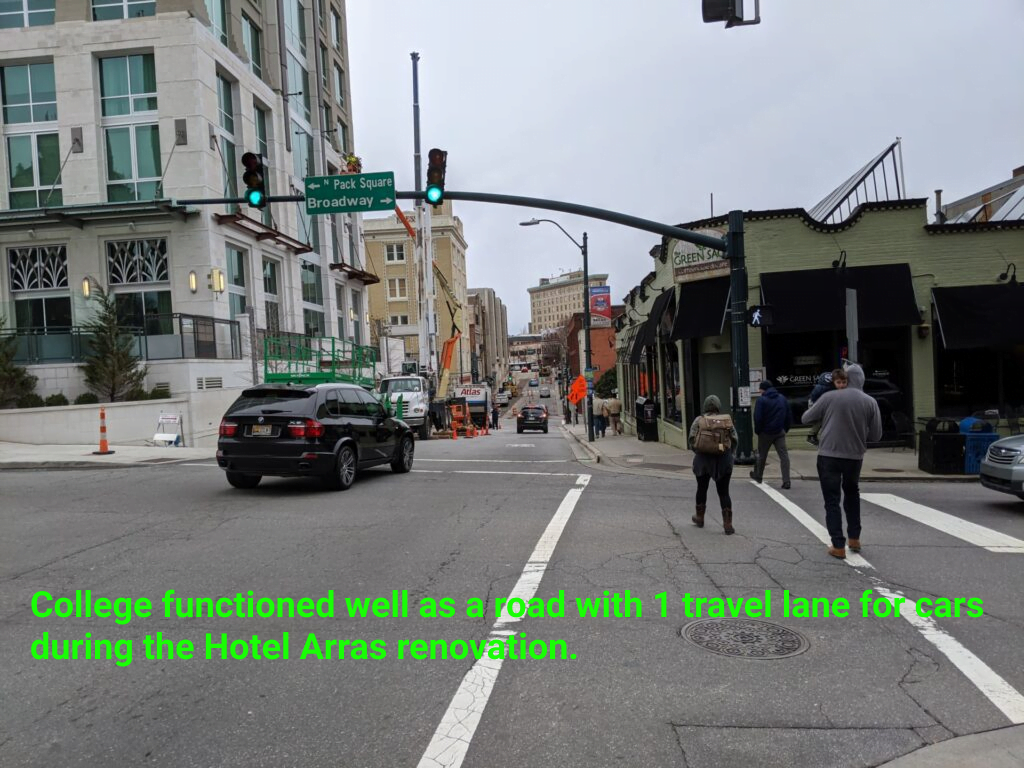 This plan takes the lightly used space within the current right of way and dedicates some of it for use as a "Bike Plus" lane, a space suitable for use by low-speed vehicles like bicycles, ebikes, and electric scooters.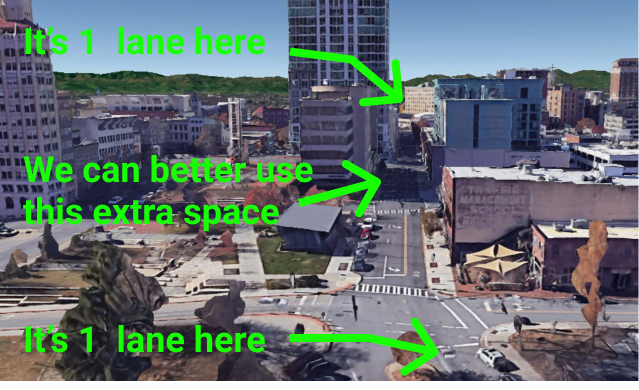 It is also worth noting that College Street is already a one-lane street just east of this location and again reverts to one lane alongside Pritchard park. This plan uses some of the wasted space in the middle section to better accommodate people moving in downtown who are not in cars. The bike + lanes also create important core connections for a larger future network.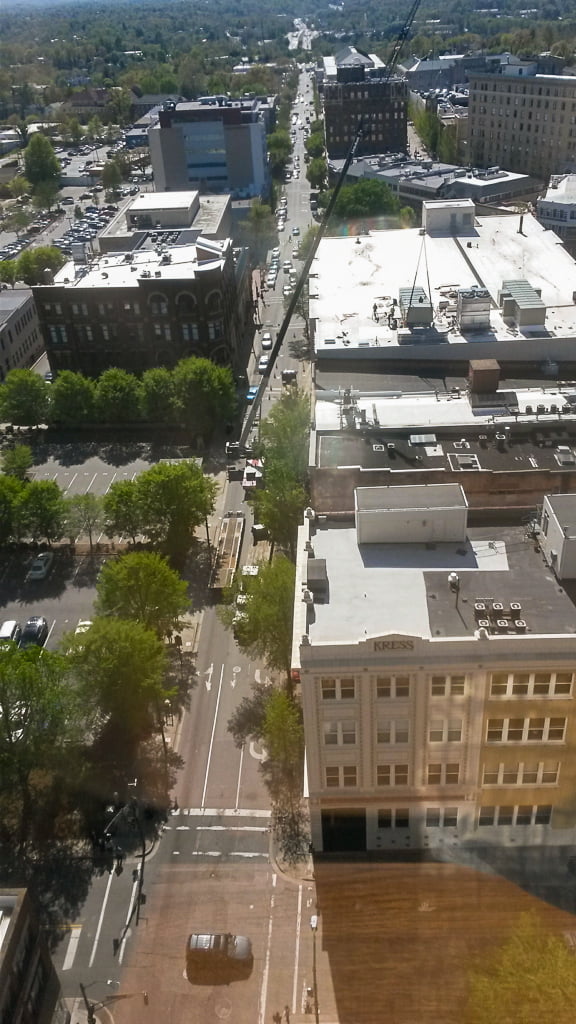 We have another photo, this one of Patton, when a section of Patton Avenue in the area of this project was closed for a week to allow a crane to access the roof of the Collider building. The current plan builds upon what we learned during the crane scenario to create a dedicated Bike + lane along lane along this section of road, in addition to the car travel lane.
It will be interesting to see how the increased bicycle and pedestrian use along this corridor affects land use. It may be that more people moving at slow speed creates the economic incentive to redevelop the parking lots at 26 Patton, located just south of the crane in this photo so that those properties again become mixed-use commercial buildings. In several studies of the economic benefits of walkable downtown areas, bicycle and pedestrian users typically spend more per day than car users. In this study, now twice confirmed, cyclists and pedestrians spent 40% more per day in stores, compared to customers traveling by car.
Initial Feedback Received
These initial plans have been shown to key City of Asheville departments and groups. More public feedback is upcoming and we're writing about the plan to help spread the word.
Sanitation – No major issues. Prefer limited use of tall vertical delineators to allow for easier access for trash pickup.
Fire Marshal – no major issues. Also prefers limited use of delineators. Concerns about loading and double parking (downtown-wide).
Downtown Commission Parking and Transportation Committee – Expressed preliminary support.
Downtown Association Issues Committee – Expressed preliminary support.
The design for this project creates a bike lane on the left-hand side of these streets. That design was selected because it minimizes changes to parking and other disruptions while adding a safer travel lane for bicycles and other small personal vehicles. They were also prepared with downtown's special operational needs in mind, including minimal disruption to loading zones. 
No negative impacts to traffic throughput are expected
Quite the opposite of restricting corridor throughput, changes to streets like these will move more people per hour than the designs in place today. The key is to measure people, not just cars. Here's how that works out: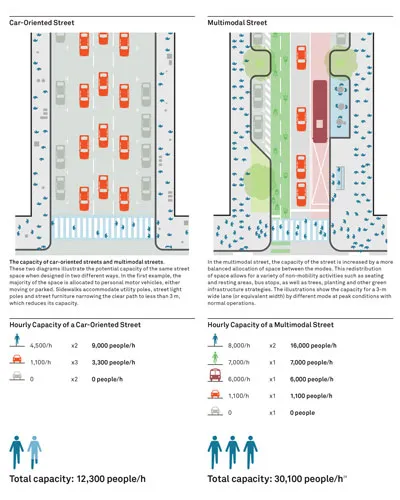 The left-hand bike lane configuration is the preferred design for College and Patton because it would result in the fewest conflicts with other uses in the right of way. The conflict count for the left-hand bike lane design as proposed:
| Conflict Type | Count |
| --- | --- |
| Driveway conflicts | 4 |
| Parking conflicts | 5 |
| Transit conflicts | 0 |
| Parking lost | 4 |
Cost and Budget
Asheville on Bikes and Connect Buncombe paid for these initial designs, which were completed by Traffic Planning and Design in cooperation with the City of Asheville.
No traffic signal changes needed for implementation
$100,000 in City budget is already programmed in City of Asheville City Improvement Plan (CIP) for implementation, including costs for:
Pavement markings
Vertical delineators
Signage
Traffic control
What is a Bike + Lane?
A Bike + lane is a dedicated lane of travel for bicycles as well as other small personal transportation vehicles, so long as those vehicles are small and low speed.

This term is intended to signify that a bicycle lane is not just for bikes. It is acceptable, maybe even desirable, to think of these new types of travel lanes as "Bike Plus" lanes. It may be time for the term "Bike Lane" to evolve and, if so, the phrase Bike + lane does seem to encompass the types of use they are being built to accommodate.

These small vehicles typically include electric scooters, electric wheelchairs, electric assist bicycles, one wheels, and other small vehicles not yet invented. In this plan, a bike lane is a low-speed vehicle lane, a travel lane for people moving faster than the people on the sidewalk and slower than the people in cars.
Which City plans call for bike facilities?
The proposed bike lanes and loading zones are in keeping with several of our City's planning documents.
2018 Living Asheville – This plan supports improvement of multi-modal transportation as a way to increase access to jobs, neighborhood services, and transit.
2016 Asheville in Motion Mobility Plan – This plan calls for a network of primary and secondary bicycle facilities. It recommends College and Patton for bicycle facilities.
2009 Downtown Master Plan – This plan calls for continuous bicycle and pedestrian routes tied to regional bicycle and pedestrian systems, Expanded convenient choices for downtown access and mobility, and implementation of the 2008 Bicycle Master Plan, starting with opportunities that yield the greatest impact and visibility.
These new bike lanes and loading zones downtown are welcome additions and are designed to fit like a puzzle piece into our future network of multi-modal streets. The proposed bike lanes will connect easily with the bike lanes on Hilliard, the bicycle climbing lane on Haywood, the bike lanes running north / south on Lexington, the bike lanes on Coxe, and, using Central Avenue, connect to the Charlotte Street bike lane. Can you feel it starting to come together? We want to live in a City where people can move about using a variety of modes, door to door, using bike lanes, greenways, trails, transit, and sidewalks. And cars.
What are the next steps?
Focused stakeholder conversations with property and business owners Winter 2021 – early 2022
Additional engagement with Asheville Downtown Association, Downtown Commission, and Multimodal Transportation Committee and other groups as needed
Revise plan as needed
Bid invitation in spring 2022
Summer 2022 installation
How can you help?
Share this page with your network and spread the word!
Consider the plans. Do you think this is a good idea?
Watch this space and the City of Asheville blog for updates!
Fill out this web form to reach out and provide feedback about this plan. All submissions will be shared with the City of Asheville staff.