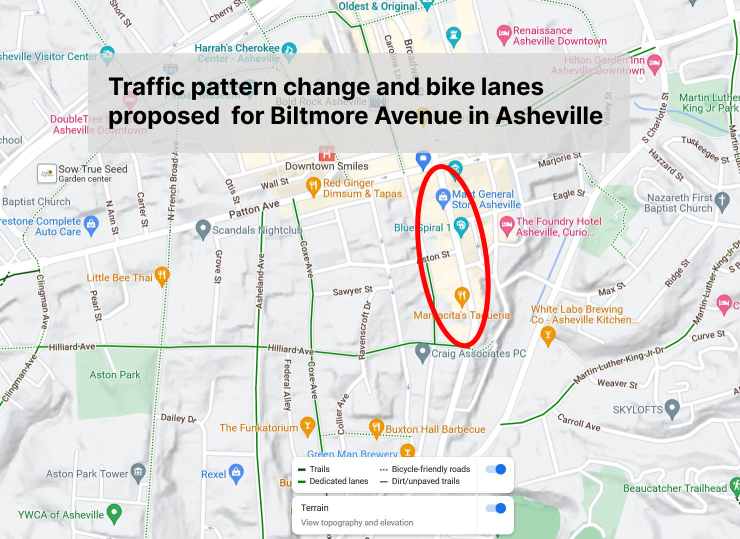 The City of Asheville needs to hear from you about a short but important stretch of pavement in downtown. As part of a planned NCDOT repaving, a section of Biltmore Avenue between Patton Avenue (Pack plaza) and Hilliard Avenue (near the Orange Peel) is being re-striped. The proposed plan includes adding bike lanes. AoB supports this change and City staff would like to hear from you about the proposal.
Call to action: Send your feedback to the City of Asheville
It's important for you to send a short letter of support about this project. Please send your feedback to Jessica Morriss, jmorriss@ashevillenc.gov, and cc: ashevilleonbikes@gmail.com so we can follow your feedback on this project. Link to project page from the City of Asheville.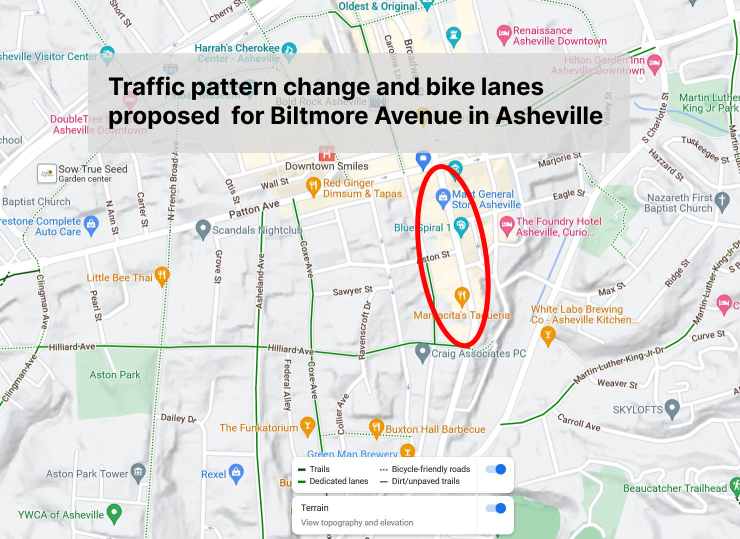 Examples of situations this project is designed to improve
If you've ever biked south on Biltmore, rolling south past Posana in the heart of downtown, and struggled with drivers who straddle both lanes, or who made abrupt stops while looking for parking, this plan helps fix that – and more.

If you've wanted to invest in downtown Asheville by building or renovating a piece of real estate but struggled to make the numbers work because of some planned number of parking spaces and space for delivery vehicle access, these bike lanes are a win. By moving people, not cars, we can have increased density and new housing units downtown that are a win for all parties involved. Getting to that point means building a better transportation network so that we waste less space storing cars.
If you've ever climbed up Biltmore Ave on your bike from the baseball stadium and encountered a long line of backed up cars in the area of Mamacita's or Barley's, this proposal creates a bike lane beginning at the Orange Peel that would whisk you to the top of the hill. If you're one of the 4000+ households in Southside or Kenilworth and you've ever stayed in to avoid the hassle of traffic and parking, even though you were ½ mile from downtown, this plan is part of the solution that will help reconnect you to your downtown.
If you are a business owner frustrated with conditions that make loading and unloading of trucks dangerous or impossible, this project is designed to improve loading zone access.
This project connects our multimodal grid
In the first image of this post, you can see where we are missing bike and ebike connections downtown (the green lines are current bike lanes). Now consider what is coming in the near future:
The bike lanes along this section of Biltmore Avenue complete a key connection within downtown and they also connect to many other plans, allowing people to move to and from downtown more safely in the near future, some without needing a car.
Here is a quiz for you
We made it using statements we've heard during the meetings about this project.
| Statement | True or False? |
| --- | --- |
| "This bike lane won't connect anything useful." | False. The proposed bike lane helps make an important network connection to an existing bike lane on Hilliard, an upcoming bike lane on Patton, and to bike lanes that will one day go all the way south to Biltmore Village. But we have to build them as we repave, one section at a time. |
| "We need more loading zones." | True. Downtown would be well served by adding more zones that are reserved for loading during the day and become pickup/drop off zones at night. These types of zones are more important than maximizing curbside parking. |
| "Parking is the most important thing on this stretch of road." | False. This one block is served by two large public parking decks (Aloft/Biltmore and Pack Plaza) in addition to on street parking. A downtown functions best when it is full of people, not cars. |
| "There's no room." | False. By removing one lane southbound, there is room to add bike lanes, while preserving on street parking except where businesses might prefer improved loading zones. |
| "Bike lanes will hurt business" | False. Adding bike lanes does not mean subtracting features needed by businesses; it is not either / or, in terms of design choices. Moreover, people biking spend more money than people driving and 8 + bicycles can be stored in the same space as 1 car. Bikes are good for business. |
| "This doesn't do anything for pedestrians" | False. The new configuration makes the street safer to cross at all points along the project because you have fewer lanes to watch for cars and because southbound car drivers will be less likely to speed. Sidewalk extensions at crosswalks are included in the proposal which improve pedestrian sight lines. |
| "Asheville is one of the most dangerous City in NC for biking and walking" | True. And we cannot make biking and walking safer by keeping the same conditions we have now. Achieving Vision Zero goals requires different road designs that separate different types of road users and that philosophy is reflected in this project. |
| "In 2018 Asheville banned e-scooters within 24 hours of their introduction on the premise that our roads had too little space to safely use that type of vehicle." | True. We even paid City staff to impound them and wrote a new law about it. Bike lanes create the space we need to move around using small, low speed vehicles of many kinds. Not just bikes. |
| "This section of road was once the site of an infamous shootout." | True. There may still be bullet damage in some of the facades in the area north of Barley's Taproom. It happened in 1906. |
| "Someone recently submitted plans for an apartment building with no parking included, right around the corner from this project." | True. Is it space for cars that we want, or space for people? If demand is strong enough that investors will plan car free infill, shouldn't we be making room for other smaller vehicles on our streets downtown? Yes and yes. |
Please voice your support for this project and the valuable bike lanes it adds to our multimodal transportation grid in Asheville. Send your feedback to Jessica Morriss, jmorriss@ashevillenc.gov, and cc: ashevilleonbikes@gmail.com so we can follow your feedback on this project.