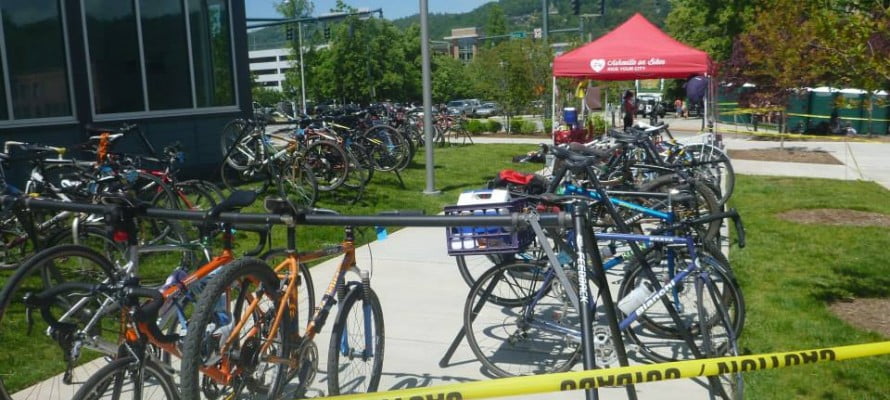 One of our favorite things about running a bike corral is the delight on cyclists' faces. We see them roll up, scan for a bike rack, spot us… and smile like the dickens. Why, yes, this bike parking is free for everyone. It's safe, secure, you can leave your helmet, lights, pannier–all that stuff you worry about walking off if you leave your bike locked up unattended.
But we've encountered plenty more folks who have no idea what the corral is for. We've been doing corrals for so long, we forget that they're still a new thing for some folks. So we put together this handy corral FAQ, to introduce newbies, and maybe teach our old friends something new.
How does this corral thing work? It's like valet parking–you check in your bike, and get a claim ticket. We keep your bike in the corral, where our volunteers will keep an eye on it, while you go have fun. When you come back, hand in your ticket and get your bike back. Easy, peasy.
How much does it cost? It's absolutely free. Always has been; always will be. We do accept donations.
Can I park my bike trailer/tandem/unicycle/recumbent? Of course. If it's on wheels and powered by human muscles, we'll park it.
You mean I don't need to lock my bike? Is it safe? You bet. Our volunteers will never leave the corral unattended, and no one else is allowed access to the bikes.
How can I help? We're so glad you asked. Our corrals are 100% volunteer-run, and we can't do it without you. Working at a corral is a great way to help AoB, meet other cyclists, and, depending on the event, enjoy a little free music and entertainment. Shifts are usually short–two or three hours. Your responsibilities are simple, but vitally important to AoB's mission: you park bikes and keep a count of how many come through the corral. We'll give you guidance so you can help sell AoB merchandise, answer questions about AoB's events, and generally promote urban and commuter cycling in Asheville. You don't have to be a bicycle expert or a hardcore cyclist to be a great volunteer–a simple desire to help out is enough!
This sounds great! Where do I sign up? Email our corral coordinator at bikecorral@ashevilleonbikes.com to become a volunteer.