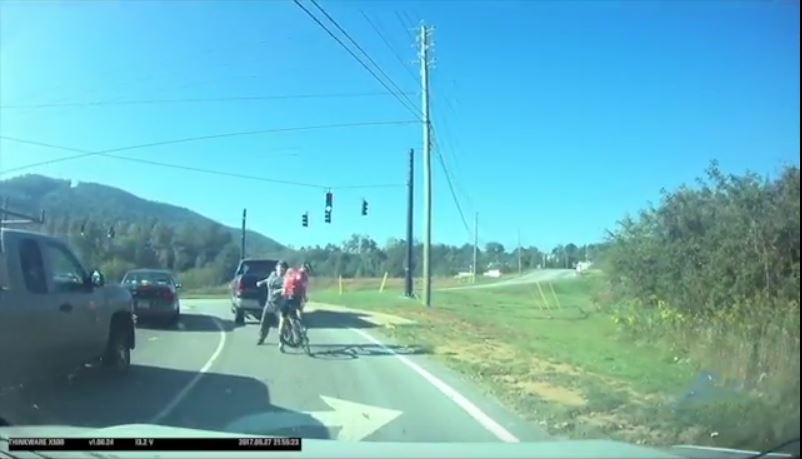 UPDATE (April 12, 2018): The alleged assailant in this video, Claude Donald Watson of Candler, was arrested several days after the incident. On Monday, April 9, 2018, Watson was sentenced to jail time after pleading guilty to simple assault. Get details and read the district attorney's press release here.
An Asheville cyclist was punched in the face by a motorist on 9/27 and video of the event has been provided for Asheville on Bikes to share. It should go without saying that this is unacceptable behavior on the part of the motorist.
We've spoken with the cyclist and have learned about the events that occurred immediately prior to the video footage. In the video, the cyclist is stopped on Sand Hill road, heading south, at the intersection of Sand Hill road and Sardis road, near Asheville, NC. The cyclist had been riding legally within his lane on a two lane section of Sand Hill road. Because the section of road just prior to this intersection is a long downhill, the cyclist was able to ride at the pace of traffic and was not, to any degree, causing a backup of traffic. The driver of the truck tailgated the cyclist during this time, and, because of line painting crews in the oncoming lane, was unable to pass until he neared the intersection in the video. While accelerating around the cyclist, the driver attempted to run the cyclist off the road by aggressively entering the cyclist's travel lane to the point the cyclist had to brake and swerve to avoid being hit. Moments later the truck and cyclist rolled up to the red light that is shown in the video. The only words spoken occurred after the punches were thrown, when the driver said, "Get off the fucking road."
The driver, who left the scene, was later apprehended by police, charged with simple assault, and released. We do not know if additional charges are going to be brought against the driver and Asheville on Bikes will follow this case closely.
The video is shot from the cab of a commercial vehicle that happened to drive up to witness this scene. The police responded at the time of this incident and took statements from several witnesses.
Audio edit note: The video is untouched, but the audio has been altered in one place to remove the mention of the truck's license plate information.
The cyclist's attorney, Ann Groninger, can be reached at ann@bikelaw.com or 704-200-2009. She works regularly with cyclists in cases like this and we're happy to list her as a resource for anyone who finds themselves in similar circumstances.
Donate to Asheville on Bikes
You may also like:
Asheville on Bikes Official NCDOT Comment on Merrimon Widening Proposal