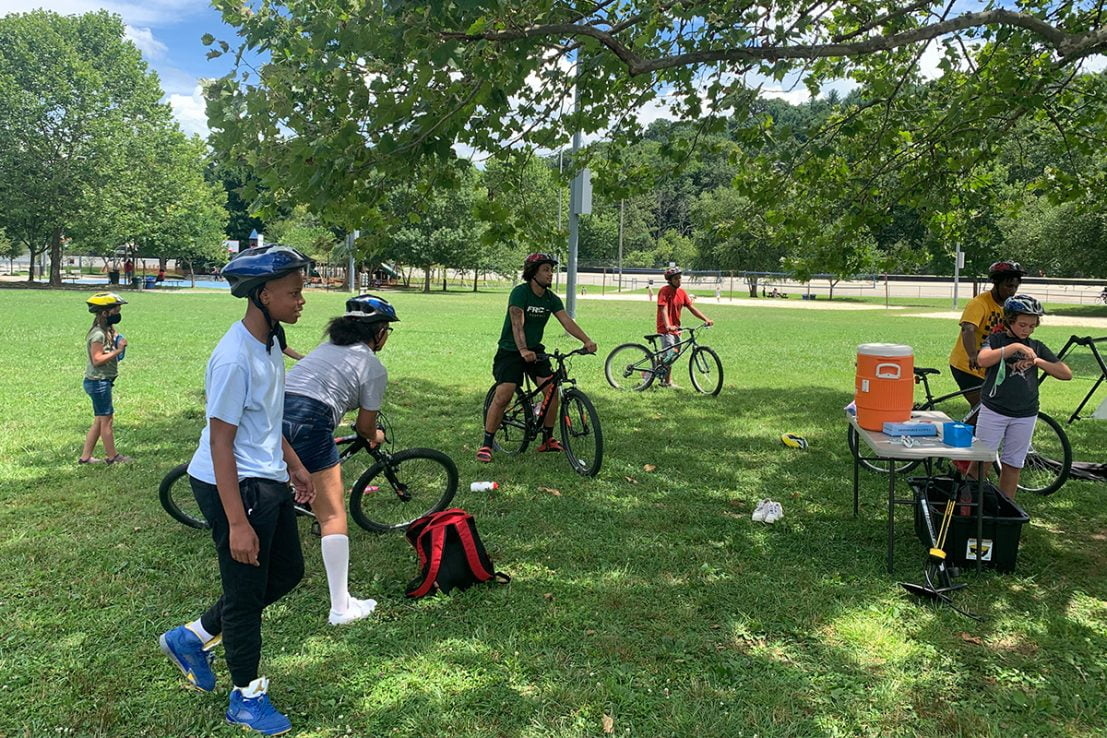 The global pandemic has changed summer in many ways, especially for kids. Summer camps, community pools, and amusement parks are simply not the safe go-to options they used to be.
Fortunately for kids (and adults), cycling is very conducive to social distancing! Asheville on Bikes has taken advantage of that fact and, through a partnership with Youth Transformed For Life (YTL), has been able to extend their after-school bike program for Asheville Middle School students into the summer months.
AoB instructors and volunteers meet up with YTL students at Carrier Park for pop-up bicycle programming
Even before COVID-19 hit, AoB was looking for a way to take their youth cycling program beyond the school year so they could continue teaching kids new skills and taking them on rides around their city. After the realities of COVID-19 ended our usual after-school program in early March, AoB instructors were really excited to get on their bikes again and make up for lost time with students. Their collaboration with YTL started with a pop-up program at Carrier Park.
Here's what some our students had to say about the experience:
"We loved riding bikes and the best part was that AoB took time to teach us the gears and help us get comfortable using them. It was a ton of fun!"
Tyron, Jamarri and Haydn, YTL students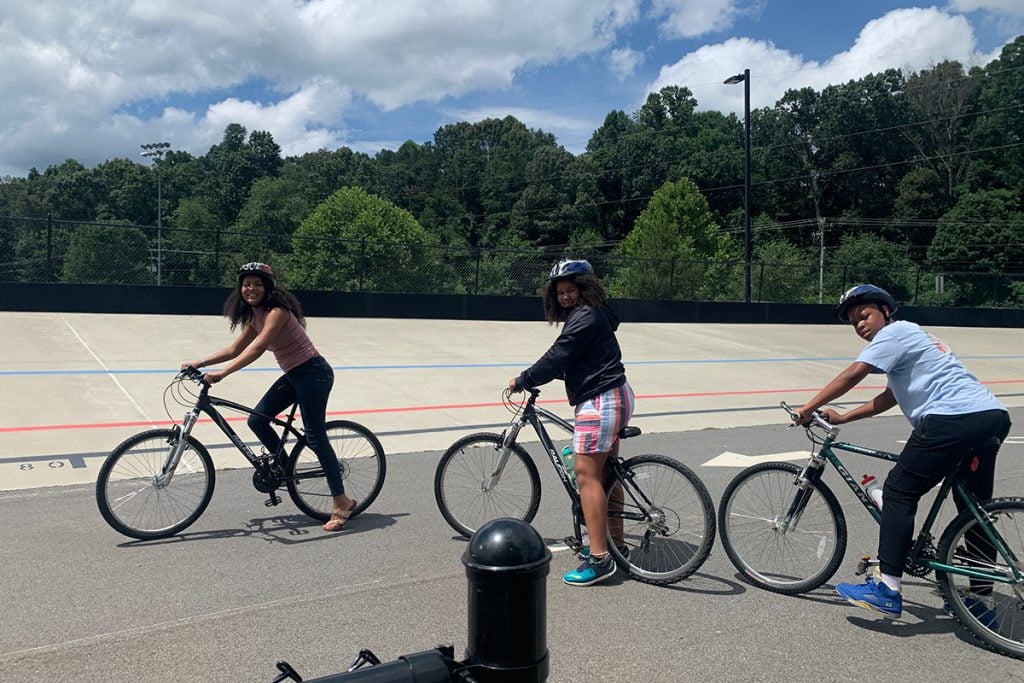 "It was a great experience to learn how to put the chains back on the bikes."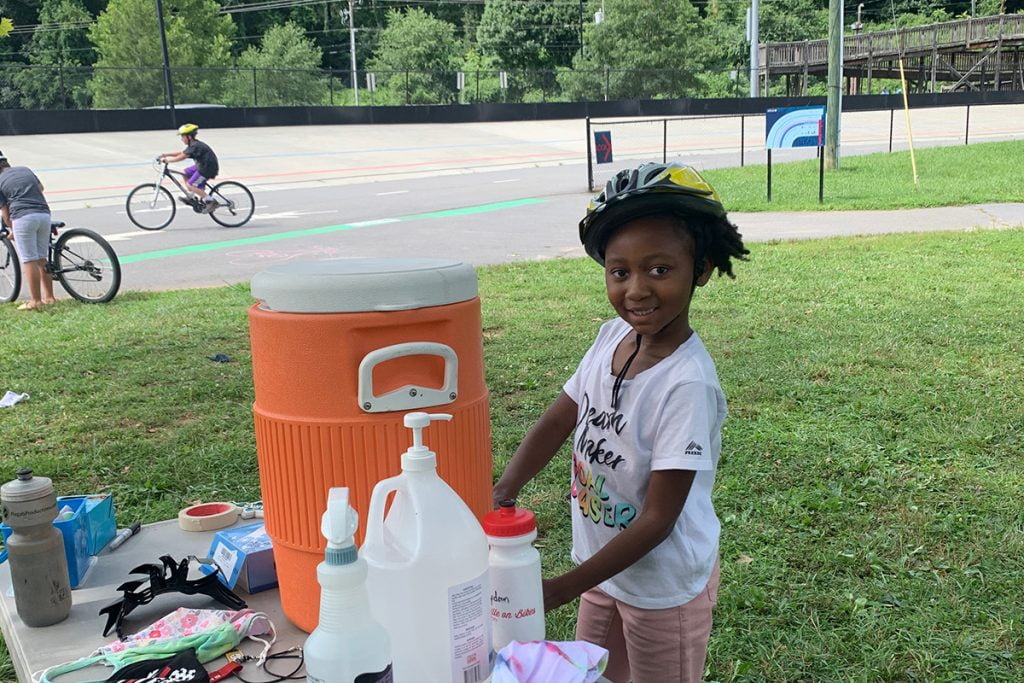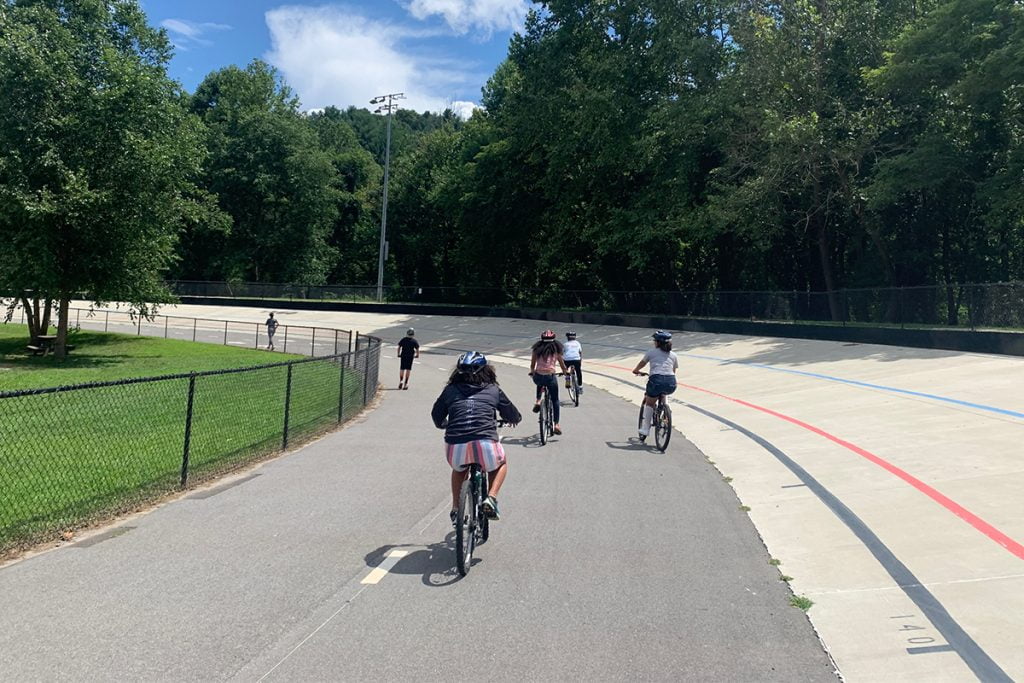 The Beauty of Collaboration
AoB volunteers are also loving this new collaboration with YTL. While life during the pandemic creates unprecedented challenges for nearly all of us, our team is finding creative ways to push our mission forward and continue inspiring tomorrow's cyclists today. Here's what they had to say:
"This is the first time Asheville on Bikes has done summer programming. After the first two days, Youth Transformed For Life (YTL) wanted us to plan more afternoons with students on bikes so we did that—we are currently working on one last afternoon together. The more we collaborate, the more rewarding it is. The relationships grow stronger, the students grow more confident, and the thrill of riding bikes is longer lasting. I felt it was important to make this collaboration happen so local youth could feel the joy of just being a kid on a bike and enjoy themselves in this carefree way during COVID-19. The most impactful moment was when one of the students, Khavi, asked me what he should do if he couldn't ride a bike—an impressive declaration for an 8th grader! On his second day, I paired him with Pisgah Rage Coach Murphy and he did two laps around the Mellowdrome on his own. He was determined, never gave up, and remains an inspiration!"
Rachel Reeser, After School Bike Program Coordinator
"AoB has the staff, the volunteers, and the equipment so we decided to put all of them to use to welcome more young students to cycling this summer. While many activities aren't an option with the current COVID restrictions, cycling has social distancing built-in! Beyond getting more kids on bikes, we're excited about the cross-section of community partnerships that we've built to support youth cycling including with Industry Nine, the local NICA Pisgah Rage Team as well as YTL. The current restrictions have inspired us to be creative and give us the opportunity to pivot and collaborate in new ways. We're building new relationships that will foster new youth programming. I'm excited, for sure."
Mike Sule, Executive Director, Asheville on Bikes
"AoB's youth cycling program is beyond inspiring. We've been teaching some kids how to ride a bike for the first time. What a treat to be a part of that and to watch them overcome their fears and celebrate their accomplishment with them. I hope AoB can continue their relationship with organizations like YTL and give kids even more opportunities to ride bikes."
Abby Walker, AoB Board member
"We are beyond grateful to AoB for providing physical activity for the kids (which is especially therapeutic during the time we're living in). I feel genuine support and togetherness. The moment when a pre-teen learns to ride is triumphant. That accomplishment raised self-esteem, self-worth, and can counteract life trauma— truly a blessing! Like Maya Angelou said, 'People will forget what you said, people will forget what you did, but people will never forget how you made them feel."
– Youth Transformed for Life Director, Thomas Priester
Get involved!
If you would like to be part of AoB's Youth Program we are always looking for enthusiastic instructors who have prior experience working with youth, strong cycling skills, and a commitment to safe riding habits. Asheville on Bikes also welcomes volunteers, as well as tax-deductible donations to help cover our expenses for research, events, and lobbying for a more bike-friendly Asheville