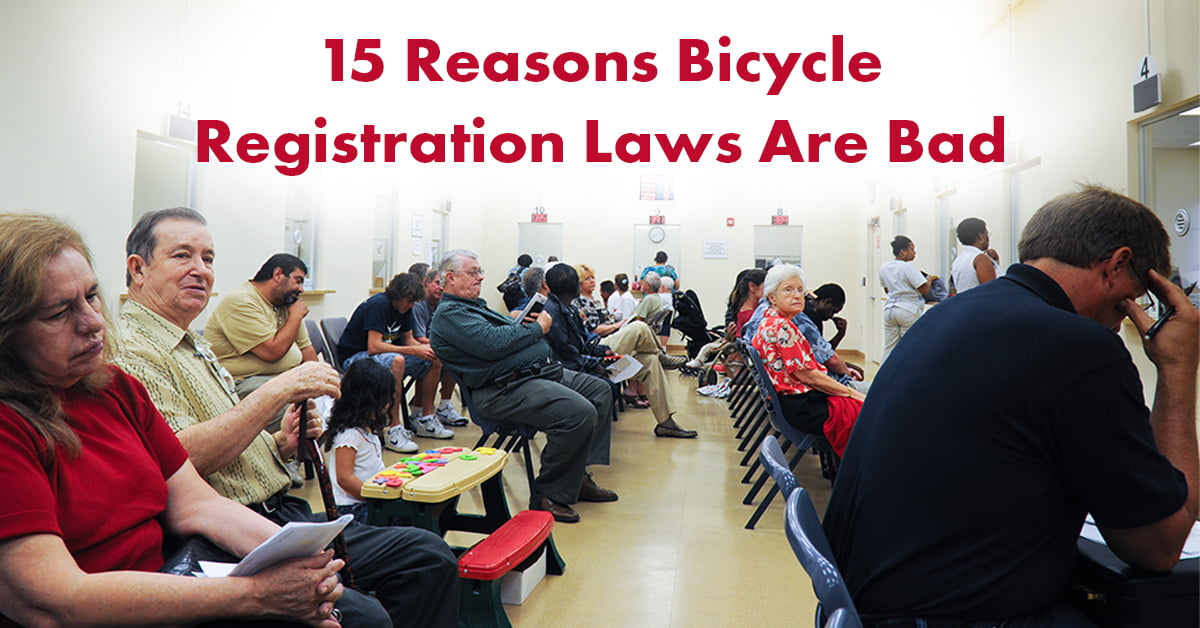 Don't be fooled. Bicycle registration laws are pointless, expensive, and unjust. Asheville on Bikes opposes bicycle registration laws and similar bicycle license schemes. You should oppose them too, whether you ride a bike or not.
If you love long DMV lines and eroding customer service, by all means, add silly registration laws to the books.
This post was prompted by North Carolina House Bill 157, a proposed 2019 state law that would require a statewide bicycle registration scheme with fees and penalties. We oppose this law and urge you to write your state representative and call on them to do the same. You can read the NC house bill, with updates as they occur, by clicking here or you can download an archived copy of H157 v1, as a pdf.
Here is the list of reasons bicycle registration laws are a bad idea. Click any reason to jump to the full explanation:
Taken as a whole, this list of reasons creates a very high burden of proof to overcome for anyone who claims that bicycle registration schemes have any place in our body of regulatory laws. The resulting burden is high enough that laws like HB 157 should not even be proposed "by request" in order to appease a constituent.
Bicycle registration laws don't work. As per CityLab and other reports, and including even more reports, these laws have failed in Hawaii, Houston, Seattle, San Diego,  Chicago, Detroit, and Fort Lauderdale, just to name a few.
These laws usually result in a direct loss of revenue. The cost of administering these laws is almost always greater than the fees collected and, as proposed, the cost of collecting the fees would certainly be a net loss to the state. The silliest taxes of all are the ones that cost us more money to collect than they bring in, which is the situation proposed by this law.


Laws like HB 157 are a slap in the face to your constituents.  If you are an elected official, bicycle registration laws are a slap in the face to your constituents. Consider Rep. Jeffrey Elmore, who represents the NC 94th District, which includes the residents of Wilkesboro and Wilkes County. Because of the economic benefits of bicycling, money is flowing into the community both from bicycle riders who live in the community and from those who come to Wilkesboro to use the critically acclaimed Dark Star trail network at Kerr Scott Reservoir, the lovely Yadkin River Greenway, and for bicycle rides along the roads of the Blue Ridge mountains. Just like other North Carolina communities, these amenities exist because locals want to safely explore the outdoors, including with the use of a bicycle. Why should a handful of people – or even one, if you read the reasons Elmore proposed this bill – be allowed to potentially decrease bicycling in the entire state of North Carolina, contrary to the actual work of many people in the same communities?  When asked about who requested this specific bill, "Elmore said [the requestor] was a resident of the Brushy Mountain community concerned about safety issues related to the large number of cyclists on Brushy Mountain Road in that community." Link. This bill is a discredit to the time, energy, and money that have gone into the existing amenities in Rep. Elmore's district, like the Yadkin River Greenway.
Bicycle registration will overwhelm the DMV and result in long lines for all, because a statewide registration system would have to be administered through the department of transportation and their local offices in your area. If you love long lines and eroding customer service, by all means, add silly registration laws to the books. But we don't love long lines at the DMV or poor customer service and we oppose this law.
Bicycle registration and licensing will result in racial discrimination. A significant portion of the population rides bikes; of those, a sizable chunk ride out of necessity. This includes people of color, children, and low income families. These groups are the least likely to be able to register a bike and the most likely to be ticketed for that failure. In Fort Lauderdale, FL, a bicycle registration scheme was selectively enforced so that it disproportionately affect the city's African American residents, including impounding bikes so that the bike rider was stranded miles from his or her destination.


It will decrease cycling, if enforced. The basic laws of supply and demand explain that, if you make something more difficult and more expensive to do, fewer people do it. This has worked well for cigarette smoking, where taxation makes that habit more expensive and thus discourages new people from adopting the habit. Is cycling similar to cigarette use? Should we discourage the habit of riding bikes?
The effects of this law are counter to economic development work in the region and in the state. The state and other regional entities conduct significant economic development work to promote the outdoor industry. In Western North Carolina alone, cycling generates more than $43 million each year and directly employs thousands, between bicycle manufacturers, bike shops, bike events (hat tip to Lenoir, NC), bicycle tourism, summer camps who teach bike riding, bicycle rentals, and other related industries. The state of North Carolina recently hired our first director for the Outdoor Industry Recruitment Office; the Outdoor Industry, which includes bicycling, is an $28 billion dollar industry in our state (OIA 2017 Report). Are we to pass a bill that has the exact opposite effect of our other work, and allow our left hand to contradict our right hand?
It does not improve our ability to enforce our current road laws or resolve conflicts. Law enforcement officers can enforce all applicable laws today as they pertain to a bicycle rider on a public road. Law enforcement officers have no need of a bicycle registration system in order to do so (or even the much lower requirement, rejected in the past, that bike riders carry identification). This is well documented at the state level by the NC 232 Bicycle Law Study Committee and this law goes against the conclusions of that report.


It makes about as much sense as a shoe tax, to make up revenue for all the infrastructure that pedestrians are demanding. Do pedestrians make you a little upset, with the way they move into your path when you are driving? Aren't those people who walk asking for too much, really, when they complain about "unsafe" conditions? Why don't we require a shoe licensing system and let those who choose to use footwear in the public right of way pay a fee to do so? The fee can be used to build amenities for those who choose to walk. We can also push for our law enforcement officers to begin occasional shoe registration checks on sidewalks to cut down on those scofflaws who continue exhibiting dangerous walking habits in our public right of way…
Bicycle license laws violate all of the guidelines for "What makes a good law." These are ideas that we can say "yes" to when we write a proposed law, whether we are voters, lawyers, advocates, legislative staffers, or elected officials. Good laws share these 5 traits:

Fairness – justice and equality, such as equal pay for men and women. This law would create inequality. Ex: low income road users who cannot afford cars would  experience an increase in ticketing.
Usefulness – making society run smoothly, such as laws on driving to make roads safer. Ex: This law does not change or improve law enforcement's ability to enforce the laws regarding road usage. Law enforcement can enforce current road laws easily by detaining and ticketing any cyclist or other road user violating current laws.
Common good – not just supporting the interests of particular groups, such as the wealthy. Ex: It is obvious that this law places a new burden on only one group, bicycle riders.
Enforceability – the majority are willing to obey them, police are able to catch those who break them. Ex: Would a majority of bicycle owners obey this law?  Consider that every bicycle in your garage, if ridden by someone 16 years or older, would require you to go to the DMV and obtain a registration before you can legally use it again. If police ignore bicycle licensing because they correctly prioritize other more serious violations of the law as more important to enforce, what is the point?
Simple – easy to understand and to obey, not too complicated. If this law is intended to work, it is going to be quite complicated. Ex: Owners with 10 bikes? City owned fleets bike share bikes? What is a bike – does a electric trike for the disabled count? Does a motorized scooter count, an ebike, a one-wheel, a motorized skateboard? What about summer camps ($157 million annual economic impact in just Western NC) with fleets of bikes that get used for 10 weeks in the summer? What of a stroller that converts to a bicycle? An Elliptigo? What if I have a prescription from my doctor? What if my adult neighbor borrows my teenagers' bmx bike to ride to the convenience store? Why stop at two wheeled human powered vehicles? What of the tourists arriving from out of state for a weekend, with a bicycle on their car?
These principles are taught in many law school curriculums, civics lessons, and training programs for legislative staff. Source link.

It perpetuates a "pay to play" myth where we pretend that fees and taxes should be earmarked for individual projects, when the opposite is usually true. Drivers do not pay for the full costs roads and auto-oriented amenities they use; nor do national park usage fees pay for the costs of having national parks.


Laws requiring licenses should be based on the likelihood of causing harm to others. Laws requiring licenses and registrations should not be based on a desire to create a new funding source or control a portion of the population. Thus we register our cars and obtain a license to drive because cars are deadly when misused. Bike riders are not deadly to others and should not be required to register.
This law creates no meaningful revenue that could benefit bicycle riders. A number of bicycle riders have pointed out that we have very little roadway space dedicated to biking or non-auto use, and that a registration scheme could perhaps create revenue to begin building infrastructure at a faster rate to meet that need. Again, don't be fooled. Even if the fees were increased so that actual revenue was generated, the resulting pool of money would be tiny and unable to build significant amounts of the infrastructure our state needs. Bicycle registration as a dedicated funding source is a red herring.


It is foolish to allow a conflict between users on one single rural road to be used as grounds for regulating every cyclist in the state. Citizens in one part of North Carolina do not have the right to discriminate, via limits on road usage, against citizens from another part of North Carolina when the road is a state road. Even though the registration scheme described in HB 157 does not directly propose such discrimination, the reason given for the scheme was user conflict between bicycle riders and drivers who both use Brushy Mountain Road in Wilkes County. Brushy Mountain Road is a state road, built and maintained by NCDOT. Thus it does not belong to the nearby property owner who complained. NCDOT roads are paid for by the people of North Carolina, who each have equal right to the roadway. Perhaps a better solution would be to have the three affected groups meet together and discuss local solutions: bicycle riders in Wilkes county, complaining property owners, and NCDOT staff. That work is a more reasonable approach to a local issue than proposing a burdensome and unwanted statewide license scheme applicable to all bicycle riders. "In 2015, the Wilkes County commissioners approved removing Brushy Mountain, Lithia Springs, Vannoy Ridge and Ball's Mill roads from online maps showing Wilkes bicycle routes to discourage out-of-county cyclists from riding on the Brushies." Riding in the Brushies does look nice. The route shows up clearly if you examine Strava's Global Heatmap of cycling use in Wilkes County. Several other parts of Wilkes County appear to be getting regular use from bicycle riders as well. Might all that biking activity be generating revenue, saving on health care costs, and reducing automobile pollution?

Red indicates frequent cycling use. The city at the top is Wilkesboro, NC.

Your representative may think proposing a law like this is a harmless way to appease a constituent. It's not. "By request" means a bill has been filed on behalf of a constituent and may mean the sponsor (In this case, State Rep. Jeffrey Elmore) does not fully agree with the bill. Our elected representatives should carefully consider whether appearing foolish in public is worth it before filing a "by request" bill.

Only a small portion of the public understands that "by request" can mean, "that the sponsor is introducing the measure as a favor to someone not in Congress…It sometimes means the sponsor does not fully agree with the bill." Link.
Because this particular bill received widespread media coverage, and because that coverage did not adequately explain the negative consequences of such a law, filing this bill has already had a detectable propaganda-like effect in North Carolina. The rash of news stories normalizes the idea of bicycle registration and needlessly inflames the tired debate between drivers and bicycle riders. It would be wise for Representative Elmore to publicly back away from this proposal and we are a little sad to see this "by request" bill manipulated to create statewide news stories. It used to be that "by request" proposals could die a more silent legislative death.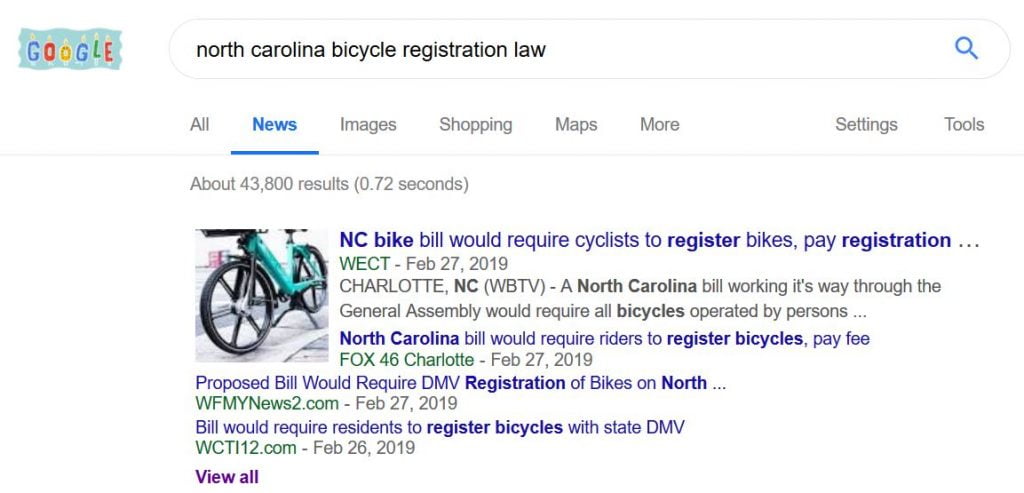 Please link to this page anytime someone mentions a bicycle registration law in the U.S.  Bicycle registration laws are pointless, expensive, and unjust.
Call to action: Please take two simple steps to help build better bicycle infrastructure and stop this bill.
1. Sign on to Bike Walk NC's petition that requests an end to NC's prohibition against state funding for stand alone bicycle and pedestrian projects. Unlike the proposed HB157, lifting this prohibition would create a stable source of funds to build a meaningful amount of bike and pedestrian projects in our state. Identify Asheville on Bikes as your "Organizational Affiliation."
2. Write your state house representative and use two or three of the ideas from this blog post to point out the flaws of HB 157. Ask your representative to oppose this and any similar future attempt to create a bicycle registration system. Click this link to find your representative, find their email address, and send them an email. Please CC: ashevilleonbikes@gmail.com on your letter so that we can keep a record of your emails for use during our state lobby day each year.
Related content on this subject: