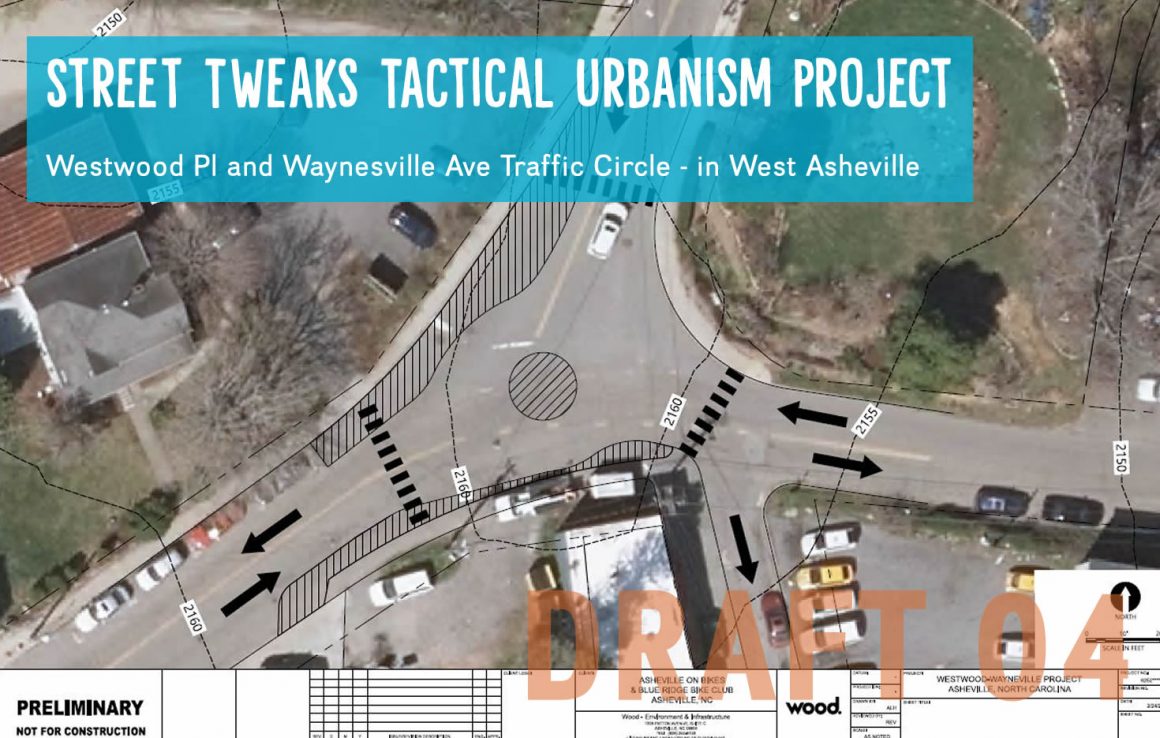 Our next Street Tweaks project is moving forward towards a final design. We have met with the City, with the East West Asheville Neighborhood Association (EWANA), with the West Asheville Business Association (WABA) and with some neighbors to plan a neighborhood traffic circle for the intersection of Waynesville and Westwood Ave. We have made some adjustments to our planning process to lessen the likelihood of spreading COVID-19 and posted signage at the intersection, describing the project and asking for feedback.
The planning process is ongoing and our next meeting is now a survey!
What: Public feedback via rolling survey. You can take it by clicking here.
When: May 27th – mid June, 2020.
Where: via computer or cell phone, using a Google form
What you need: A clear head and a recent visit to the intersection
Get the coloring book: Want to draw a design for the project areas that can be altered? Click here to get the coloring book. It is a printable pdf. Email your finished art to westwayne@ashevilleonbikes.com
We will update this page with information about the project as it progresses.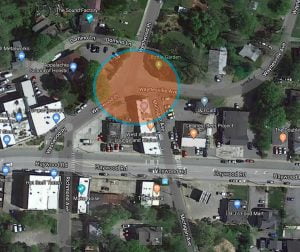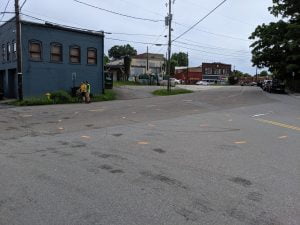 About this project:
The Street Tweaks Team is working towards the installation of a tactical urbanism project at the intersection of Waynesville Avenue and Westwood Place, behind the Walk. This project will be an intersection improvement consisting of a neighborhood traffic circle, crosswalks, and other related changes. The design is not yet finalized as of 5/28/2020 but the City has indicated that our proposal meets their requirements.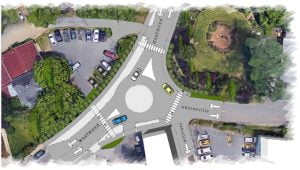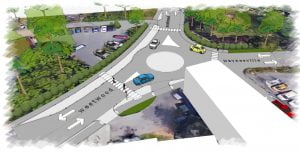 Why this location?
We identified this location when looking for intersections in walkable areas that highlight how dangerous our City is to pedestrians and bicycle riders. This intersection, as currently designed, allows cars to turn at high speeds across the paths of pedestrians, bicycle riders, and other cars. Though a large number of people walk through the area each day, the street contains no crosswalks or safety markings (other than center lines). It is also wide, increasing the danger to all who pass through the area. We approached the East Asheville Neighborhood Association (EWANA) and the West Asheville Business Association (WABA) to solicit support for the project. Each group responded favorably. That support and unsafe conditions led us to select this site for a test of a neighborhood traffic circle.
What are the details of the project as it exists so far?
Who is involved? The project would be created and installed by Street Tweaks Team with the help of neighborhood, WABA, and EWANA volunteers. It will be approved by the City of Asheville before installation, including a signed Memorandum of Understanding (MOU) describing the project.
What is it? A neighborhood traffic circle, installed by volunteers, after gaining City approval
Where? At the intersection of Westwood Place and Waynesville Ave in East West Asheville, behind the Walk.
When? Late Spring or summer 2020; install TBD
Why? To improve neighborhood and pedestrian safety
How? Using a tactical urbanism model, volunteers, and temporary materials, test a different intersection configuration
How long will it last? 1 year
What is tactical urbanism? Click here to find out.
Where are you in the process?
We are gathering public feedback about our draft designs. That feedback will be collected and used to settle on a final design and build plan. The technical constraints of the street at this intersection limit this project, in terms of types of infrastructure that can be built. This makes feedback from the City important, so that we can present a design that meets all the City's requirements. The City has indicated that our draft design meets their requirements.
Our first public meeting was held on Jun 26, 2019 to solicit feedback about this intersection. That meeting confirmed our findings about people who were walking between the neighborhood and the businesses and schools nearby. During the winter of 2019 we worked on proposed designs with the City of Asheville, a process that is ongoing.
Our second public meeting was held on March 8th, 2020. A tent staffed by volunteers was setup at the intersections and we answered questions, showed designs, and walked the intersection with attendees.
Our rolling survey for feedback, a 3rd round of public input, is happening during late may and early June 2020.
Once we have a design that meets the requirements of City staff, we will seek approval for this project from the Multi-Modal Transit Committee and the City Manager's office. We would like to install this project in June or July, 2020.
Evolution of our design
Our designs for this project continue to evolve as we work with City staff and our team to come up with a plan that meets all existing regulations, is likely to be an improvement from existing conditions, and that we can install with temporary materials. We don't have an approved design (yet) but this graphic shows the process as we work to get there.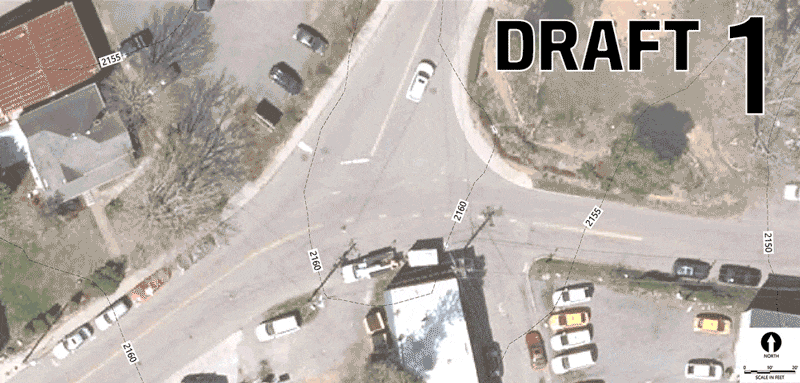 You can view our current, not yet approved, draft design here as a pdf.
How dangerous is Asheville?
We continue to rank among the most dangerous cities in North Carolina for pedestrians and bicyclists. In January 2020 alone, 4 pedestrians were killed in different crashes across the City.
Asheville is first in pedestrian deaths per capita in North Carolina, as written up in an excellent article from the Citizen Times on 3/4/2020.
Want to dive deeper? Spend a few minutes looking over the map of fatalities (all collisions) and bicycle pedestrian injuries (bike/ped) for our area, built with publicly available NCDOT data. Keep in mind that bicycle / pedestrian injuries, when studied nationwide, are often under-reported. This happens because our method of reporting emphasizes collisions with severe injuries that involved a motor vehicle. Lesser injuries and collisions with no EMS response often go unreported.
Photos from this project during the planning phase:
Special thanks to:
Partially funded by grants from:
People for Bikes
Blue Ridge Bicycle Club
AARP, NC, Mountain Region
Project downloads and key links:
For further reading: